So, you've got some great content that you can't wait to share on all your social channels; Facebook, Twitter, LinkedIn, Instagram – the whole lot. Now, that's a fair few posts you need to concoct – makes sense to write one, and just share it on every channel, right?
Wrong. So wrong.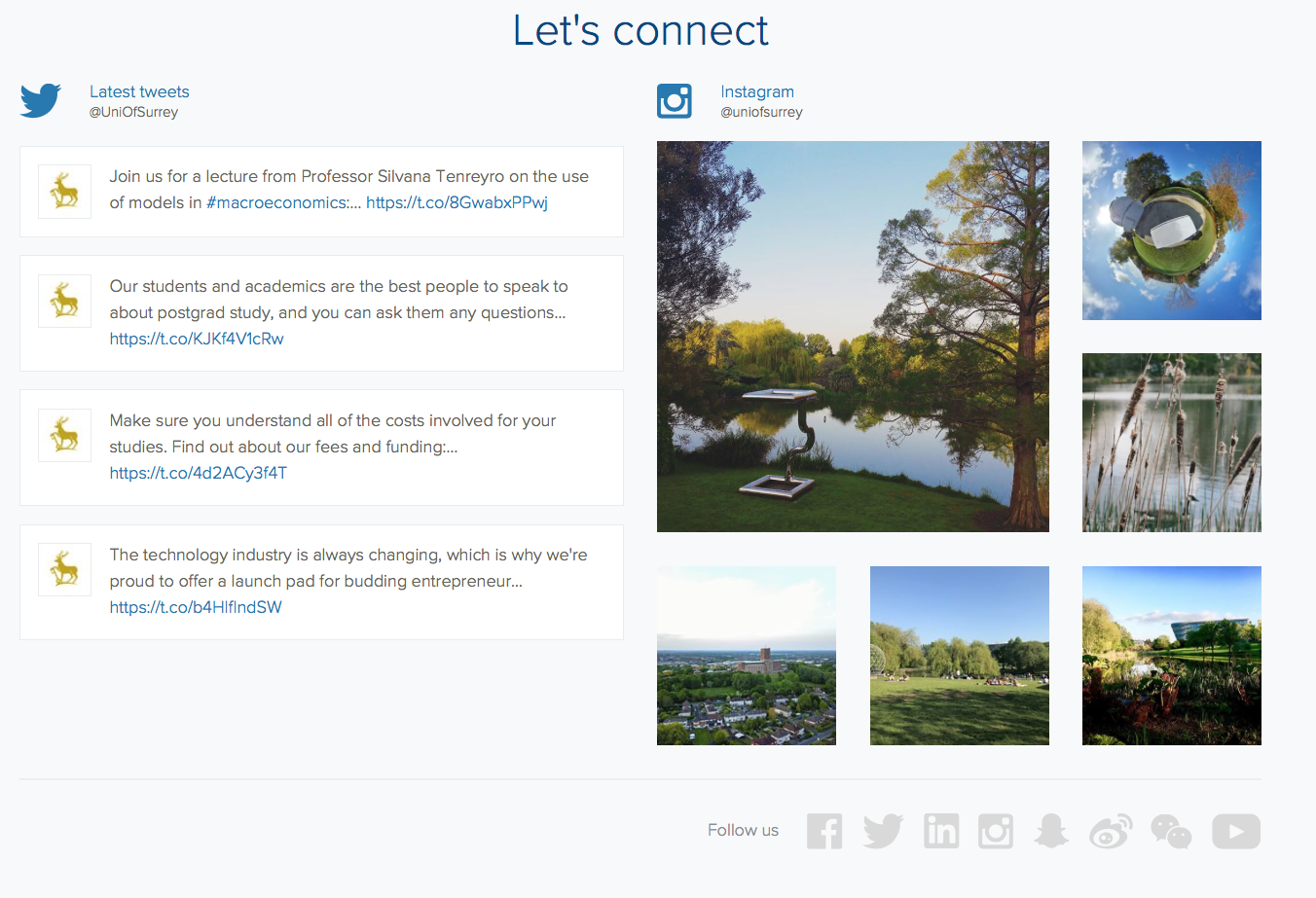 Though they all, by and large, serve the same purpose – to extend the reach of your messaging to as wide an audience as possible – each social media platform does so in different ways.
From the tone of voice you post with to the dimensions of the image you share, your posts need to be tailored to each platform. If not, there's a good chance your posts will look unprofessional and, even worse, spammy. For example you could lose part of your caption, or tag a handle from one platform that doesn't exist on another.
For an in-depth rundown of what image sizes to use for each platform, head here.
Outside of the practical elements, your audiences will also be different. You won't use the same tone of voice on LinkedIn and Twitter, for example.
Here, we'll go through each platform and detail how we tailor to its parameters and audience.
Facebook
We have a broad audience on the University's main Facebook page, so we keep that in mind when posting on it – this means avoiding anything too niche. If we were to regularly post content that is only relevant/of interest to a small group of people, chunks of our audience would feel alienated and probably unfollow our Page.
So, we usually share the more general interest press releases from the website, alongside more light-hearted content like student blogs and 'top tips' features.
Since the algorithm change – which we explain in more detail here – we have gone from posting once a day on Facebook to posting 3-4 times a week. This means we've had to be even more selective in what we share – to do this, we take into account what content has previously gone down well on Facebook in terms of engagement and reach.
We also try to share one campus photo – usually curated from Instagram – once a week, at the weekend. These posts almost always get strong levels of reach and engagement.
The tone of voice we use can change depending on the content, but by and large it is light and informal. You should also bear in mind that, when posting a link to Facebook, it will create a preview of that webpage, including the title. So, avoid repeating the title in your caption, and try to pique interest in the topic being discussed.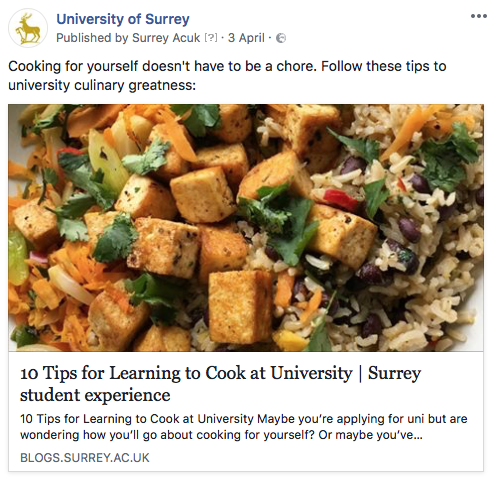 Although there is no character limit on a Facebook post, you should avoid lengthy captions. Facebook cuts off posts at a certain point and creates an ellipsis, which users then have to click on to read the rest of the caption – it might not seem like much, but that little extra action can drive down engagement.
Videos always work well on Facebook (party because of the algorithm) and, unlike Twitter, they don't have a short limit on length. Memes – if you're into that sort of thing – don't work particularly well on Facebook and, in our experience, nor do GIFs.
We also avoid sharing the same content/post more than once. That way, our audience can expect fresh content from us each time we post. An exception to this would be if we staged a Facebook Live that covered useful information – we would potentially re-share that video a couple of times.
Twitter
Straight off the bat, Twitter is unique in that it has a character limit (280, more on that here). So, you'll always need to keep your posts succinct, especially if you're including a hyperlink.
Like Facebook, our audience is broad but there is scope to share more niche content – particularly as we post a lot more regularly on Twitter; three times a day.
Again, our tone of voice will be fairly light depending on the content. Further to this, there are ways you can boost your engagement – using hashtags and mentions.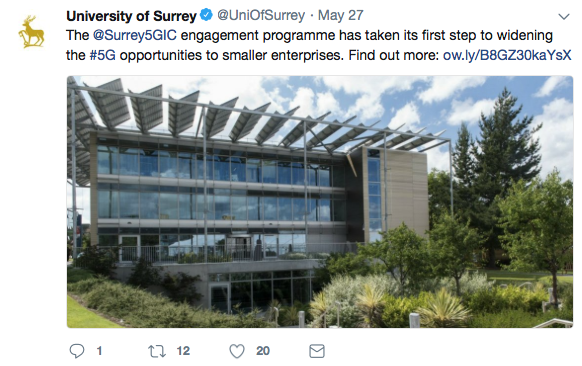 Before writing your post, find out if there are any hashtags relevant to what you're sharing and be sure to include them. Likewise, if you're talking about certain individuals or organisations, see if they have a Twitter handle and include that, in place of their full name.
In terms of post length, it's unwise to use all 280 characters available to you – in fact, you should try and avoid even going as far as 140 characters, the old limit. As with Facebook, keeping your posts short and to the point will retain your audience's attention.
We share the same content numerous times on Twitter – usually three. When doing this, we make sure that those three posts, about the same content, are all different. The captions will be different and, usually, so will the images. As well as keeping things fresh, this also gives us better knowledge of our audience – if one post of the same content outperforms the other two, it shows us that our audience appreciates that style of post.
LinkedIn
As you can guess, LinkedIn has more of a corporate audience, so our lighter content isn't suited to this platform. As such, we fill this platform with our press releases – yes, even the niche ones. We post once every weekday on LinkedIn.
We also share job vacancies, as LinkedIn is a useful platform for job searches.
Our tone will be more formal on this platform and, when posting about a press release, will usually use some of the language from the release itself, particularly if it's a technical topic.
LinkedIn recently introduced the ability to upload videos, which is an element we will utilise more in the future.
The platform is not as fast-paced as Twitter, or even Facebook, meaning that your posts can be longer and can go into more detail. However, posts are cut off at a certain point – like on Facebook – so it's best to get the most engaging part of your post at the beginning of your caption.
Instagram
You can't include hyperlinks in captions on Instagram, but you can have one in your bio. As such, this isn't the platform to share press releases or features – it's a visual platform, which allows you to add some context with a caption.
Like Twitter, hashtags and mentions are important for engagement and reach. On Instagram, it's a good idea to use several hashtags in unison at the end of your caption, though avoid using too many.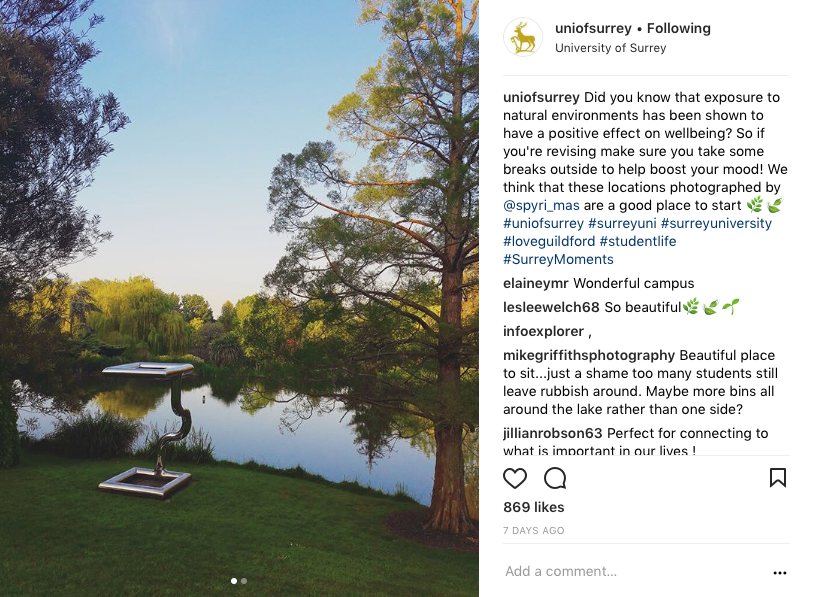 While on other platforms you're likely to have a Call To Action (click here, find out more, retweet etc.), this isn't so much the case on Instagram – the focus is on the image you're posting.
For us, Instagram isn't a platform to share information or updates, it's largely to promote campus – all of our posts come from user generated content. When we come across nice pictures of campus on Instagram, we get in touch with the user who posted it and ask if we can share their photo, while crediting them in the caption.
In summary, it may require more effort to create different posts for different platforms, but it's definitely worth your time. Your audience will certainly appreciate it.
Another thing to note; while varying your posts over different channels, try to also spread out the timings of them. Don't have all your posts from each platform going out at the same time, try to spread them out over the course of a day.