We take a look back at just some of the recent developments in the social media world and how they might impact your approach to social.
Instagram introduces new video channels in Explore (U.S.)
Instagram began rolling out a new look for Explore featuring video channels. The changes include a personalised channel called "Videos You Might Like, and a "Featured" channel "filled with videos on specific topics." The changes to Explore are available in the U.S. Instagram added that they're "working to bring this to the rest of the world soon." This is just an another example of Instagram's attempts to highlight the video offering of their channel. Video is the hottest thing in social media right now, and they need to make sure that they're not being left behind.
The new LinkedIn Students App
The new app from LinkedIn is specifically targeted at soon-to-graduates and aims to help them explore career paths and tackle their upcoming job search. Although currently only launched for the U.S., plans are to release the app in the UK before the start of the new academic year. This will be a fantastic tool for students to help them use social media in a constructive way to boost employability.
LinkedIn state on their blog:
Using insights from LinkedIn's database of over 400 million professionals, the brand new app helps you discover jobs that are a best fit for graduates with your major, companies that tend to hire from your school and the careers paths of recent alumni with similar degrees.
You can find an overview of the new app and what it can do, here:
New Ways to Create, Share and Discover Live Video
Facebook have been a huge driver of the popularity of live video this year, opening it up to all users just a few months ago. Now they're introducing new ways to share live video: in Facebook Events and Groups. Not only this, they're also introducing live reactions and filters, and the ability to replay comments.
Facebook stated:
We've been humbled by all the amazing and creative ways that people have used Facebook Live so far, and we're committed to creating the best experience for everyone who wants to create, watch and interact with live videos on Facebook. These features will be rolling out on iOS and Android over the coming weeks. We'll keep working to bring you the best ways to broadcast, interact with, and discover live video. Stay tuned.
Explore the new features in Facebook's news release.
More Articles You Want to Spend Time Viewing
Facebook constantly update their algorithm in order to show users the stories in the news feed that they will be most interested in (or at least that's the theory anyway). This month they announced that they will now include the time spend viewing an article as a metric to help determine what users would like to see.
We are adding another factor to News Feed ranking so that we will now predict how long you spend looking at an article in the Facebook mobile browser or an Instant Article after you have clicked through from News Feed. This update to ranking will take into account how likely you are to click on an article and then spend time reading it.
Facebook announces Messenger Codes
With the popularity of Snapchat's Snapcodes, it seemed only a matter of time until Facebook adopted a similar approach to Messenger. These codes let users start conversations on Messenger without even being connected with someone on Facebook, or even knowing their name. Although this feature might not be used by friends to chat to each other, it's a huge step in the world of customer service for brands.
Discover how to find your Messenger Code, here.
An easier way to share Tweets privately
Ever wished that you could share a tweet with someone privately? Now you can.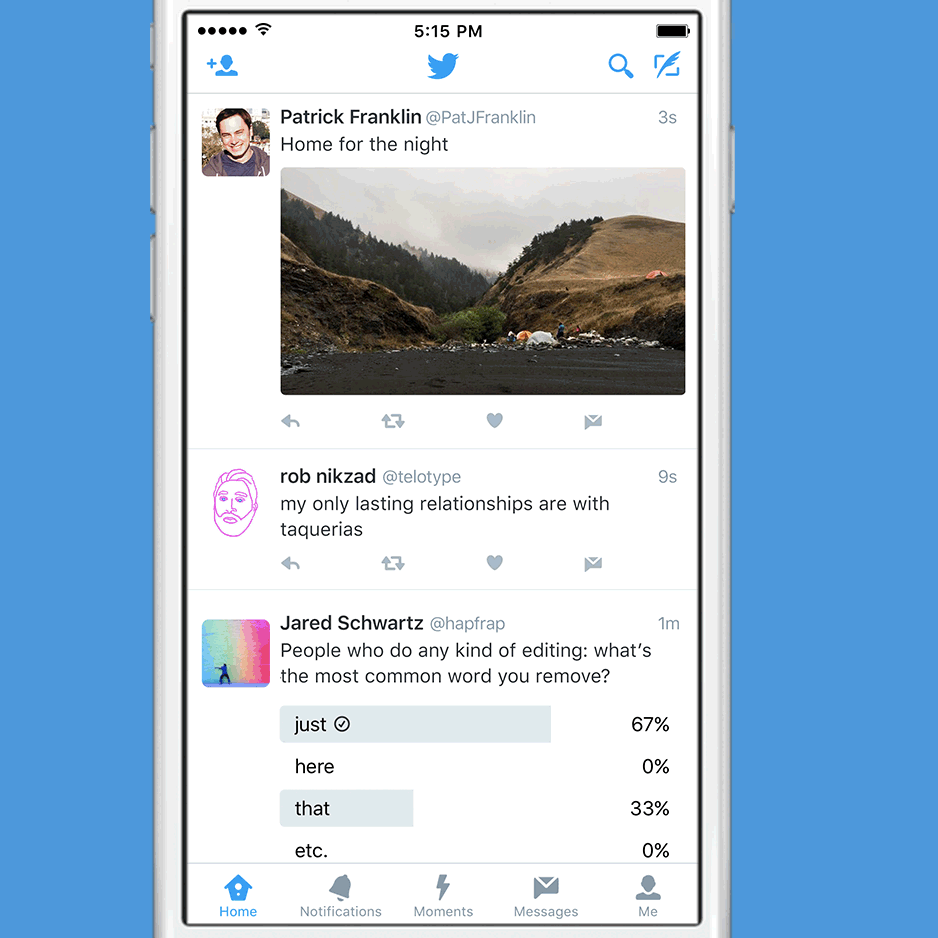 Twitter claim to have seen 200% growth in private sharing of tweets, so it makes sense for the company to make this easier for their users. This also has important implications for customer service on social media, making it easier for brands to deal with incoming issues out of the public eye.
The fact that many social channels are seeing a decrease in personal sharing and increase in private interactions indicates a shift in the world of social media, and is something we all must look to adapt to.