Luckily in the world of social this October, there were more treats than tricks! Read on for the latest features to hit our favourite social channels.
Instagram – Polls, Go Live with friends and the 3 second zoom
October saw the introduction on a host of fun new features on Instagram, especially on Stories. The first new feature of the month was the ability to create a poll within Stories. Much like Twitter polls, you can pose a question to your followers and give them a few options to choose from. To set a poll, just go to the stickers while you're in Story mode, select the poll sticker and off you go! Your friends can vote by simply tapping on the option they wish to choose. Once you've cast a vote, you can see what percentage of the vote each option has so far. If you're the person that posted the poll, you can see how each individual user voted, which has caused embarrassment for some mischievous users that thought voting was anonymous!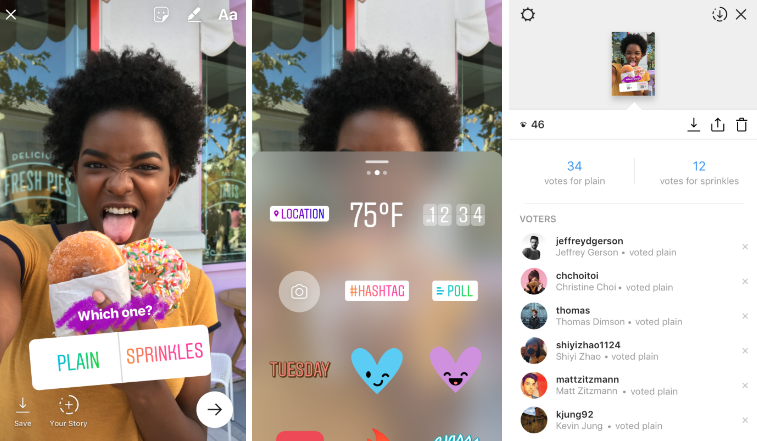 Another practical feature Instagram has given us is the new 'colour picker' option within Stories. This allows you to match the colour of your text/paintbrush to a colour that already exists in the picture you took. To do this, select the eyedropper icon on the left hand side of the screen when you're in draw or text mode. Then, click on a spot in the photograph which has the colour you wish to use. When you type/draw, the colour will be an exact match! They also introduced an alignment tool alongside the colour picker, so when you're positioning stickers and text in your Stories, blue grid lines appear to help you line everything up. These lines appear automatically, so no need to change any settings or select any special tools.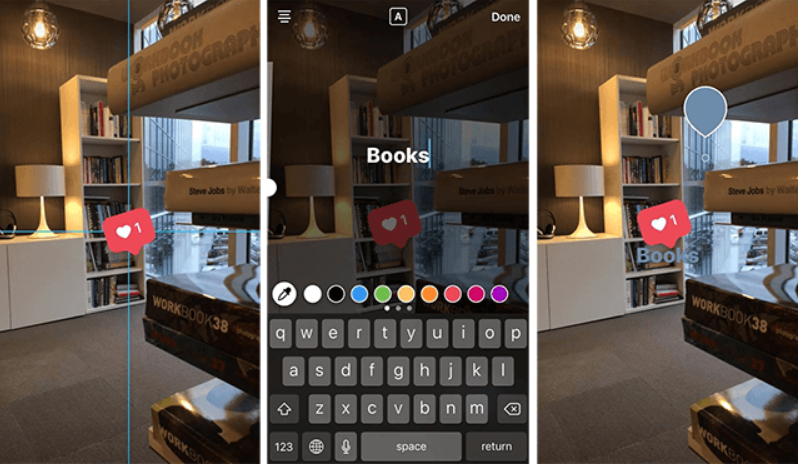 There were also new video features rolled out on Instagram this month, including the hotly anticipated go live with a friend feature. This pretty much does what it says on the tin. When you're broadcasting a live video on Instagram, you can now invite anyone who's watching your broadcast to join in by clicking the 'Add' button on the bottom right hand of the screen. The person can either accept or decline the offer. If they accept, the screen will be split to show both users. You are free to remove your guest user at any time, and they are free to exit themselves as well. As usual, at the end of the broadcast you can choose to share it to your story or discard it.
The second new video feature this month is the hilarious 3 second Superzoom. This comes up as an option within Stories, and again, its title is pretty self-explanatory. When you select this tool, the camera will automatically zoom closer and closer to the subject you're capturing, which is made even funnier by the accompanying music, as seen below.
Have fun trying out all of Insta's new tools!
Snapchat – Context cards and digital art installations
Imagine being able to discover things about the physical world around you through the medium of Snapchat. Well, it's becoming a reality! When you put a company's venue-specific geofilter in your snap, a 'more' link will appear at the bottom of the screen. If you swipe up, information about that place will appear. These 'context cards' include things like TripAdvisor reviews, directions to the venue, opening hours etc., which have been provided by the companies partnering with Snap Inc. Context cards will also be available if you upload your snap to a public Our Story which can be accessed in Snap Map or Search mode. This is a good opportunity for Snapchat to gain more advertising revenue, but it has yet to be seen whether users will buy into it or not.
Another cool concept is the new Snapchat augmented reality art platform. Snapchat has teamed up with artist Jeff Koons to bring art to the masses via their app. Koons' sculptures have been digitally pinned in 9 cities across the world, including Sydney, Paris, and New York. When you get close enough, a special lens which you can view the sculpture through appears. Because the sculpture is pinned to a certain location, its exact dimensions remain intact, so it really is like viewing the physical sculpture. This could herald a new age for the art world – perhaps in time digital museums and galleries will become as common as physical ones!
Twitter – Video Website Cards and save for later feature
Twitter's new Video Website Card feature could be a fantastic way for businesses to increase engagement with and conversion from their adverts on Twitter. At first glance, the Video Website Card doesn't look too different from a normal Twitter post. The video auto-plays, and there is a customisable headline. The main difference you can see initially is that the post contains a destination URL, which you can access by tapping the tap target, which is larger than normal. The thing which sets the Video Website Cards apart from other posts on Twitter is the fact that when you click on the website link on mobile, the video continues to play at the top of the screen while the website loads below it. In beta testing, this was shown to lead to a 60% increase in user retention in comparison to average posts where no video is shown while the destination website loads.
For Hack Week @Twitter we started developing #SaveForLater. Here's the early prototype that we put together in a week, which is likely to change. pic.twitter.com/c5LekvVF3l

— jesar 💭 (@jesarshah) October 9, 2017
In a bid to improve readability on Twitter, the platform are testing a 'save for later' feature. This would allow users to bookmark tweets that they wished to revisit at a later date. You would do this by clicking on the 3 dots at the bottom right (iOS) or the arrow at the top right (Android/PC) of the tweet you wish to save, and then select 'Add to Bookmarks'. You can access all the tweets you've saved by selecting the 'Bookmarks' option from the menu on the home screen. Although this feature hasn't yet been rolled out, you can see an example of what the prototype looks like above.
Facebook – Halloween-themed treats and political transparency
Facebook fully embraced the Halloween celebrations with some spook-tacular features across their platforms. On Facebook Live and Facebook Camera, users could try out numerous Halloween masks, frames and stickers to get them in the Halloween spirit. The masks could also be used during video chat sessions, which added an extra bit of fun to conversations. On the original Facebook platform, a variety of Halloween-themed backgrounds were available for posts. These included a background with Jack 'o lanterns, one with bats, and one with monster arms reaching towards the sky. The theme continued in Messenger, where people could play an interactive game where you had to jump your way out of a haunted house. Overall, Facebook offered a wealth of fun, quirky features in the spirit of spookiness!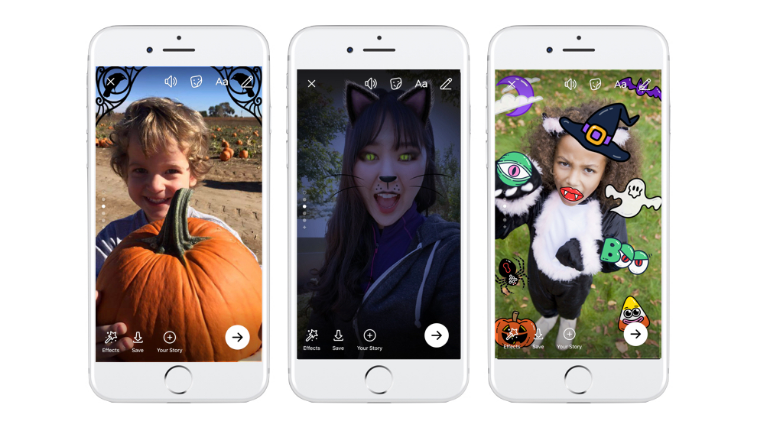 On a more serious note, in the wake of the furore over Facebook ads during the 2016 US presidential election, Facebook have pledged to ensure more transparency in all advertisements posted on the site. When this update rolls out, all adverts placed on Facebook's platforms (Facebook, Messenger and Instagram) will have to be associated with a Facebook Page. Facebook will begin to allow people to view all the ads a Page is running on all its platforms.
For ads relating to federal elections, users will be able to see the demographics that the ad was targeted at, how much money was spent on the ad, and how many impressions the ad has had. Eventually, there will be a searchable archive covering a rolling period of 4 years' worth of election advertisements. There will also be a 'paid for by' disclosure included in the advert, so people can see exactly which entity has sponsored the ad. The update will first be tested in Canada, and is anticipated to roll out to the US and the rest of the world in summer 2018.
In other news:
Hope you enjoyed this month's update! For more info on the latest developments in the world of social, keep an eye on our blog!