With Snapchat disappearing before our very eyes and Facebook suffering hefty blows on an almost daily basis, brands and users alike are turning their focus – at least for the time being – to other social platforms.
One such platform is our trusted friend, Twitter. While it hasn't completely come out unscathed from these Facebook scandals, it's telling that the hashtag #DeleteFacebook trended on Twitter for a whole day when the news of data harvesting first broke a couple of weeks ago. Faith in Facebook has plummeted, but people are still OK with Twitter, it seems.
With that in mind, it makes sense to have a look at how you can grow on Twitter and increase your reach.
The Twitter algorithm
It's hard to thrive on a social media platform without knowing much about the algorithm, and while developers are reluctant to unveil their secrets, there are snippets on insight that help us plan.
Twitter's algorithm is constantly changing – they try out new things all the time, even on a weekly basis, meaning it would be impossible to pre-empt how the platform works as a whole.
The good news is that, unlike Facebook and Instagram, Twitter's timeline is not wholly determined by the algorithm. This is largely down to the fact that Twitter is predominantly not a social media platform – it's a hub for news. In 2010, then Twitter's VP for business and corporate development, Kevin Thau, made that exact statement and it's only become truer as time's gone on.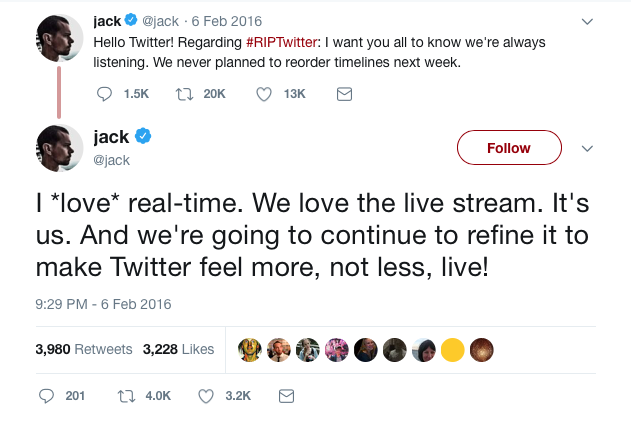 So, the Twitter timeline is largely largely in real-time, but there are aspects of the algorithm you can take advantage of. There are two in particular: ranked tweets and 'In case you missed it.'
Every time you open Twitter, the algorithm will study all the tweets from accounts you follow and give each of them a relevance score based on several factors. According to Twitter, they are:
The Tweet itself: its recency, presence of media cards (image or video), total interactions (e.g. number of Retweets or likes)

The Tweet's author: your past interactions with this author, the strength of your connection to them, the origin of your relationship

You: Tweets you found engaging in the past, how often and how heavily you use Twitter
With these factors, Twitter then uses your past interactions to determine what it deems will be most relevant to you, and places it at the top of your timeline. These are the ranked tweets.
The 'In case you missed it' tweets are fairly straightforward – older tweets that you may have missed but would still be interested in. This only comes into play when you've been away from Twitter from a few hours or days like some kind of monster.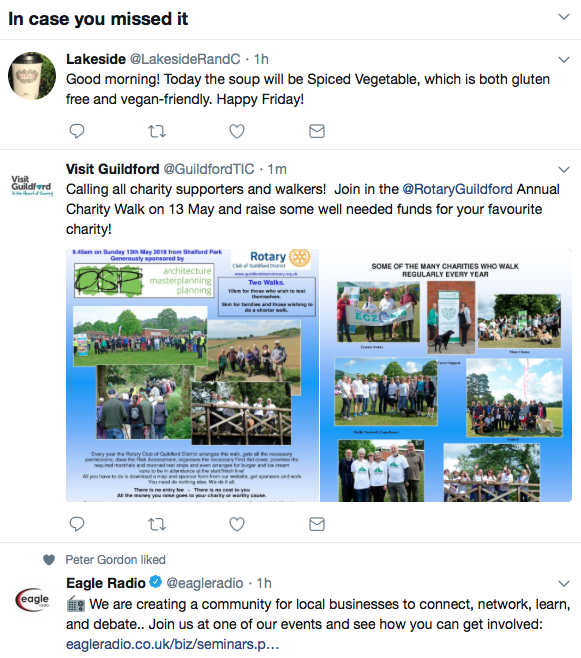 As you'll see, these tweets aren't necessarily in chronological order, their position appears to be based on relevance and engagement.
After these two sections, your timeline moves into the standard format – tweets in reverse-chronological order, though it will be interspersed with sponsored tweets and the like, because capitalism.
The ripple effect
Engagement is a major part of the Twitter algorithm. Essentially, the more engagement/interaction a tweet gets, the more reach it will have – to the extent where it may even appear on the timelines of people who don't even follow you. The better it does, the more chance there is of it being ranked higher on your followers' timelines.
For example, I only have around 1,100 followers on my personal account, but a tweet of mine (full disclosure, it's about boxing) reached almost 20,000 people:

So, here are some tips on how to boost your engagement and reach:
Look at your top tweets
Use Twitter Analytics to see what your best performing tweets are. If they're centred around certain content, then reuse it (if applicable).
Try also to get an overview of your top performing tweets – are there correlations between them? What worked well? It could be a certain type of media, or posting at a particular time.
Further to that, pinning your 'best' tweet to the top of your profile also works well. It can serve as a sort of extension to your bio, giving new visitors to your account a better idea of what you're about.
Posting times
As mentioned, it's not just what you post but when you post as well. Experiment with posts at different times of the day and try to get a better idea of when your followers are most active. Also take into account who your followers are and when they are most likely to be active – for example around lunchtime.
Hashtags
Hashtags have always been an excellent way of boosting engagement – tweets with hashtags generally get twice as much engagement as those without them. Use them where appropriate, and they're at their most effective when they're used consistently. This can be done by using established hashtags like #FollowFriday and #TBT (Throwback Thursday).
Another useful way to utilise them is by establishing your own hashtag and using it consistently.
Video
There are plenty of ways to use video on Twitter, and they've all got benefits – on average, tweets with videos receive a 28% boost in retweets. On Twitter, you can create and upload videos, start a live stream and embed YouTube videos.
Volume of posts
Another factor to consider is how often you post to Twitter. Too much and you'll flood followers' timelines, which could result in them turning away. Too little and you'll struggle to remain relevant.
Like with timings, it's worth experimenting a little. As a rule of thumb you should aim to post at least once a day, but what you do beyond that depends on your following. Try out different volumes on certain days and see if there's any change in your engagement and reach.
Be funny
This one's a lot easier said than done. The main point here is that funny tweets are among the most shared. If it's appropriate, add some humour to your posts – but don't force it. If it doesn't fit in with the voice of your account or if you simply can't think of a good joke, then avoid it.
Use engaging posts
Encouraging engagement can sometimes work wonders, and this can be done through posing questions to your followers. It could be specific to your account, potentially looking for feedback for instance, or it could be more of a fun question related to current events.
An extension of this would be to use Twitter Polls. Whether it's to gain feedback or just engage with your audience, polls can attract a lot of attention.
A note; with both questions and polls, it's important to keep an eye on how much of a response you get. If you're posting questions and not getting any responses, or only a handful of people are using your polls, then it might be worth stopping them – talking to yourself online isn't a good look.
Always respond
It might seem obvious, but but responding to all of your mentions – positive and negative – is worthwhile. It shows that you're responsive, approachable and active.
Be patient
This is an important one. Growth on Twitter is a long process and you won't gain thousands of followers overnight. There will be times of steady growth and there will definitely be lulls, but don't get discouraged. Be active and consistent and engage with your audience – the growth will naturally come.