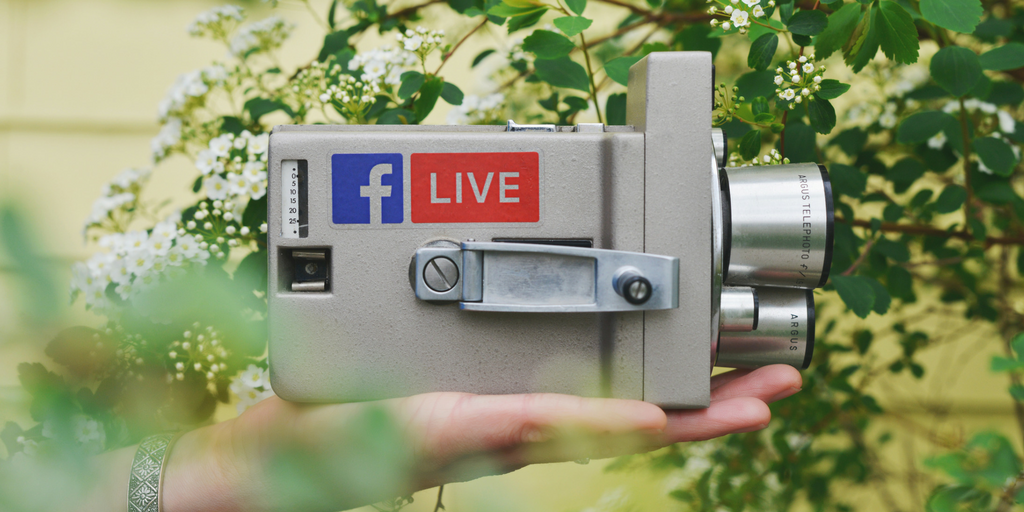 Over the past few weeks, we've hosted a number of live streams on the Student Life Facebook page (and one on the central University page), and I thought I'd update you on what they are and how they work.
The videos are a part of a series of Facebook Lives that I and Luke Williamson from Student Services have planned and developed to fit into our broader social media plan for Welcome Week as a whole.
Starting at university is a huge change in people's lives and it can sometimes be a bit daunting, particularly if it's the first time someone is living away from home (which it usually is). It's also a very exciting time, both for the new students and the University.
With that in mind, our Welcome Week plan aims to provide new students with all the information they need while also building excitement around this chapter in their lives. The Facebook Live series is a key part of this, and this is the first year we've tried something like it.
We started out by highlighting a list of key topics that new students will want/need to know about. They are:
Finance/how to make the most of your money

Accommodation and what it's like to live at Surrey

Results Day Q&A

Student life

Off campus accommodation

Support services at Surrey

Living in halls

The Students' Union – who they are/what they do

Sport at Surrey
These topics were informed by our experiences from previous years and what sort of questions frequently pop up before new students arrive in September. Each topic will have its own Facebook Live, and each stream will consist of a panel of experts discussing the topic.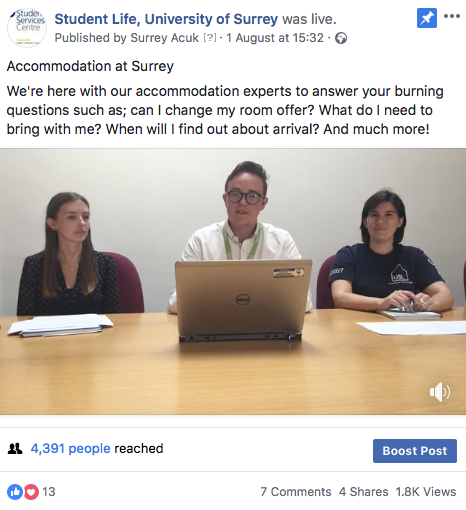 We have hosted Facebook Lives for some of these topics in the past – for example finance and off campus accommodation – and they've always been well received, and we anticipate that this year's dedicated series will be of great use to new students.
The benefits (we hope) of these live streams are that new students can easily access the information they need, our student-facing social media channels will gain increased exposure to new students, and that these students will also be able to see some of the personality at the University, thus making them feel more comfortable about joining us in September.
Our overarching Welcome Week plan outlines that all of the content shared will come from our student-facing channels, in order to make it clear to new students that these are the official social media channels for those currently studying at Surrey.
We started the series a few weeks before results day, and this is the first year that we've actively shared welcome content prior to results day.
So far, we have hosted the finance and accommodation Facebook Lives on the Student Life page. They have reached a combined total of 7,879 people and had a combined total of 3,387 views. These are excellent stats for the Student Life page, so we're excited to see how the rest of the series is received!
Last week we also held the Results Day Q&A on the central University page, and tomorrow we'll be holding our off campus accommodation chat on the Student Life page at 3:30pm (please tune in!).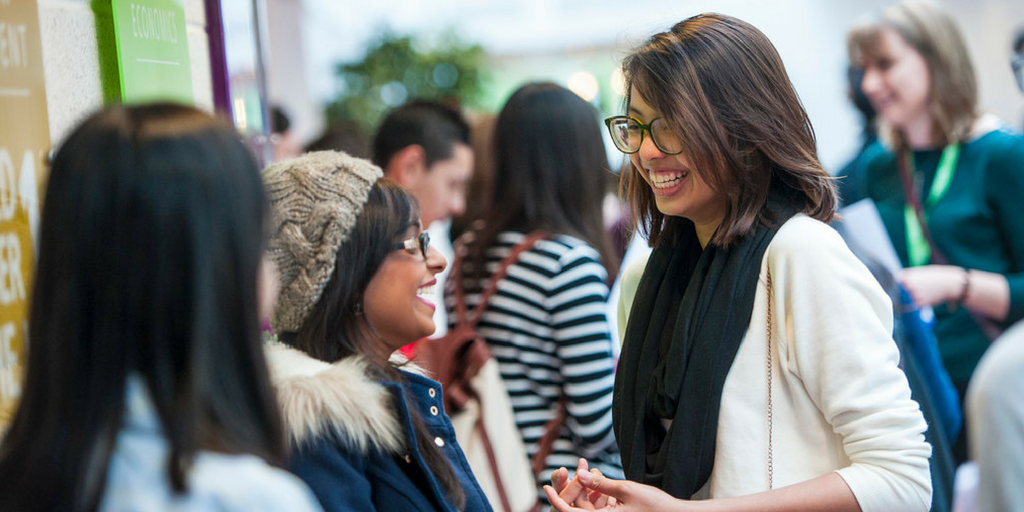 We're also planning to host one of these streams on Instagram, rather than Facebook – the Student Life panel discussion. We've never tried hosting a live video on Instagram, through its own live streaming option on Instagram Stories, and this series provides the opportunity to experiment with it to see how it works.
In order to make these live streams as useful as possible, Luke and I have worked with various teams across the University and what we've found so far is that all of them have been enthusiastic about being involved, and want to do so in the future.
The streams also provide great longer-term content; the majority of viewers for every one come after the live stream has actually finished. Once the stream ends, the video remains on the Student Life page and we – and the teams involved – can regularly re-share them.
Once we hit Welcome Week and the series has finished, we'll take a look at all of the statistics and analyse its performance – I'll be sure to update you as we go along and at the end of it all, so keep an eye out and, as ever, get in touch if you've got any questions!