Things in the world of social media certainly aren't slowing down in the run up to the festive season! Read on for more info on the latest updates from your favourite platforms…
Instagram – Request to join Live broadcasts and Remix your messages
In last month's roundup, we told you about Instagram's new 'Go Live with Friends' option, which allows you to invite a person watching your broadcast to join in. This month Instagram have made it possible for viewers to request to join a Live video. When you're viewing a Live stream you'll see a 'request to join' button. If you click it, the broadcaster will get a notification saying that you've requested to go live with them. They can decide to accept the request or reject it. If they accept, the screen will split in two to allow a joint broadcast. We can't wait to see if any celebs use this feature… how amazing would an Instagram Live duet from Beyoncé and Rihanna be?!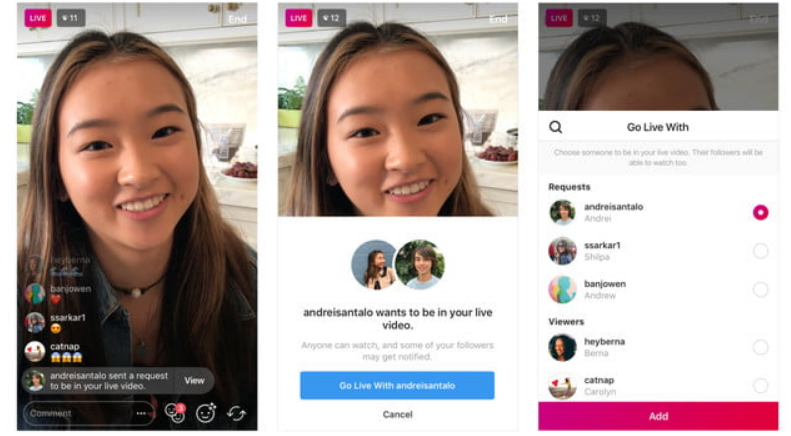 A new feature called Remix is making its way to Instagram Direct to make conversation even more visual. When a friend sends you a photo as a direct message, you will now be able to use that same photo in the form of a sticker to reply to them. By clicking on the camera icon you'll be able to use their photo as a sticker in the image you send back. You can also edit your friend's photo by drawing on it, adding text or resizing the image before you send it back.
Along with Remix, users also have the option to choose whether or not their direct photo/video messages are timed (disappearing after they are viewed) or play on loop. You can use the slider at the bottom of the photo you're sending to choose which option you'd prefer.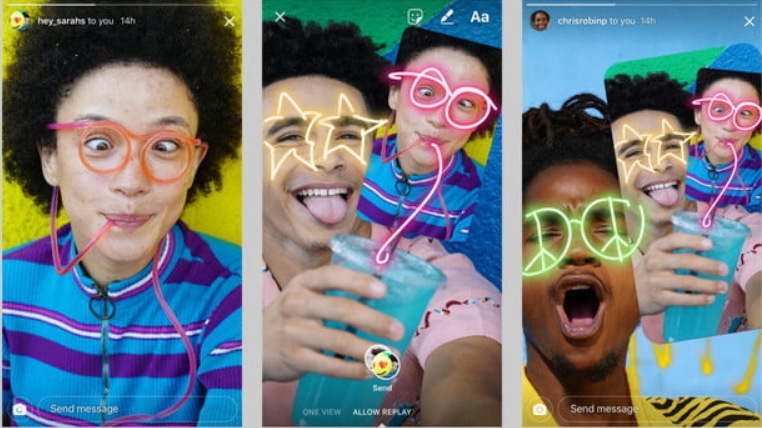 Snapchat – App redesign and new filters
In the wake of competition from Instagram Stories, Snapchat have announced that they are redesigning the app. The idea behind the redesign is to separate the social from the media – content from friends will be accessed by swiping left from the camera, while content produced by brands/creators will be accessed by swiping right from the camera. In addition to this, the 'friends' side of the app will be dynamic. Snap are introducing an algorithm which figures out which friends you want to talk to based on previous interactions, and lists them at the top. This will save you from having to scroll through all your chats to find the person you want to speak to. Similarly, Stories on the Discover page will also become personalised over time. Your subscriptions will appear at the top of the page, and then stories which Snap determines you might be interested in will appear below that. Snap are hoping that this redesign will engage more users and lead to an increase on time spent on the app, which will in turn lead to more investment through ads. Listen to Snap founder Evan Spiegel explain the changes below.
This redesign has begun to roll out, so keep an eye out for the changes!
A feature which has already rolled out to most users is the range of new filters which are based on what you're taking photos of. These 'smart filters' are customised based on the subject of your photo. If you take a pic of your dog, for example, you'll get the option to use the 'it's a pawty' filter, complete with dog bones. If you choose to take a snap on the beach, you'll likely see the 'ocean views' filter, while a picture of food can bring up the 'what diet?' or 'nomz' filter. Have fun seeing what special filters come up as you snap different objects!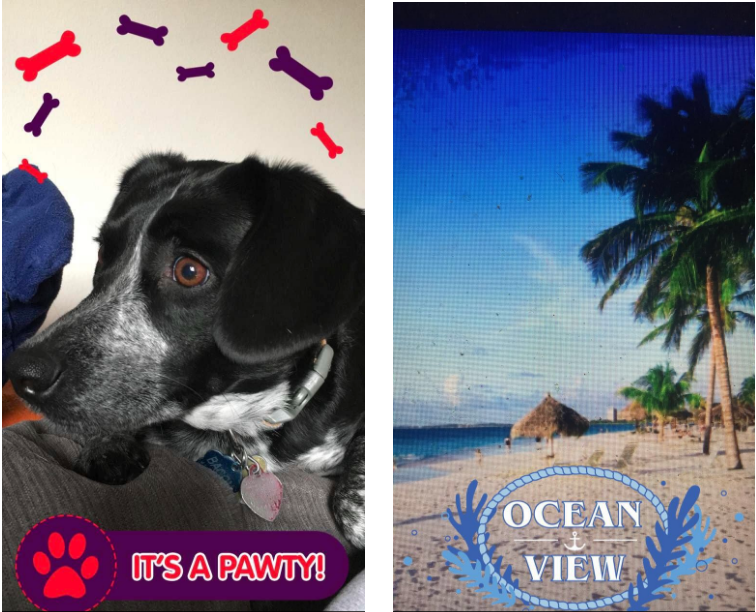 Facebook – New safeguarding algorithm and 4k images in Messenger
In an effort to protect users from harm, Facebook have launched a new algorithm that can pick up on posts which may indicate that the user is feeling suicidal. This includes video posts and Facebook Live videos as well as traditional text-based posts. As well as identifying people who may harm themselves via artificial intelligence, Facebook have increased the number of human staff reviewing the issue. AI is used to determine which posts are passed on to human reviewers first. AI and human staff work together to identify users most at risk and alert first responders to check on the user's wellbeing. The updated algorithms have already prompted over 100 calls to first responders to check to make sure users are ok. The system will eventually be rolled out worldwide, with the exception of the European Union, where privacy laws prohibit this type of monitoring on messages.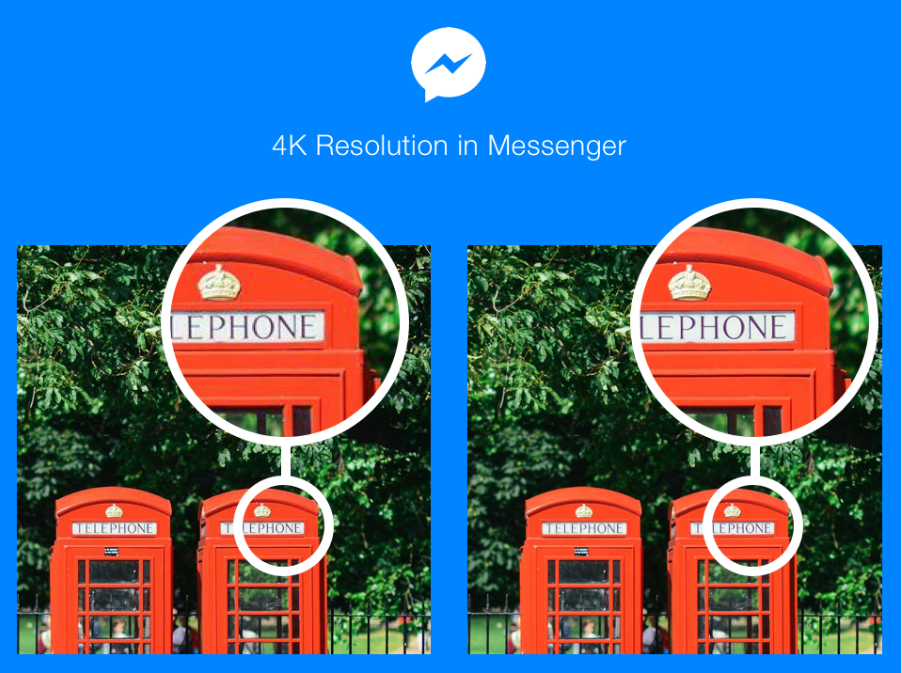 On a lighter note, 4k photos can now be sent and received in the Messenger app. 4k photos are images which are a maximum of 4,096 x 4,096 pixels in size. As you can see from the image above, the 4k picture (right) is clearer than the lower resolution image (left) when you zoom in. Although the 4k pictures are larger in size than lower res images, the speed at which they are sent is the same. Considering over 17 billion photos are sent through Messenger each month, this has the potential to bring clearer, better-quality photos to many users whose smartphones support 4k images.
4k capability has already been rolled out to iPhone and Android users in the US, UK, France, Canada, South Korea, Japan, Hong Kong and Singapore, and will continue to roll out to further countries in the coming weeks.
YouTube – jumping on the Stories bandwagon
First Snapchat, then Instagram and WhatsApp. The latest social site to launch its own version of Stories is YouTube! Reels is their take on the ever-popular story format. YouTube confirmed it was testing the new Reels feature on 29th November, but there hasn't been much more information given as of yet. What we do know is that Reels has been designed specifically for YouTube Creators. Content will be available until the creator decides to delete it, which differs from the standard 24 hour timeframe most stories use. Special features such as linking to YouTube videos and special YouTube-themed stickers are also being tested within Reel. The feature is currently in beta, and no roll-out date has been given yet. We'll update you with more news when we receive it!
Twitter – Revoking verified status for people who abuse it
Verified Twitter users could lose that all-important blue tick if they are seen to be acting in an abusive manner on the social media site, according to tweets posted by Twitter Support this month. Twitter are in the process of refining the verification process, and have stopped accepting public verification requests. They have pledged to remove verified status from accounts whose behaviour does not fall within the new guidelines they are in the process of setting out. The big question is – will Donald Trump's account survive the cull?
5 / We are conducting an initial review of verified accounts and will remove verification from accounts whose behavior does not fall within these new guidelines. We will continue to review and take action as we work towards a new program we are proud of.

— Twitter Support (@TwitterSupport) November 15, 2017
In other news:
Check back next month for December's update!