You've probably heard people talking about it – since being bought by Facebook in 2012, Instagram has steadily grown in popularly, now boasting a huge 300M active monthly users. Instagram is all about photo sharing. Although using photos on channels such as Facebook and Twitter is advisable, Instagram is entirely image-led (or 15-second video-led), although they do allow you to add a caption. Take a look at our Guide to Using Instagram for more information, and explore how the University use Instagram.
Instagram is first and foremost an app, so although you can take a look at others photos from a computer, uploading photos and day-to-day management will have to be on your phone.

You can take a photo and upload it to Instagram either by taking a photo or video directly through the app or uploading one from the photo gallery on your phone. Once you've taken the perfect picture, here are a few things to consider:
Filters and other editing tools
Once you've chosen your photo, Instagram can help make it that bit sharper, brighter or even have more of a vintage feel through a range of tools and features. The below images demonstrate a little of what Instagram can do – experiment and see what works for each image. If you upload the photo from the gallery on your phone rather than take it directly in the app this will not effect the original image at all, so you'll always have the two versions.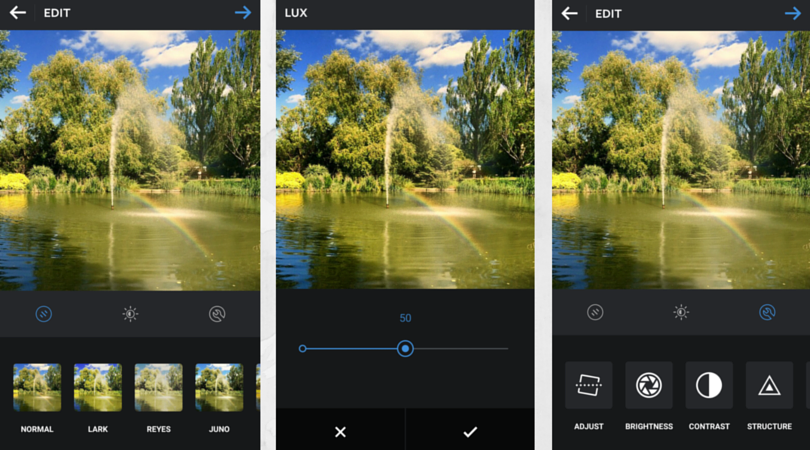 Clever captions
Instagram captions are best kept short – don't be tempted to write endless paragraphs, remember the image is the most important element and your caption should simply provide context. Hashtags work here the same as on other channels, helping to tag similar topics (or in this case images) together and potentially raise the profile of your photos to a wider audience. If you're not sure on how to use hashtags, you can check out our #HashtagsExplained post. Some users on Instagram will add hundreds to their photos in order to maximise exposure, but you do this at the risk of looking more like 'spam'. Be selective, take a look at the content already tagged with the hashtag and use a maximum of 5-8 per photo.
It might be tempting to add a link into the caption, however this won't work on Instagram. It will not be clickable which means users will have to type it manually. One way major brands get around this issue is to update the link in their profile description and direct users to that in the caption.
Remember, it's social
Don't be worried about interacting with others on Instagram – you can still 'like' or comment on the photos of others whether you know them or not – similarly to how you would on Twitter. Remember, it's a social platform. Mentioning others (tagging them) on Instagram work in the same way as on Twitter, add an '@' symbol in front of their username to tag them in a comment or caption. If you're commenting on someone else's photo, be sure to mention them in the comment or they won't receive a notification that you've commented.
By selecting the magnifying glass at the bottom of the page, you can explore photos from other users that Instagram thinks will interest you. Through this feature you might discover an exciting account you previously knew nothing of. If there is something specific you're looking for, you can either search for 'Users' or 'Hashtags' using your keyword.
If you'd like to share your photos further, you can connect your Instagram to existing accounts such as Facebook and Twitter. This can either be selected for each individual photo or as a rule for everything you post.
Mapping your photos
When uploading your image you will be given the option to search for the photo location and add it to your map. Adding photos to a map will often result in increased interactions from others looking to find out more about a that location. Furthermore, it will allow you to see a map of all the photos you've taken on it from around the world by clicking on the map pin on your profile – if you're a keen traveller this can often look very impressive!
Instagram is by far one of the more fun social networks, experiment and see if it is something for you. However, as with all social networks consider what you're posting and how you'd like our privacy settings – Instagram photos are public by default so you may want to consider editing your settings depending on your content.