We take a look back at just some of the recent developments in the social media world and how they might impact your approach to social.
A new look for Instagram
May 2016 is likely to go down in history as the month that Instagram changed their logo – with mixed reactions! They announced the change on their blog, and of course on Instagram:
The reaction to the change across social media was mixed, with many users sad to see the end of the original Instagram branding. Instagram's head of design wrote about the inspiration behind the change on Medium.
Instagram brand profiles are on their way
This month, Instagram announced that they are looking to introduce brand profiles for businesses. Although I believe that this is all part of Instagram following the Facebook model, it will mean some new features for businesses to make the most of. This includes a new 'contact' button and the option to get directions to the organisation. You can see the differences at a glance, here: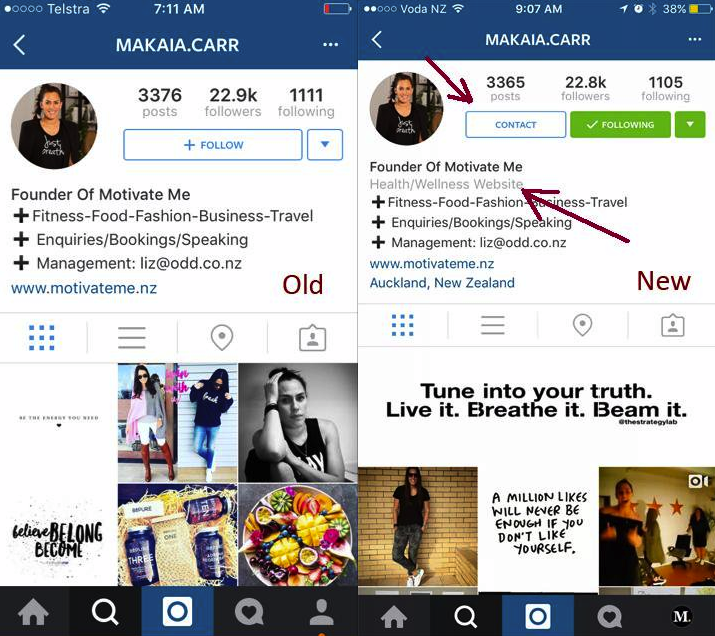 Not everyone will qualify as a business on Instagram, however — only those who already have a Facebook Page for their business will be able to convert their account.
Finally – Instagram to get analytics
Along with the new Business Profiles, Instagram is soon to get its own analytics platform – similar to what is available on Facebook at present.
With these insights, you'll be able to track which posts perform well, and details about audience demographics. This would include data on things like top posts, reach, impressions and engagement around posts.
The insights experience is set to be mobile-first — meaning that the feature can be used while on the go.
LinkedIn considering their own 'Instant Articles'
So this is potentially just rumour, but word is that LinkedIn are considering their own version of Facebook's Instant articles. This is no big surprise – LinkedIn already have an active blogging platform, and hosting content directly will allow a better experience for LinkedIn users.
With 57% of LinkedIn traffic now coming from mobile, there is an increasing need for fast-loading, instantly accessible content. It will be interesting to see how they move forward with this – it could make LinkedIn a more significant player in the wider content landscape.
Facebook test disappearing messages
With the ever increasing popularity of Snapchat, it's no surprise that Facebook want to get in on the 'disappearing content' game on their Messenger app. It's all part of a trend of increasing concern around privacy – if your posts disappear you won't be caught out in years to come (or so is the theory).
They began testing this back in November, however latest news about the feature on suggests that users will get to set their own expiration for messages, (after they turn on the disappearing messages option).
Temporary Reactions

To celebrate Mother's Day (in the USA) Facebook added a new Reaction to their suite that was launched back in February. It's easy to see potential future uses of this feature – holidays and celebrations could soon have specific Reactions. They could even be 'sponsored' by businesses as a means for Facebook to monetise the feature.
However, social analytics firm Quintly this month released a study into how Reactions are being used more widely. The findings – Reactions aren't really being used that much…
Comment on Facebook… with a video
All predictions said 2016 was going to be a big year for video – and they weren't wrong. In fact, it's now possible to reply to a Facebook post by posting a video in the comments.
You can now add #video to comments on #Facebook posts! pic.twitter.com/ZIeKJvQQPj

— The Deli Agency (@TheDeliAgency) May 17, 2016
Twitter is no longer a 'social network'
This month, Twitter made a significant move – no longer categorising themselves as a 'Social Networking' app in the iOS app store. It's officially a 'News' app instead, and the move really signifies the direction Twitter is heading in for the future.
Coming soon: big changes for Twitter
Possibly the most exciting news for Twitter this month was the announcement that they were making significant changes to the way 140 characters in a tweet would be counted.
In the coming months, we're introducing new ways for you to express even more with a Tweet: https://t.co/l1sWRvXWqr pic.twitter.com/zzhWpRcABs

— Twitter (@twitter) May 24, 2016
The main changes outlined in their blog include:
Replies: When replying to a Tweet, @names will no longer count toward the 140-character count.
Media attachments: When you add attachments like photos, GIFs, videos, polls, or Quote Tweets, that media will no longer count as characters within your Tweet.
Retweet and Quote Tweet yourself: We'll be enabling the Retweet button on your own Tweets, so you can easily Retweet or Quote Tweet yourself when you want to share a new reflection or feel like a really good one went unnoticed.
Goodbye, .@: These changes will help simplify the rules around Tweets that start with a username. New Tweets that begin with a username will reach all your followers (that means you'll no longer have to use the ".@" convention).