We caught up with Carley Deanus, who runs the Library social media accounts. They are currently active on Twitter, Facebook, YouTube, Instagram and their 'Library News' blog site. Carley has worked at the University of Surrey for 2 years and 4 months. Although she never studied at Surrey, Carley has a history with the University as she has lived in the local area her whole life, and has many friends who have studied here.
Over to Carley….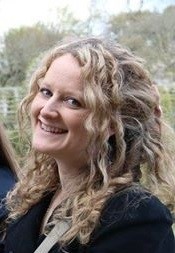 Hi Carley! Tell us a bit about your role at the library…
My role is Library Team Leader and I am jointly responsible for the Customer Services team. My focus is on front of house operations and user support, so as you can imagine, this encompasses quite a lot!  My role has a lot to do with communications to, and engagement with, students, staff visitors – in fact, anybody who might use the Library. It also covers how we're providing support from the front line desks and through our roving service.
How did you get into doing the social media for the library?
In a previous role I had done quite a bit on social media, and I saw how successful it could be as a means of interacting and engaging with students within a Library setting.  When I first joined the University of Surrey I'd noticed that we had a presence, and although a few people were responsible for inputting into the channels at the time, it wasn't really anyone's responsibility. I came at quite a nice point at which it made sense for me to take a bit more 'ownership' of the accounts, and I have kept them on ever since!
What do you want to achieve through the library social media?
For me, the purpose of social media is to engage with our users, and get important messages across in an interesting and more visual, way.  When I first started, we had a blog which we posted on and everything linked automatically from this to our Facebook and Twitter accounts. To be honest, it was quite dry, so something I was keen to do from the offset was identify what each platform was best used for, and ensure that content wasn't replicated in order to appeal and reach out to different demographics.
I was also interested in looking at the insights and analytics areas of each platform, to better understand our audience and also what worked (and didn't work) from a post perspective. Obviously as a University we have a lot of part-time students, mature students and distance learners – in addition to our undergraduates, postgraduates and Alumni – for whom the virtual learning environment is the main place that they go to for information and support, so I felt that social media was key to the whole student experience.
Using social media is a great way of promoting what's going on in the Library – as well as highlighting our services and facilities to those outside of the University as well – such as members of the public, and students who may come and visit us from other institutions as part of the SCONUL scheme. The Library's social media account isn't just limited to University users, so it's great that we can use it to appeal to other categories who sometimes go a bit under the radar as well.
Do you use social media personally? If so, what is your favourite platform to use?
I do – unsurprisingly, I have quite a few accounts: Snapchat, Instagram, Twitter, and Facebook tend to be the ones I use the most. Facebook had just launched when I first started using it so that was the new thing then, but I think that it's getting to the point for me, and I also think from a library perspective, that it's not really the preferred platform anymore.
In terms of Twitter, I tend to use this quite a lot as a way of interacting with other library information professionals; there's quite a big community on there, and it's great for sharing ideas and tips and things like that. For me, I think Instagram is my personal favourite, and as time goes on, it's fast-becoming a favourite in the Library as well! What I like about Instagram is that it conveys messages in a visual way (in a much more stylised fashion than Facebook ever did) – it doesn't have to be a whole load of text either; like they say – a picture speaks a thousand words! So it's definitely Instagram for me.
What has been your favourite social media post for the library so far?
That's really hard! We're always trying to think of different ways to not only tie into University events, but also national and international events as well.
I like to see what is trending on Twitter and I use this quite a lot to inform our communications schedule. Posts I've enjoyed doing are ones where we've been able to engage with popular culture, like the Great British Bake Off, but also link it back to the library collections and the services that we offer.  I've also enjoyed experimenting with video. During clearing we did a nice post of a book going through our sortation unit with a sprinkling of glitter that we threw in at the end (!) – we like to think outside the box and do something a little bit different!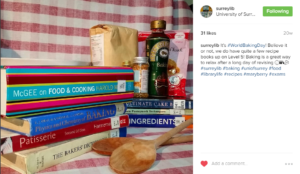 Do you have any plans for the future of the library social media channels?
We're currently reviewing what platforms work for our target audiences, and I think the most important thing right now is to not be afraid of letting accounts go if they're not working; after all, we want to make sure we're using the same social media platforms as our students.
With the University's new Snapchat account in full swing, and the fact that we now have the opportunity to assist with takeover days, I think this channel will become more of a focus for us over the forthcoming year. I will also be thinking about how we can make more of the video capabilities Instagram offers in the form of its 'stories' function.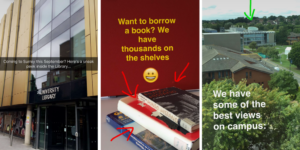 What advice would you give to other people running departmental social media accounts across the university?
Have a select number of people who are going to deal with the accounts so that you have equal representation across the department – it can be a rather mammoth task for just one person, and with more people involved, you've got access to a whole wealth of ideas for posts too!
Be consistent. If you do have a team of people posting on your social accounts, there needs to be consistency in your tone of voice and an understanding of the University's brand and social media policy.
Try to post daily (or at least every other day). Fresh content is really important and also helps increase your account activity.
Have a communications schedule. We have an Excel spreadsheet where we plot every day of the academic year as well as the different university and national events that are happening. We have a 'Publicity and Marketing' subgroup within the Library who meet monthly to review this schedule; we sit round and add in all the different posts we want to do and assign people to them so that the responsibility for contributing content is shared.
Understand how hashtags work, and how to use them! We found that the use of hashtags helped to increase our followers as well as linking to other Libraries and other social media accounts, so make sure you're plugging into the right ones.
Link to other accounts within the University. At the end of the day, you are part of a bigger team; for the Library, it has helped us to see what's going on elsewhere on campus, but for the students it's a useful way of finding out what other accounts they should follow.
Can other people get involved in the library social media?
Yes! We're always looking for ideas for content, so if you see something on Twitter or Instagram you think that's something the Library could be doing then please send your ideas through to us, I'm always happy to receive them. At the end of the day, we want to make sure we keep it interesting, engaging and up-to-date.  The more people that get involved, the better!
Many thanks to Carley for sharing her social media experiences with us – if you'd like to get in touch with Carley you can email her on c.deanus@surrey.ac.uk or tweet her @CarleyDeanus