Many of you will follow the university on social media on at least one of our channels, but have you ever wondered who the people behind the posts are? Well here we meet Jade Beckett, Social Media Manager and Emma Chandler, Social Media Coordinator.  Jade and Emma work in the Digital Team within Marketing and Communications. Together Emma and Jade have a combined total of over 14 years at Surrey, as staff and student! Over to the social team: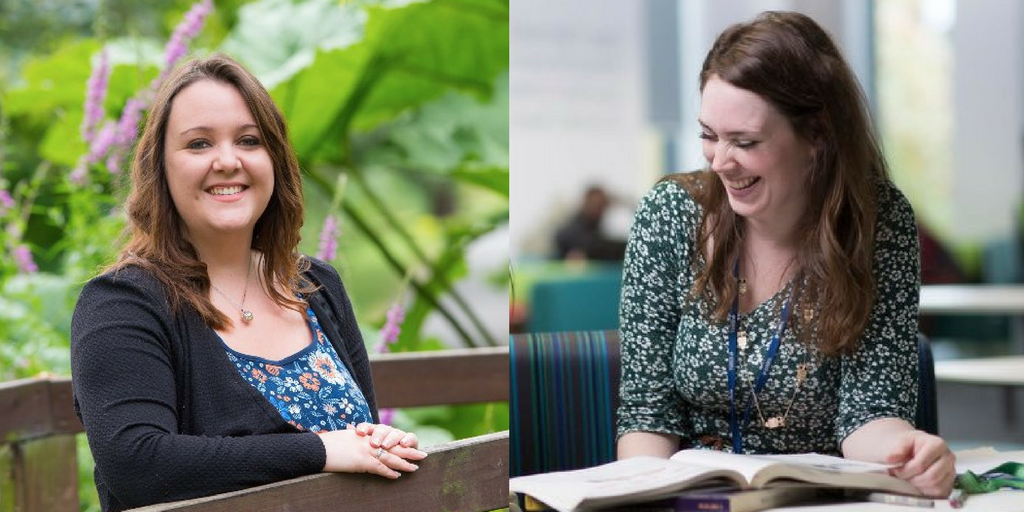 Tell us a bit about your role:
Jade: It's quite varied, literally no day is the same so it spans anything from overseeing how we use the social media channels, for example what content goes where, how it's presented and the key messages that are being shared. We also do a lot of reputation management – so things you don't necessarily see, but we monitor any social activity relevant to the university.
I am also overseeing the social media strategy for the university, outlining how we use social media to meet our goals and objectives, for example student recruitment, reputation and staff engagement  – that will include which channels we choose to be active on and then the approach we take as a university.
I work with a lot of people across the university, both in our department and beyond. We also support training across the university for people who are running brand level accounts, and also individuals who are influential on social media.  
Oh and analytics!
Emma: My role is here to support and compliment Jade's workload, so one of the main things that I do day to day is gather content for our various social media channels and write up the posts that actually get sent out – this content mostly comes from the latest news stories and features that we share on our website, but we also look further to other sources, and sometimes create it ourselves (for example images for Instagram).
I also spend a lot of time doing what we call 'community management' – that is keeping an eye on all of our social media channels and responding to any messages or comments, and making sure that we are engaging with our social community.
I also help to produce content for big University events such as the Jim Meets series – often this involves attending the event and live tweeting from it – so if you ever see someone looking like they're being rude on their phone throughout the whole event that's probably me or Jade tweeting!
Why did you chose to work at the University of Surrey?
Jade: I tried to leave but I didn't manage to stay away! I was an undergrad here studying Psychology, I then graduated and left – I had no idea what I wanted to do. I did a lot of research and decided to work in digital marketing in general. I then worked at an agency and found that social media was a side of things that I really enjoyed.  
In terms of coming back to Surrey I saw the job being posted on LinkedIn and I thought 'I could do that'! So I thought I'd give the application a go and here I am! It's the affinity with the place more than anything, from a social media point of view it's actually good to have studied here because you really get to appreciate the student experience as well.  
Emma: Coincidentally I am very similar to Jade! I also studied Psychology here at Surrey and stayed to do my Masters degree straight after. After a 3 year period away from Surrey working in London for the police, I decided to start a part time research degree back at Surrey and in order to facilitate that I decided to try and get a job here too! The reason I chose to come back to Surrey was partly due to the location (I feel completely at home in Guildford) and partly because I really like the environment here at Surrey and working in social media seemed like (and is) a great opportunity to get involved with the University across a number of different areas.  
What's your favourite part of the job?
Emma: I really like the fact that I pretty much get to know about everything that is going on across the university – we need to know this to make sure that we've got everything relevant covered on social.  It makes you realise how much amazing work goes on across the university and it's really great to be a part of that.  
Jade: I like two parts in particular – I really love going to talk to people one on one about social media and how they can use it in their roles, and helping them see the potential that it's got!  From another point of view, I really like the numbers, prior to coming here I'd worked in market research, so I do have a love of data! Although there's the whole 'be creative' side of social media I think that a lot of it has to be data driven – you have this huge pool of data that you can use to work out if something is working or not.
Tell us something unexpected about your job…
Jade: Perhaps only unexpected for people who don't work in social media, but I think that a lot of people only see the bits that are posted out and think that it's only the content and the responses (that people see) that we work on, but there's a lot of stuff that goes on behind the scenes, it's like an iceberg – you see the tip of it but there's a lot of extra thought that goes into it down to how things are phrased and the time of day that things are going to go out.
Emma: We don't just tweet! As Jade said there is a lot more to the job that people don't see. Other than that, it might be unexpected to hear that we get A LOT of enquiries via our social media channels, mainly from people who are applying to study here. I actually spend a large portion of time chatting to potential students and answering their questions about the university – so it helps to know a lot about the University (or at least know where to find the information we need). The fact that I've been a student here myself definitely helps!
Do you have any exciting social media related news for us?
Jade: Yes I do! Later this year we are planning on launching an account on Snapchat.  We haven't had it before and it's been something that I've wanted to do for at least a year, and it's now becoming possible that we can actually do it. I think that Snapchat, although it's already here and it's a big thing, is becoming ever more important and we can't ignore it – we're currently shaping it out as to how it's going to work.
Emma: Snapchat is probably the most exciting news, but we also have the University's 50th Anniversary coming up so Jade and I have been brainstorming some fun things we can do on social to celebrate that – watch this space!
Where do you see social media at Surrey going over the next couple of years?
Jade: I think that it's going to become more video focused, and I'm not talking the beautiful polished video like what we currently create as a university, I'm talking the Facebook Live type of video: the low-fi stuff is going to become increasingly important. And I think that the bits and bobs that we do, like the chatting side of stuff, is most likely going to go completely behind the scenes. I think that we'll end up with a Facebook/WhatsApp messenger style relationship rather than an out in the open asking questions like we do now.
Emma: Echoing what Jade said, I think that it's going to become increasingly visual – we've already seen this happen with the constant use of emojis, videos, gifs, and images alongside text, and in some cases now completely instead of text.  A lot of the content we push out via our social media channels links back to a piece of research, or a news story, or some other information, so I would like to see us be able to get all of this information down to the social media posts themselves, whether that be through an image, video or infographic I think that this is definitely something to look forward to in the future.  
How can staff members at the University get involved with social media?
Jade: There are various different ways, initially if you are in a particular department or faculty a lot of them have social media feeds that are already in existence and they are doing really well; they're often managed by champions in the faculties, and there's the opportunity of course there for you to have input into them and perhaps provide them with stuff that's going on. I know a lot of them desperately want more input from people so that's one way to get involved.
As an employee just being on social media and saying that you work here is really great – being a 'brand ambassador' so to speak. You don't even have to share our content (although that helps!), it's just having the name out there that would be great for the university.  
You can find a range of resources to help you get started with social media as part of our Social Media Toolkit here: http://ow.ly/3CU4301Y47a (if you are not accessing this link from the university network you will need to log in via your University of Surrey account).