2016 has definitely been a year of change for Twitter – and rightly so. Back in January the company's share price hit a record low. This signalled the need to bring about some big changes in order to encourage new users onto the platform, and enable them to compete against the rise of other channels such as Snapchat.
With Twitter often perceived as 'complicated' and quite unfriendly for users, the Twitter team have introduced a whole host of new features and changes this year. We've talked about many of them in our Monthly Roundups; changes to how the 140 characters are counted, the introduction of Twitter Flight School, an algorithmic timeline and new customer service tools to name a few. All in all, they've helped to make it easier for both new users and brands to get the most out of the platform.
For me, I think their latest tool is one of the very best changes Twitter have implemented. It completely negates the need for the free tiered third-party social tools (I say the 'free tiered' as this won't be enough for big businesses to abandon their paid-for tools) – it comes in the form of a new Twitter Dashboard App.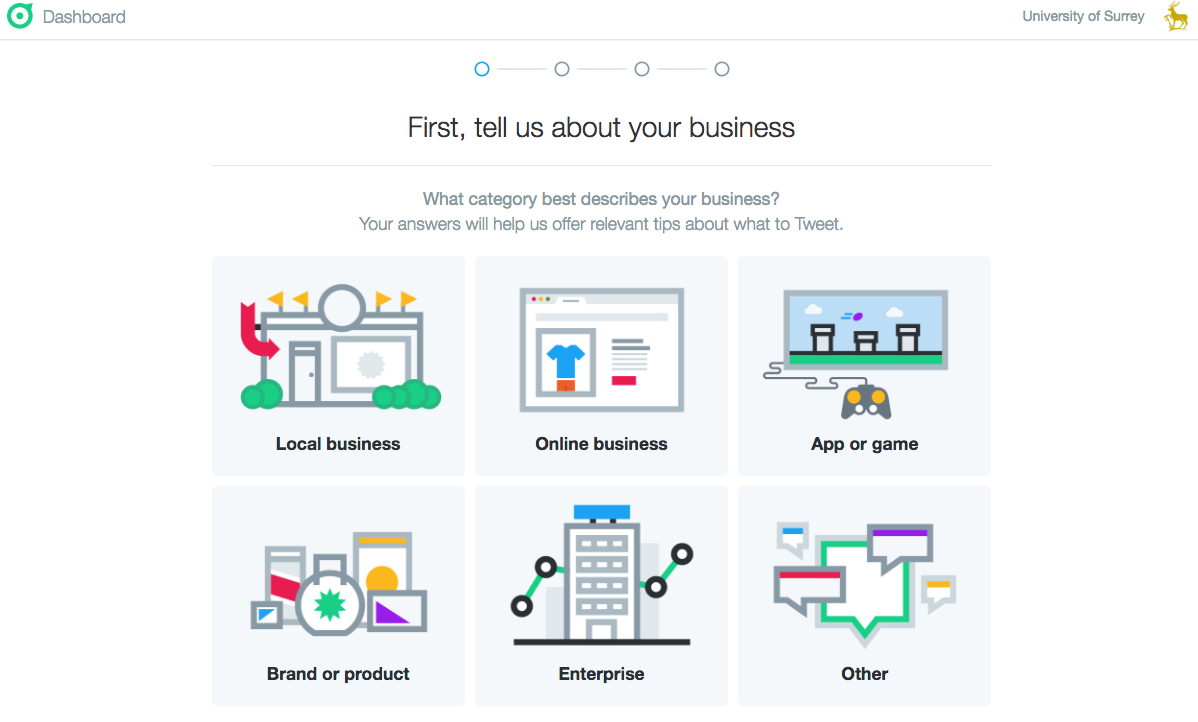 The product is spun as something primarily useful to small businesses, however there is huge scope to use it as an individual too. Dashboard can help you:
Easily engage with your audience
Dashboard allows you to create a custom feed to find out what's being said about your business. It's possible to set up search terms that you may also be commonly known by (e.g. 'Surrey Uni' rather than "University of Surrey'. This will give you a better opportunity engage with your community, or see the conversations around the key topics that you're interested in, whatever they may be.
As an individual, you could use this to follow conversations about topics in your industry to help you find new individuals and conversations to engage with.
Tweet when the time is right
You can now schedule Tweets to reach your audience when they're online and you're busy doing other things. If you want to edit your scheduled Tweets while you're on the go, you can use the Dashboard app to update your Tweet queue. This is a brand new feature for Twitter, meaning that a huge variety of third-party apps (Hootsuite, Buffer) had already made a claim in this territory. This feature might help bring some of these users back onto Twitter itself and away from third-party tools.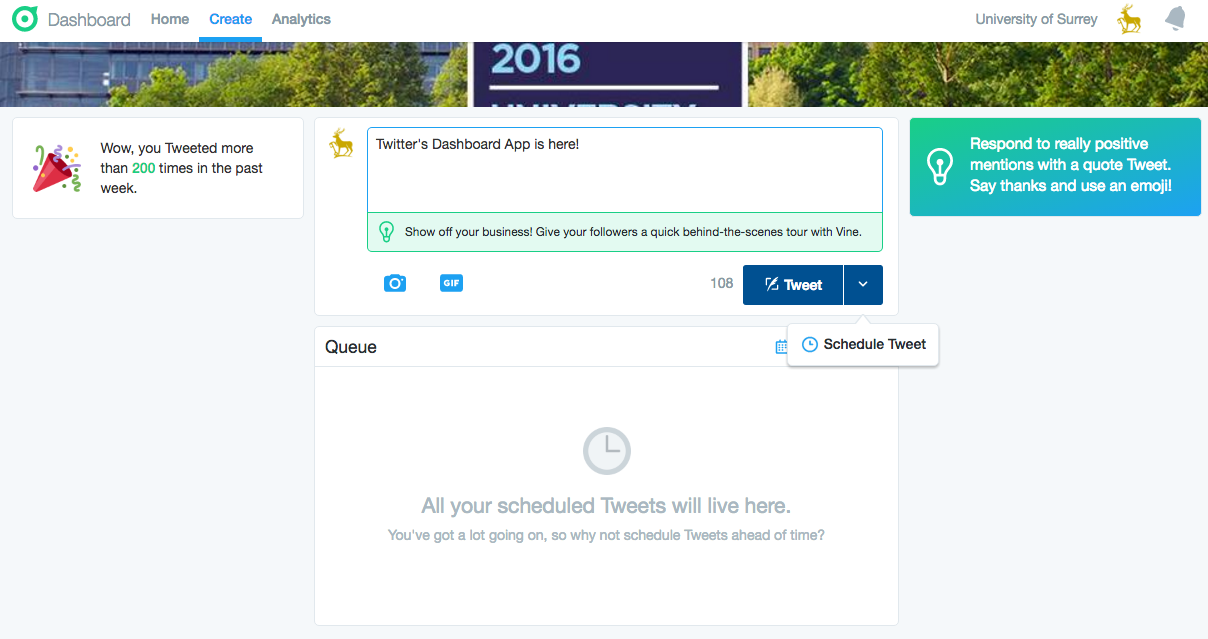 Simplified Analytics
Twitter already have a fantastic analytics platform, however for many individual users and small businesses this huge pool of data can seem complicated and quite overwhelming. Dashboard simplified this data to give you the top-line information that you need to know to make your account a success.
All in all: Well played, Twitter. Well played.