June brought a number of new features to your favourite social channels, and some have proved more controversial than others. Read on for the latest in social media news.
Snapchat – Underwater Spectacles and controversial Maps
June brought new Snap Inc hardware and also an in-app update in the form of the Snapchat Map feature. Map has proved to be controversial amongst many people, with police even issuing a warning to Snapchat users using the feature.
The new Map feature allows you to see your friends' exact location on a map within the app as long as they haven't switched off the location sharing feature. This map is accessed by making a pinching motion on the camera screen as if you're zooming out for a photo. You can then scroll through the map and your friends' locations will be shown if they have enabled the feature. The location is so detailed that you'll be able to see the exact street and even the building that they are in. If you've enabled the feature, your location will update each time you open Snapchat, and can be viewed by all your friends. If you tap on your friend on the map, you will be able to see when their location was last updated (eg 1 hour ago). Your location remains on the map for 8 hours if you don't open the app again, but disappears from the map completely after 8 hours if you haven't opened Snapchat in that time.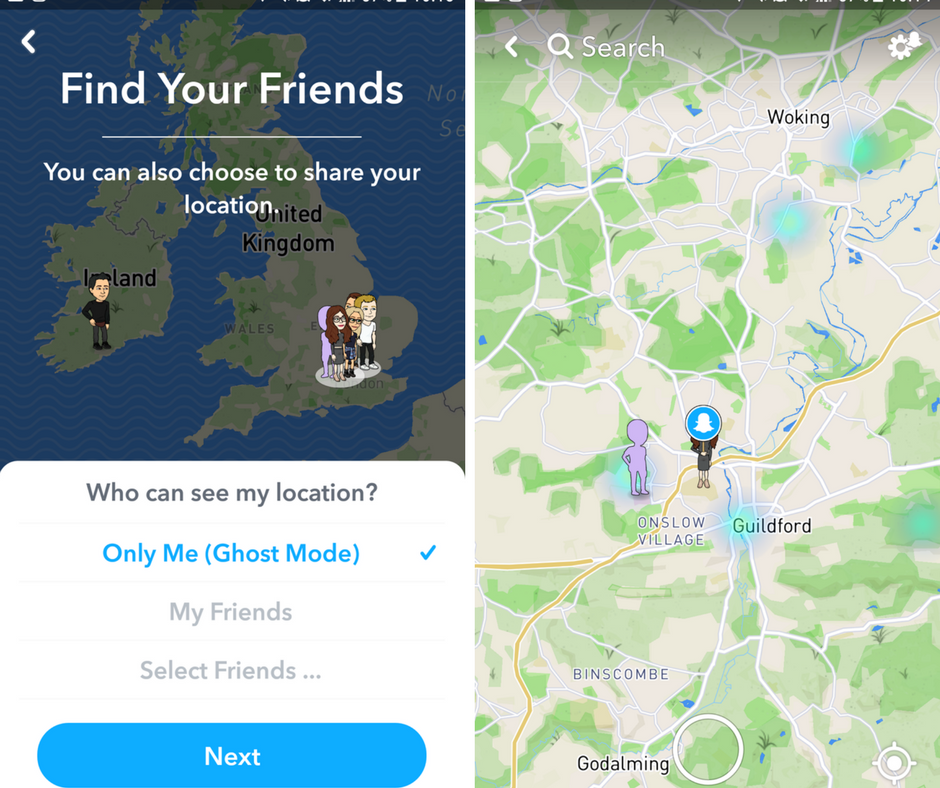 To alter the visibility settings on the Maps feature, go to Settings, choose 'See My Location' and choose the option you wish. As you can see from the photo above, you can choose to broadcast your location to all your friends, selected friends or hide it completely ('ghost mode').
If you send a snap to Our Story while your location on the map is enabled, it may also appear on the map.
Dive 130 feet down into Mayan folklore with @deepleigh in cenote "El Pit." 👻: @RoyalCaribbean to see her dive in Belize 6/25. #SeekDeeper pic.twitter.com/nIZthXHN6Q

— Royal Caribbean (@RoyalCaribbean) June 24, 2017
Snap Inc are looking to build on the success of their first piece of hardware, Spectacles, which have now gone on sale in Europe as well as being available to order within the US. They have developed the SeaSeeker goggles in partnership with Royal Caribbean cruiselines, which can be used to record clips underwater. The SeaSeeker technology is basically the same as Spectacles, but they can be used to record at up to 150 foot depths for a maximum of a half hour. It would be perfect for taking on holidays to capture your snorkelling and diving adventures in the ocean, or even just in the hotel swimming pool! Check out the video of SeaSeeker in action below.

Instagram – Share Live videos, Archive and Favourite friends
The biggest update from Instagram this month has been the ability to share Live videos to your story after your broadcast has finished. At the end of your video, you will have the option to share it to your followers via your Story. Like all Story content, the video will be deleted after 24 hours. This should lead to more views on videos, which in turn will spur creators on to use the Live feature.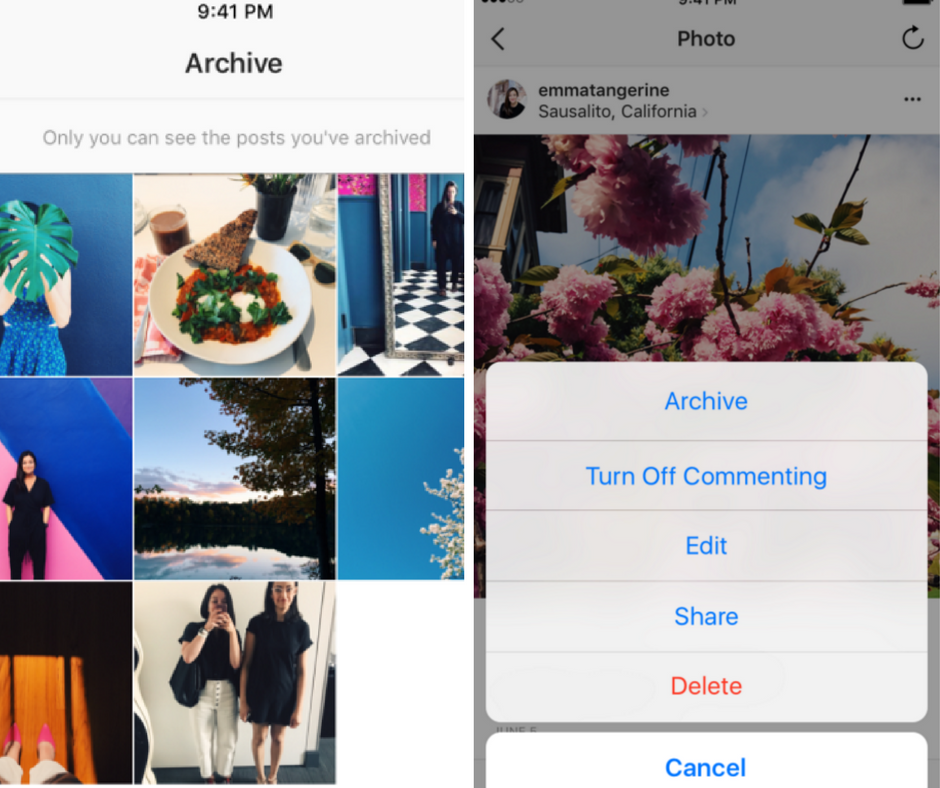 Another useful new feature introduced by Instagram this month is Archive, which allows you to remove photos from your profile and put them in an archived folder which is only available for you to view. To do this, simply press the three dots at the top right hand corner of the post you want to archive and select the 'Archive' option. You can view archived posts by pressing the clock symbol at the top right of your profile. Any archived post can be republished on your profile in its original spot by pressing the three dots at the top of the post and choosing the 'Show on profile' option.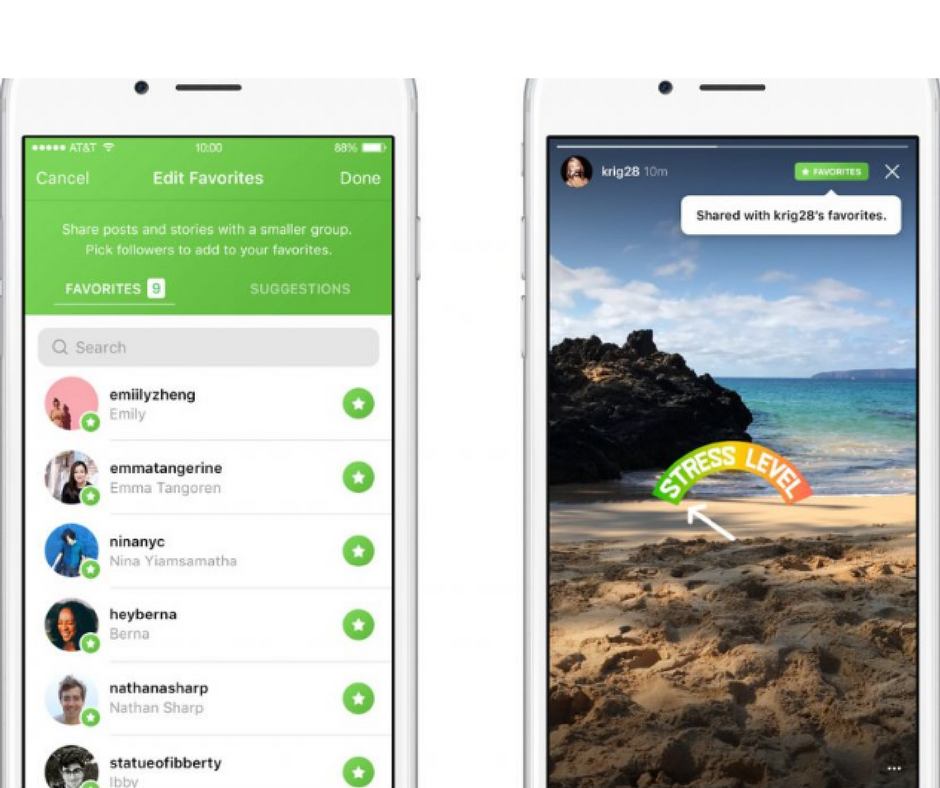 The final update from Insta this month is that they are testing a feature called Favourites. With Favourites, you'll be able to create a list of friends (which you can edit at any time) and share your pictures and videos with them. Users can't request to be added to your Favourites, and if you delete someone from your Favourites list they won't be notified, but they will lose access to all the posts you've shared via Favourites. There will be a tab specifically for content you've shared using Favourites, and a green badge will appear on these posts to differentiate them for regular Insta posts.
Facebook – New video chat filters and more
June saw the introduction of Filters to video chat on Facebook Messenger, following in the steps of Snapchat and Facebook-owned Instagram, which introduced filters in May. You can choose from a number of filters, from subtle colour enhancement to stark black and white or even red.
A number of new Masks (filters which interact with your facial features and/or the world around you) have also been introduced, including twinkling stars, falling hearts, a rabbit mask and more.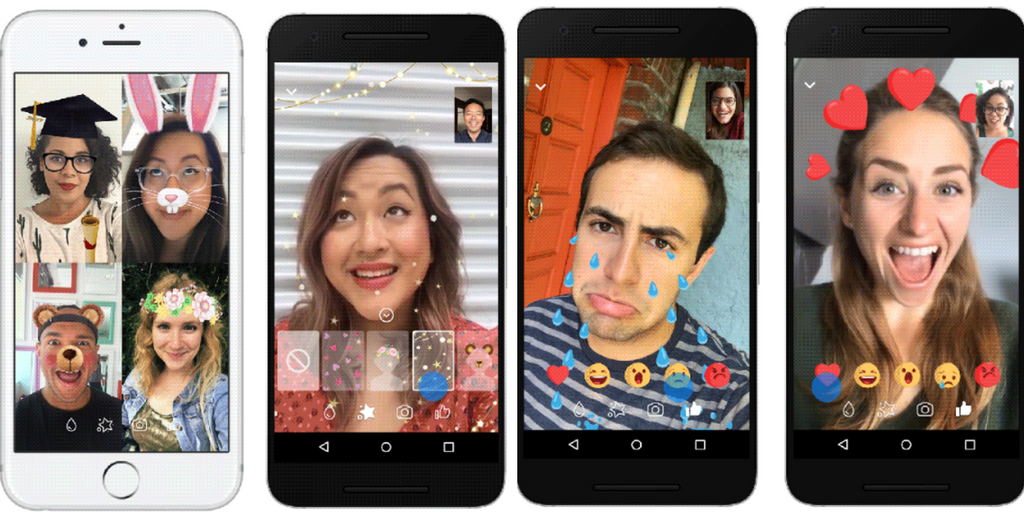 Facebook have also added 'reactions' to video chat. These reactions reflect the reactions you can choose for regular Facebook posts, ie love, haha, wow, angry and sad. If you tap on one of these reactions whilst in a video chat, it will appear as an animation on screen temporarily. These reactions take different forms depending on whether the camera is facing towards your face or away from it.
The final feature Facebook introduced to video chat in June was the ability to take screenshots much more easily. Instead of having to hold the power button and the home button simultaneously, you can now simply press the camera icon whilst in the video chat and it will save a screenshot. This will help you capture those precious moments with family and friends without fear of cutting the call off.
Twitter – Changes to the app
June saw a redesign for Twitter, with many aesthetic changes to the app. Some of the changes include a redesigned 'compose a tweet' logo, new circular profile icons rather than the old square ones, and new action buttons (ie retweet, like and reply buttons). The reply arrow has been replaced by a speech bubble, while the retweet and like buttons have been updated to slimline versions, as you can see in the photo below.
The 'Me' icon has also been removed; your profile is now accessed by pressing the profile, which opens out a drop down menu. You can then select the 'Profile' option to be taken to your profile, or access your Lists, Moments, settings or the help centre.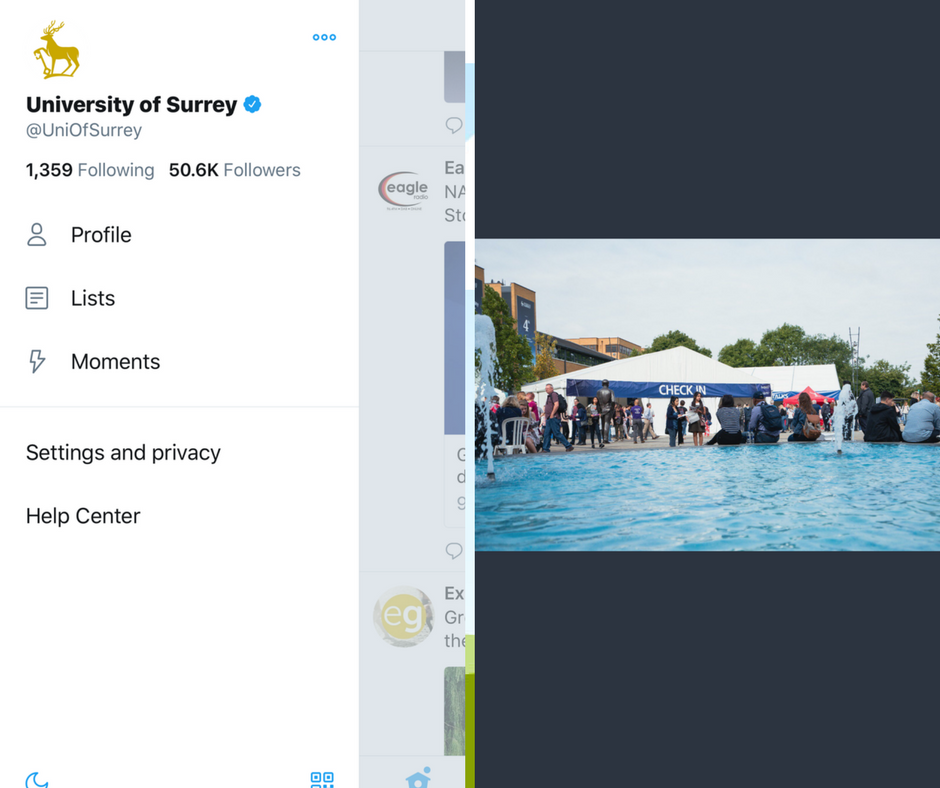 More changes to the visual aspects of Twitter include a high contrast setting to help visually impaired users. Fonts have been updated, with headlines appearing bolder to make the site feel more like a news channel, an area that Twitter have been increasingly invested in. Also, now when you view photos in the Twitter photo viewer the background colour changes depending on what the dominant colour in the photograph is (as seen below). These purpose of these updates to the app's aesthetics are to help an information-heavy site like Twitter feel more spacious for users.
In other news:
Facebook hits

2 billion

users

More options available from Twitter

bots
New

Discover

feature in Facebook Messenger
That's all for this month, but we'll be back next month with the latest social media news from all the biggest channels.