The developers at all the major platforms were busy this month, with new Story features being added to Instagram, Facebook and Snapchat. That's not all they've been working on though! Read on for the lowdown…
Instagram – multiple uploads and new Focus mode in Stories
As the saying goes, 'time is of the essence'. To speed up the upload process Instagram have enabled multiple photos/videos to be added to your story at the same time. Up to ten photos and/or videos can be selected for upload to Stories. Each frame can be individually edited using the in-Story tools as normal. To do the multiple upload, just click the photograph icon in the main Story screen and then select 'multiple upload' and select the content you want to add to the story.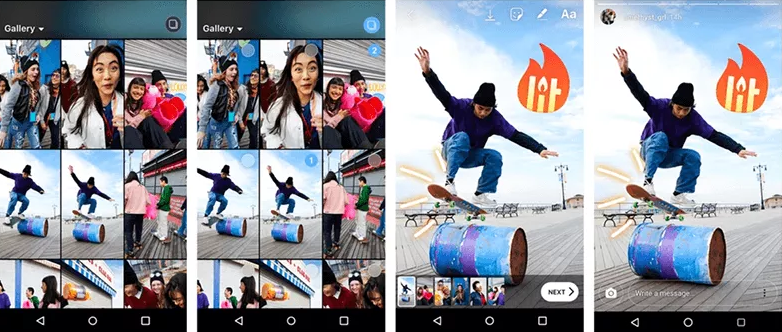 When you select a location sticker to place on the photo/video, locations near where the media was originally taken will show up rather than the location the user is in when they are actually uploading the material.
Insta have also introduced a new camera mode called 'Focus'. It is the perfect mode for portraits, as it focuses the camera on the faces in the frame and blurs the background. It can also be used in video clips. To use the feature, go to the Stories camera and slide across the options at the bottom of the screen until you reach the Focus option. Then snap away!
Snapchat – Spectacles 2.0, shop in ads and more
New Spectacles are coming! Snapchat released the original version of Spectacles back in November 2016, but Spectacles 2.0 include some upgrades. These include the ability to be used in shallow water, HD filming capability, dual microphones for better audio capture, and the ability to take photos as well as video. The glasses come in three shades of frames, and you can pick between two different lens tints. Now available in the US, the UK and Canada, a pair of Spectacles 2.0 can be yours for £149.99.
With the app struggling to retain users (and its share price), Snapchat is trying to increase its marketability as a viable platform for businesses to advertise on. This month, they've introduced "Shoppable AR" to their lenses, which comprises of three features. Feature one is referred to as a website. When you click a button with the advertiser's AR lens, you will be taken to a mii website promoting a particular product or providing you with an opportunity to sign up to something. The second feature is "video", which pretty much does as it says on the tin; if you click this button you'll be able to watch a short clip (for example, a movie trailer) or a how-to video. The final feature is "install", which urges you to download a specific app, or open the app if you already have it on your phone.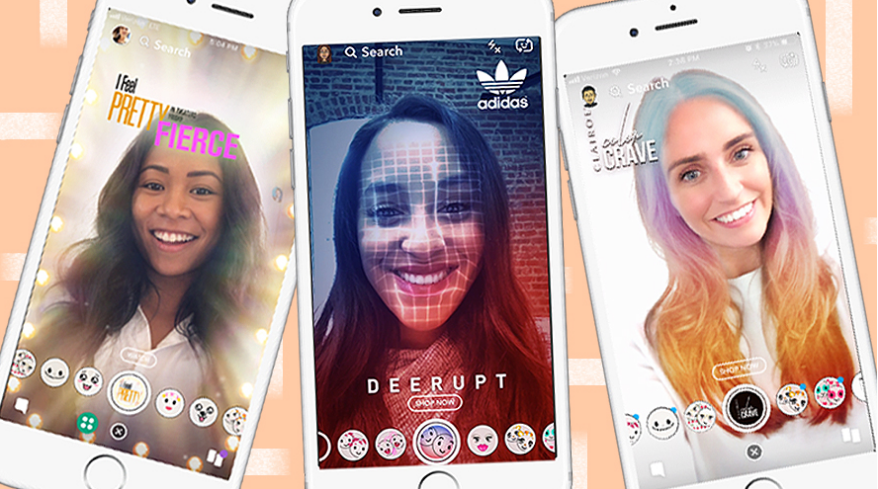 By offering these options to advertisers, Snap will be hoping to increase revenue from brands, while brands will be hoping to convert this new form of advertising via AR into sales/downloads.
Our final update from Snap this month is full of fun! Snapchat have introduced "Snappables", a variety of fun games that you play using the app's camera and augmented reality lenses. Snapchat have featured games before, but the difference with Snappables is that you can invite other friends who use Snapchat to join in with multiplayer games. New games will roll out weekly, so you'll never get bored of the same few games. Snappables have started rolling out globally on both iOS and Android, and can be found to the left of the capture button whilst in the lens selector.
Facebook – Labelling political ads and new Stories features
After the controversy regarding the use of Facebook ads during the American Presidential Election in 2016, the platform vowed to reform the way political advertisements are dealt with. Facebook have said that by June this year, all political ads will have to be labelled to mark who paid for them. All campaign ads will have to go through an authorisation process to prove they're not being used to undermine the democratic process before they can be posted. In addition, users will also be able to view all advertising put forward by the different campaigns, rather than just the targeted ads that appeared in their news feed. It is hoped that this will make the advertising more transparent and make it more difficult for election and referendum results to be affected by social media ads.
Does anyone actually use Facebook Stories? It seems as though that's irrelevant, as Facebook are still adding new features to it regardless of engagement levels. They have recently added the ability to include AR drawings and boomerang videos to your story. The AR drawings, referred to as 3D drawing in the app, allow users to create doodles on real-life photos. The 3D nature of the doodles could make drawings a bit more interesting than the standard 2D drawings that currently exist, but whether the addition of this or the boomerangs (videos that play back and forth on repeat) will entice people to use Facebook's story feature is yet to be determined.
In other news: