As a University we're active across a number of social media channels, including Facebook, Twitter, LinkedIn and Google Plus. We utilise these accounts in a variety of ways, including to help share University research stories and successes. We've recently had a fantastic example of how sharing new on social media can sometimes attract media attention – helping to raise individual academic profiles as well as that of the University.
Before Christmas, a link to 'Exploring the Invisible' a blog by Surrey's Dr Simon Park was shared from the University of Surrey Twitter account, including an image of 'BioBaubles' to fit with the pre-Christmas theme. This tweet was viewed 3,221 times. Although some might argue this is not particularly high, what followed emphasises just how important it is to consider the relevancy and quality of your followers, rather than just the number of them.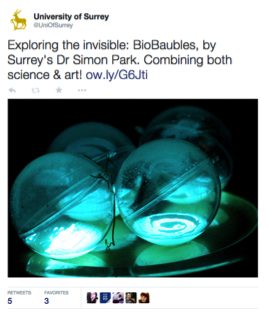 This tweet was picked up by a journalist who came across a post on the blog from February 2013 on bacteria and smartphones (you can find the 2014 version here). Since then, dozens and dozens of articles have been written about the experiment performed by undergraduate Microbiology students at Surrey – reaching as far as India, Russia and Swaziland.
These articles have then gone on to be shared hundreds of times on Twitter, Facebook and other channels. Part of the reason this story has worked so well on social media is the relevancy to all. The vast majority of individuals have a phone of some kind, and the images included are often quite striking which makes it perfect for standing out on channels where there is already a lot of 'noise' such as Twitter.
Social media doesn't have to be all-consuming, there are lots of things you can do to get started without it eating up too much of your time. However, it can sometimes have a very big impact when reaching the right audience.
When thinking about what to post on social media, consider the following points:
Will my audience like this – is it likely to interest them?
Will my post stand out from the crowd – could I add an image to make it more engaging?
Would I be likely to share or click on this post if it appeared on my timeline?