Updates to Stories have dominated all the social channels this month, with Instagram, Snapchat and Facebook making changes to their story formats. Read on to find out more.
Instagram – GIF stickers and text-only options come to Stories
Have you ever wished that you could use the infamous 'Kim Kardashian ugly crying' GIF in your insta story? Now you can! Instagram have teamed up with GIPHY to introduce a library of GIFs to suit every situation. The GIFs cover everything from Spongebob Squarepants characters to an animation of the Queen dabbing – though I doubt we'll see that one being used on the royal family's social media channels! To access these GIF stickers, just tap the sticker icon at the top of the stories screen as normal, then select the GIF option. You can select a GIF that is trending from the library, or browse all the GIFS available using the search bar. The feature is available to all users now, so give it a go!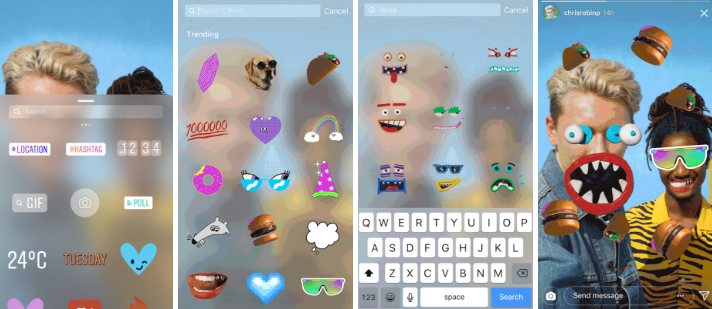 In January, Instagram began testing a new feature which would allow users to post text-only images to their stories. This can be accessed by going to the stories screen and clicking into the 'Type' mode. Previously, users only had the option of using one block colour background with a single font for text. With Type, users will have several backgrounds and fonts to choose from. The backgrounds available depend on which font you choose, with at least 4 backgrounds available per font. It's just been announced that this feature is rolling out to all iOS and Android users, so check your app – it might be available already!
Snapchat – New deluxe Bitmoji and no borders for camera roll uploads
Loads of Snappers love using their customised Bitmojis to add a bit of pizzazz to their snaps. Unfortunately, bitmojis can sometimes lack the options to accurately reflect their creator's appearance. They've taken this feedback on board and have introduced Bitmoji Deluxe, which gives users many more options to customise their avatars.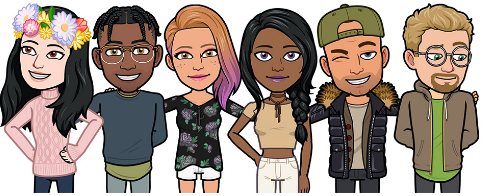 This update has introduced more options for skin tones, hair colour, hair styles, clothes, facial features and more. You can even take a selfie while customising your avatar in order to compare the resemblance! If you're happy with your current Bitmoji, don't worry – you won't have to change it!
In a long-awaited move, Snapchat have also removed the ugly white borders from snaps that users upload from their camera roll. Instead, pics posted from the camera roll or Memories will now just contain a tag stating this. Although this is a positive move for the app, there are still some issues with the technology. When users upload pictures that are horizontal, they are automatically rotated into portrait mode, with no way to change the orientation. Hopefully this will be addressed by Snapchat soon!
Facebook- taking the news out of the News Feed?
With Snapchat redesigning their app to separate paid content and content from users' friends, could Facebook take a similar stance? It's not completely unfathomable. In October 2017, Facebook tested the Explore Feed in six countries, where content from publishers (ie, the likes of Lad Bible, Cosmopolitan, Huffington Post etc.) was placed in a separate feed. So, instead of having one News Feed, users had two; one with content from family and friends, and another which showed content from businesses and publishers.
This has led Digiday UK to question whether or not Facebook will roll this out globally in the future. If they did separate the news feeds, this could greatly reduce the organic reach of posts from businesses and publishers. Facebook could then provide a way to combat this issue by getting them to pay to be featured in the main News Feed, which would of course bring in extra revenue for the social media giant. It is important to note that there are no current plans to separate News Feed content, but if is definitely a hot topic which publishers will want to keep an eye on.
For now, news is still an important part of the News Feed. Facebook have recently announced that they are going to be prioritising local news in users' feeds.
This update won't apply to any one particular type of story, instead covering local arts, sports, and human interest articles, in addition to conventional news. Facebook will identify local publishers by seeing which ones are clicked on by readers in a tight geographic area, which should, in theory, lead to more local and regional news appearing in your feed. For now, this initiative will be based in the US, with a more widespread rollout possible in the future.
In addition to this, Facebook have changed their algorithms in order to display more friend-based content at the top of users' feeds. Posts from family and friend will be more likely to appear at the top of your feed, as well as videos which Facebook feel are likely to generate conversation/interactions (especially Facebook Live videos). Content which has more reactions, shares and comments will appear higher up the feed, while posts that don't receive as much engagement will be relegated to further down the feed. This means that Pages are likely to see their reach, video watch time and referral rates decline. However, users can still opt to see content from Pages they follow near the top of their feed by selecting 'See first' in the News Feed preferences. We're interested to see how this affects the type of content created by Pages, as they will have to change their strategy in order to stay relevant in the News Feed.
Twitter – Improved image cropping
We've all seen it before – someone posts a picture to Twitter and the cropping process has not been kind to it! Twitter has acknowledged the problem and is now actively trying to fix the issue by making improvements to the cropping tool. Previously, image cropping has focused on face detection, but this has a tendency to create issues, especially when posting photos where humans are not the subject.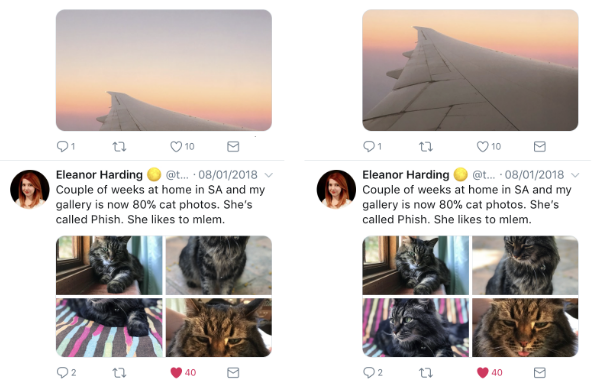 Now, Twitter have launched a new cropping method to combat the problem. Areas of high contrast are likely to draw the attention of viewers, so the automatic cropping tool now ensures that these areas are the focus of the photo. This has led to a big improvement in the way which images are cropped within the app, as seen above. The new process is currently being rolled out to all Twitter users on desktop, iOS and Android. Have a look through your feed and see if you can tell the difference!
In other news: