Before shocking revelations were made about how it has been used for data-harvesting, Facebook announced a major change in its algorithm and the way users' News Feeds would work.
In January, Mark Zuckerberg revealed that the algorithm would now prioritise content from "friends, family and groups" over content from brands.
"As we roll this out," Zuckerberg wrote, "You'll see less public content like posts from businesses, brands, and media. And the public content you see more will be held to the same standard—it should encourage meaningful interactions between people."
Understandably, a lot of brands and publications reacted to the news with worry – Facebook remains the largest social media platform in the world, after all. There have even been a few horror stories of smaller online publications having to discontinue because the vast majority of their traffic came through Facebook, and this algorithm change effectively cut that traffic flow off.
The term 'meaningful interactions' is the one to focus on here – Facebook, with these announcements, stated they are not as concerned with the amount of time people spend on their platform, but rather the quality of that time.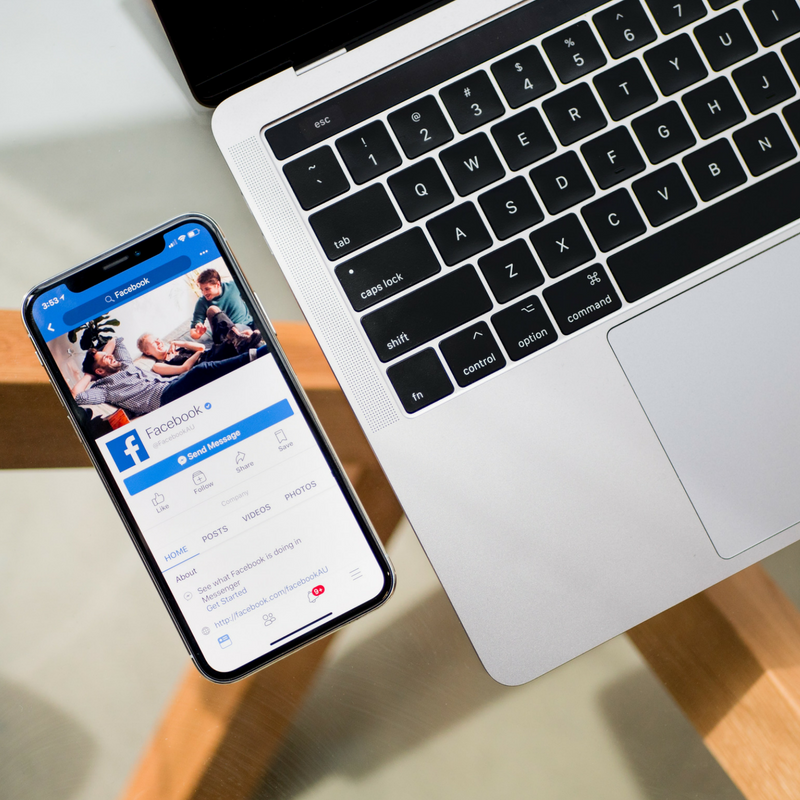 What is a meaningful interaction?
The new algorithm prioritises active interactions – like commenting and sharing – over passive interactions – such as likes and click-throughs. The idea behind this is that commenting and sharing require more effort and time, thus making them more meaningful.
These changes suggest Facebook don't want users to passively scroll through their News Feed, occasionally liking a photo or post – they want people to be getting involved in discussions, mainly with their family and friends.
Usefully, when they made the announcement, Facebook went into a bit of detail about what interactions would be prioritised.
Comments
In the announcement, Zuckerberg directed the following at brands: "Pages making posts that people generally don't react to or comment on could see the biggest decreases in distribution. Pages whose posts prompt conversations between friends will see less of an effect."
Your post is more likely to appear high up on someone's Feed if their friends and family are talking about it. So, you want to try and share posts that will ignite a discussion or elicit a reaction – whether that be through posing a direct question or discussing relevant, timely topics, for example.
Reactions
We've spoken about the importance of Reactions in a previous blog post – essentially, the Reactions (Haha, Wow, Sad, Angry and Love) will boost a post more than just a 'like'.
Shares
When someone 'shares' your post, it is posted directly onto their profile, meaning it will appear in the News Feeds of all their family and friends – it's a great way for your reach to be increased.
With the new algorithm, Facebook aren't simply prioritising posts that are shared – they're prioritising shares that then elicit more engagement. This ties in to the number one meaningful interaction, comments. If a post that someone has shared on their own profile is then commented on by some of their family and friends, the post gets an extra boost.
As an offshoot of this, posts shared as links on Facebook Messenger will also reap more rewards.
Those are the main three, as highlighted by Facebook. There are a few other factors that are also taken into account: average time spent on content/when it's posted/story type/completeness of page profile & how informative the post is.
Tips on how to boost organic reach
As a result of the algorithm change, brands and businesses across the board have seen a dip in their organic reach – some much more than others. Our main University page has seen a drop in overall organic reach, and so a different approach to Facebook has been adopted.
With that in mind, here are some suggestions on how to boost your reach:
Use more video
Videos are a no-brainer for two reasons: statistics show that people are far more likely to engage with a video on social media than any other type of post and also, as far as can be told, videos are favoured over other posts by Facebook's algorithm.
Further to this, the algorithm absolutely loves live videos, mainly because they are created purely through Facebook's own streaming platform. Earlier in the year, Facebook provided an update: "Live videos often lead to discussion among viewers on Facebook – in fact, live videos on average get six times as many interactions as regular videos. Many creators who post videos on Facebook prompt discussion among their followers, as do posts from celebrities."
So, ensure that you're regularly posting videos, in particular live videos – Facebook has explicitly outlined that they'll perform well in the new algorithm.
Don't go fishing
Over the past few years there has been a dramatic rise in the number of pages which essentially beg for engagement – you'll have seen the posts; "Like this post if you love dogs!" or "Comment if you can't wait for the weekend." Facebook's got no time for it.
They write: "Using 'engagement-bait' to goad people into commenting on posts is not a meaningful interaction, and we will continue to demote these posts in News Feed."
That's not to say you can't prompt a discussion with your post, as we've outlined above. It just needs to be natural and, to use Facebook's language, meaningful. For example, during the recent Postgraduate celebrations we asked people for their own graduation memories.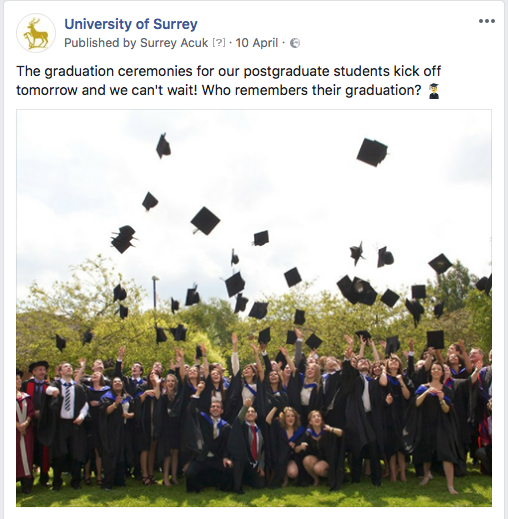 Quality over quantity
Perhaps the most important piece of advice here is to know your audience and what sort of content they want from you.
To encourage 'meaningful interactions', your content has to mean something to your audience. The best way to work out what your audience wants is through analytics – see what posts did well and from there you can piece together why that was the case.
Further to this, it's worth investing more time into ensuring each post is as engaging as possible, rather than focusing on simply posting more. This is an approach we've taken on the main University Facebook page – we used to post once a day, but since the algorithm change we've reduced that to 3-4 times a week and have also tried to focus more on video content.
It's not just the content you share, but also how you package it; think about the caption, any accompanying images/emoji you want to add and also when you post it.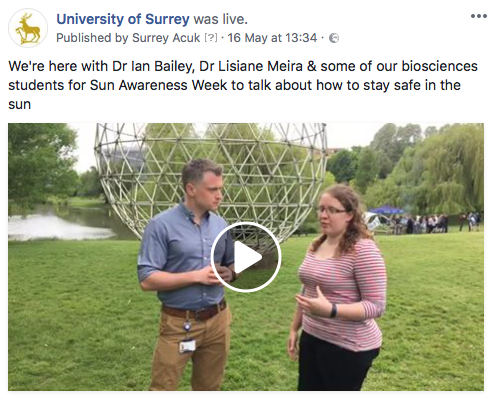 The algorithm change happened a little while ago and no doubt you've tried out new ways of adapting to it already, but hopefully these tips have given you something else to think about!