I've recently become intrigued by the phenomenon of YouTube bloggers and why it is such a big business. Seemingly average people are managing to bring in subscribers in the millions and creating a living off of their YouTube channel, so I thought I would explore this in more detail….
Let's start by looking at the most popular YouTuber
The most subscribed to YouTuber is Swedish comedian and gamer Felix Kjellberg, known on YouTube as PewDiePie. With over 49 million subscribers, PewDiePie has twice as many subscribers as Justin Bieber, who is the most subscribed to pop star (and third most subscribed to channel on YouTube overall). PewDiePie even has more subscribers than YouTube's own channel Spotlight, also beating them by double. If you're over the age of 17 it's probably unlikely that you've heard of PewDiePie, and like me you might be asking yourself how does he have more subscribers than the population of South Korea?!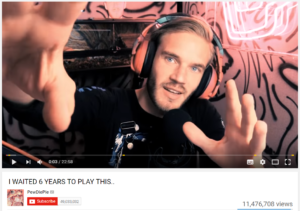 PewDiePie's channel started off in 2010 with him creating game commentary videos – that's basically him playing video games so that the viewer can watch his game play as well as a thumbnail of him playing the game and commentating and sharing his reactions while he plays. This then expanded to him posting vlogs (video blogs), comedy videos and videos of him and his friends playing various games and performing sketches. Alongside his YouTube activity, PewDiePie also made personal appearances at gaming conventions, and as his popularity grew he has appeared in a number of TV programs and news articles, all of which led to his subscribers increasing.
PewDiePie is part of a generation of 'Tubers' who have become popular because of their YouTube channel, rather than having set up a YouTube channel after already being famous for other reasons. PewDiePie is not the only successful YouTube star, although no one quite comes near to his subscribership. British beauty vloggers such as Zoella (11million subscribers) and Tanya Burr (3.5million subscribers) are becoming household names, and British and Irish gamers such as KSI and jacksepticeye are also pulling in the viewers, with 14 million and 12 million respectively.
In order to understand why the Tuber phenomenon is so popular I have done some extensive research (i.e. sat in front of my computer and watched more PewDiePie videos than I care to admit) and have come up with a list of possible reasons:
1. People can relate to what they are watching
Most tubers have a theme to their channels, which means that people are pretty much sharing their hobbies with their followers.  So the gamers watch PewDiePie, jacksepticeye and KSI because they want to see what they think about new games, and they can share their own experiences in the comments. You might watch Zoella or Tanya Burr to see what their latest beauty buys are, or get some inspiration for a makeup look for the weekend. Whatever it is you're looking for, you're getting what you want from someone who is sitting in their bedroom talking to a camera and could easily be someone you know. They aren't out of reach like traditional celebrities, they are living the same lives as us, doing much the same things. One of the aspects that I've noticed about the popular Tubers is that they speak to the camera as though they are having a chat with their friends, and many of them refer to their viewers not as their audience, but as their companions. For example, PewDiePie calls his viewers 'bros' and gives them all a 'bro fist' at the end of every video. Zoella often tells her viewers that she hopes they've had a lovely week, and not just that she hopes they've enjoyed her video. These little things make you feel like you are part of the Tuber's social circle, rather than feeling like a fan from afar.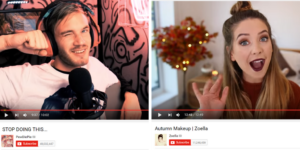 2. There's more going on behind the scenes
Once you delve into the world of Tubers you uncover a strong network of people making videos about…well basically nothing.  Most of the popular Tubers are signed to networks which help to produce YouTubers' videos. For example, PewDiePie is signed to Maker Studios and has created his own sub-network, RevelMode, which is made up of a number of Tubers, such as his girlfriend CutiePieMarzia and friends jacksepticeye, KickThePj and CinnamonToastKen. Unsurprisingly, all of the Tubers who are part of RevelMode often collaborate with each other and give each other shout outs, which strengthens their subscribership. In fact a number of them are currently in LA together filming a series call 'Scare PewDiePie'.
As well as showing support for friends and collaborators, Tubers also often sample other channels' videos in order to make fun of them. For example, PewDiePie often samples videos of Tubers who have made hate videos about him or upload badly edited videos and uses them to base a comedy video around, almost like a YouTube roasting. This of course then pushes more people to those Tuber channels and they get more views. One of these Tubers is Marina Joyce, which brings me onto my next point…
3. Social media plays a huge role
T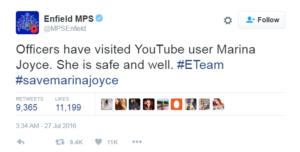 he use of social media alongside YouTube, both by the Tubers and their viewers helps to increase their audience. One of the best examples of this happened earlier this year when Tuber Marina Joyce was the focus of a social media buzz when concerned viewers started a Twitter campaign to help 'save' her. Marina Joyce is a sort of beauty vlogger who, over the past 6 months or so, started to upload videos which were of a much poorer quality than her previous style. She also seems a bit 'out of it' in a lot of her videos and in one video people suggested that you could hear her whispering "help me" in the background. She then tweeted some con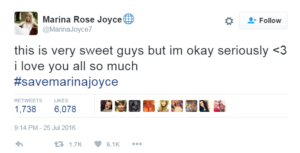 fused tweets, which led to some of her viewers suggesting that maybe she had been kidnapped and was being forced to make YouTube videos, possibly by ISIS (yes, really). Soon enough a #SaveMarinaJoyce campaign was trending on Twitter and the Met Police actually ended up visiting Marina after they had received calls about her safety. They even tweeted to say that she has been visited and she was fine. Marina also had to post a live video to show everyone that she had not been kidnapped. As a result of this, Marina Joyce had a huge increase in her video views and subscribership, and continues to make poor quality videos to a much larger audience today.
4. It's fun!
One of the main things about the big YouTube channels is that they are just fun to watch. You don't need to be invested in a story line, you don't need to know everything about the person in the video, you can just sit down and enjoy the videos for what they are. I am by no means a gamer, but I am seriously addicted to PewDiePie videos. He is funny and lighthearted and says what we are all thinking…and I can enjoy his videos in 10-minute chunks.
But why should you care?
If you're not into watching YouTube videos you're probably thinking "Why should I care about these people sitting in front of a computer screen talking a load of nonsense"? Well, you really should care! As we have seen, many of these Tubers are just as popular, if not more, than many mainstream celebrities, and will no doubt be having a huge influence on the younger generation.
Tubers are also playing huge roles in industries outside of YouTube. For example, beauty vlogger Zoella (currently 50th most subscribed to channel) has released best selling novels, has her own line of beauty products and is even an ambassador for the mental health charity MIND. PewDiePie occasionally mention that he has helped to raise millions of dollars for charity whenever people claim that he is doing nothing with his life. The money he has raised has gone towards charities such as Save the Children, for whom he raised over $630,000 through a charity drive.
Not only are they influential with their viewers and spreading their wings outside of YouTube, but they are also bringing in the big bucks. Forbes estimates that PewDiePie earned $12million in 2015 and KSI $4.5million. Even Tanya Burr with her modest 3.5 million subscribers is estimated by Marie Claire to be making £20,000 a month.
A few months ago PewDiePie uploaded a video to say that his bank accounts had been frozen due to someone trying to defraud his accounts, and jokingly told his bros that he was broke. He made a tongue in cheek video asking his followers to support him financially by donating money to an online crowdfunding site called Patreon. To his surprise, within a few days of publishing this video he had been giving donations of over $3,500 dollars a month, which he promised to refund.
So, I don't know about you, but I'm off to create a YouTube channel….