As the New Year begins, resolutions are on the cards for many. Ranging from organising their homes to getting in shape, everyone is looking to make positive life changes. If you're a social media beginner and wish that you were more active, why not include something social media related in your resolutions for 2017?
If that sounds like something you could get on board with, we've put together this 8 week plan to help you become a Twitter pro in your own right!
Building your professional profile
Having a social media presence will allow you to be found. By listening to and joining conversations on social media, you can build relationships, proactively engage with relevant communities in your field, promote your latest blog… the list goes on. Whether or not to have a presence is increasingly a rhetorical one!
If you're still pondering whether social media is for you, here's a few more reasons you should consider having a presence:
Network with other professionals
Showcase your expertise and interests
Engaging with the university (amplification of University content, engagement with the brand accounts around events)
Learning and development
Where should you be active?
Different social media platforms target different audiences. Currently, two of the big social networks lend themselves to building your professional profile; Twitter and LinkedIn. In this guide, we're focusing on Twitter.

What is Twitter?
According to Twitter:
"Twitter is the place to find out about what's happening in the world right now. Whether you're interested in music, sports, politics, news, celebrities, or everyday moments—come to Twitter to see and join in on what's happening now."
Twitter Flight School at Surrey
Although we can't promise immediate success, this process will set you on your way to having an active and optimised social media presence. Ensure that you've read our Social Media Toolkit, and get familiar with the Twitter interface – know your mentions from your retweets!
Week 1: Optimise your profile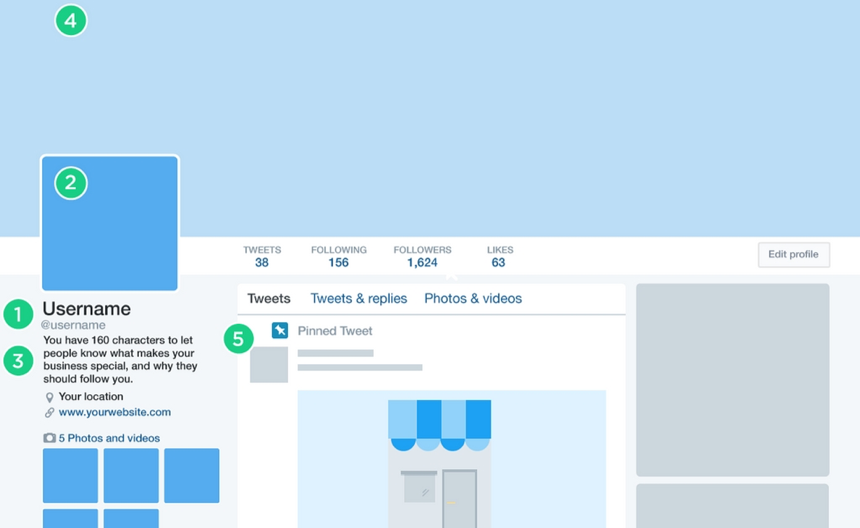 Your Twitter @username 
Your username, also known as your handle, is your unique identifier on Twitter. It can contain up to 15 characters and should help people easily find you. Your name appears on top of your username and can be up to 20 characters. They can be the same — but they don't have to be.
We recommend using your full name as your 'name' and something more unique as your handle. If you've got a handle that you're not happy with, you can change it at a later date through your settings – there's no need to set up a new profile.
Your profile photo – don't be an egg!

Choose a profile photo that visually represents yourself and fits well in a small space (400px x 400px is the perfect size). This image isn't just on your profile page; it will be shown as the icon in every Tweet you post. Where possible, try to be consistent across your social channels if you want to build a brand.
Your bio 
You have 160 characters to let people know what makes you special, and why they should follow you. Your bio will also appear in search results when people search for your name – both on Twitter, and on Google.
Your bio is the only opportunity to say anything about yourself on your profile – make it count. When looking for new people to follow, you'll base some of your decision on what is said here.
5 ingredients of a compelling Twitter bio:
You as a professional: You may want to include your job title and where you work (mention @UniOfSurrey), as well as any organisations you volunteer with.
Passions and interests: What are you passionate about (either inside or outside work)? Include some of these in your bio.
Keywords: Consider relevant keywords, such as 'Higher Education' or 'Digital Marketing', and try and include these naturally within your bio. These can also take the form of hashtags – but not too many!
Authenticity: If you're a 'globetrotting coffee-lover who is obsessed with social media', tell people that. Your bio doesn't have to be hugely professional in the same way as your LinkedIn. There are also a large number of bots or 'spam' accounts on Twitter – don't make it look like you might be one of them.
Add some intrigue: Why should people follow you? Give people a taste of what to expect.
Header image 
Consider this a billboard for yourself – so make sure it's visually strong (and not blurry!). You can feature whatever you want, but try to make it reflect you as a person, perhaps your favourite place or something relative to your interests. This needs to be roughly 1500px x 500px in size.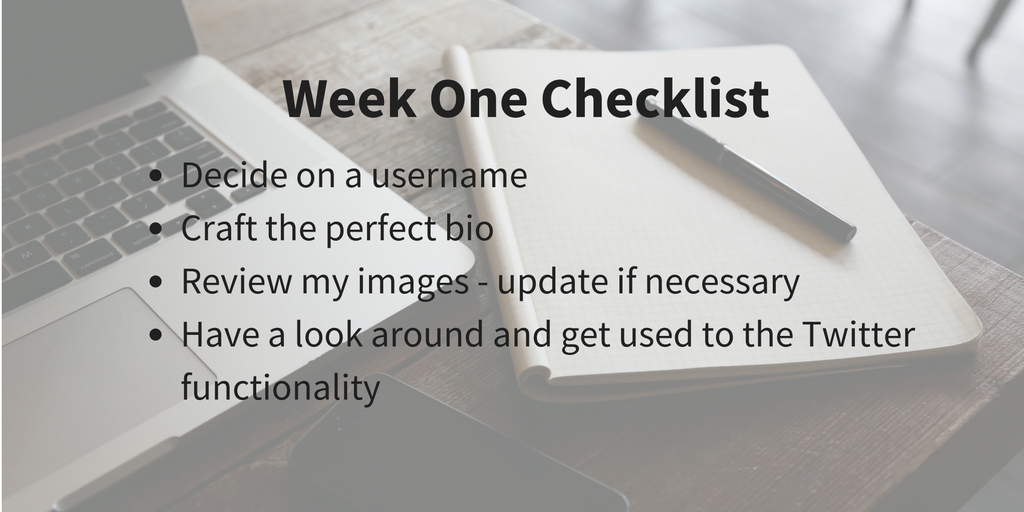 Week 2: Set your goals
Before you go any further, really define your objectives. Why do you want to be on Twitter, what do you want to get out of it? This also means thinking about who you want your followers to be. Do you want them to connect with other professionals in your industry, or are you a keen photographer and want to develop a following of those interested in that? It's up to you.
Your goals might be along the lines of:
Network with like-minded high education professionals
Showcase my expertise
Learn and develop within a certain area
Keep up-to-date with industry news
Generate traffic to my blog / other content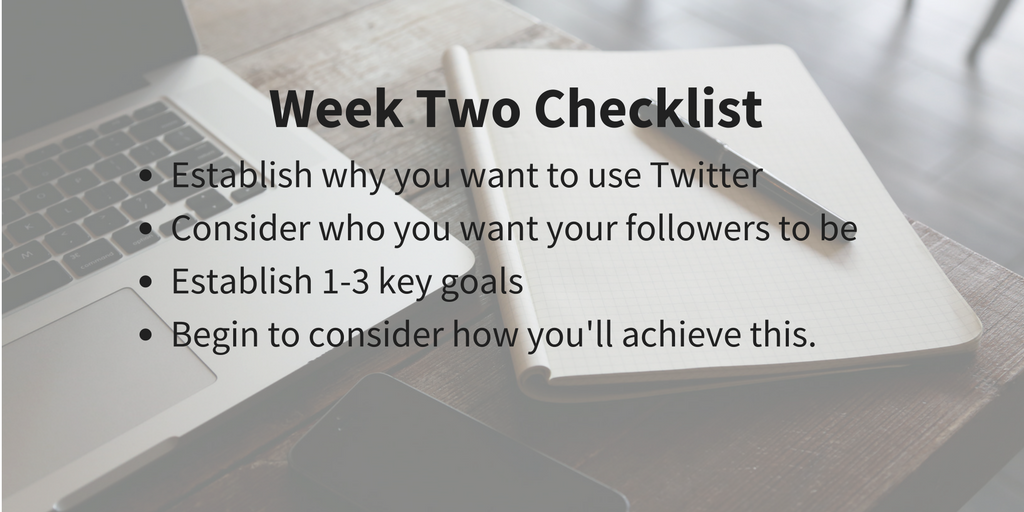 Week 3: Define your content themes and posting strategy
Building an audience and establishing yourself as a thought leader starts with sharing quality content. This can take the form of behind-the-scenes photos, industry insights, short videos, company updates or even impromptu posts on food and hobbies. Decide on the right mix of personal and professional, as well as planned and spontaneous content.
One way to think about your content is to break it into themes. It also helps you decide what fits into your approach and what doesn't. These themes are up to you, but they should be the 'bread and butter' of your personal brand. Twitter themselves recommend three themes as optimal.
Some example themes could be:

Once you've decided on your themes, work out where you're going to find your content. Do you blog yourself, or are there new sites your visit regularly? Do you attend a lot of industry events, or are you a keen photographer outside of the office? Sourcing content from things you do every day will make the process much simpler.
Your posting strategy
The real key to success is simply consistency. Once you've established the kind of content you're going to post, you need to realistically decide how often you can tweet. Twitter recommend three tweets a day for optimal growth of your account – that might be unrealistic, but work out what is achievable for you. Don't tweet 10 times one day, and then leave it three months before you post next.
Set up a regular schedule that fits your calendar – as mentioned above, embed it into your current processes. Do you check certain apps for the news, or spend a certain time each week reading blogs? You could instead go direct to Twitter to source this news, and perhaps share those blogs rather than just reading them.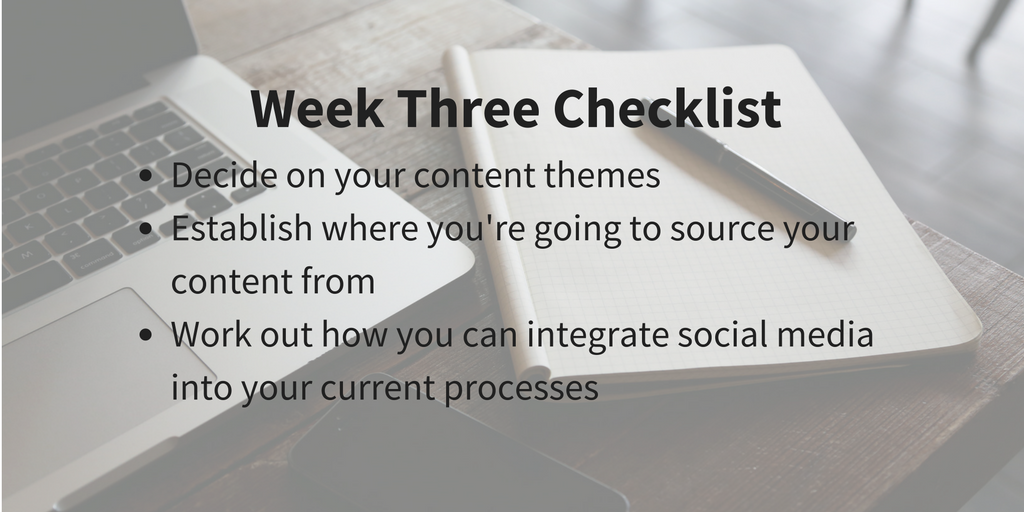 Week 4: Establish your style and tone of voice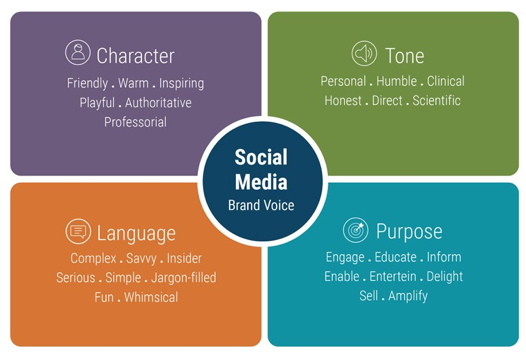 A barrier for many users of Twitter is that they might know what they want to say, but they're not sure how to say it. For many, there is a perception that Twitter is for teens talking about their lunches – but it doesn't have to be.
The best advice we could give it to ensure you sound like you – if you're a witty person, don't sound too formal or serious. If you are more formal, don't try too hard to seem funny on Twitter.
A few examples of varying tone of voice from University staff are shown below: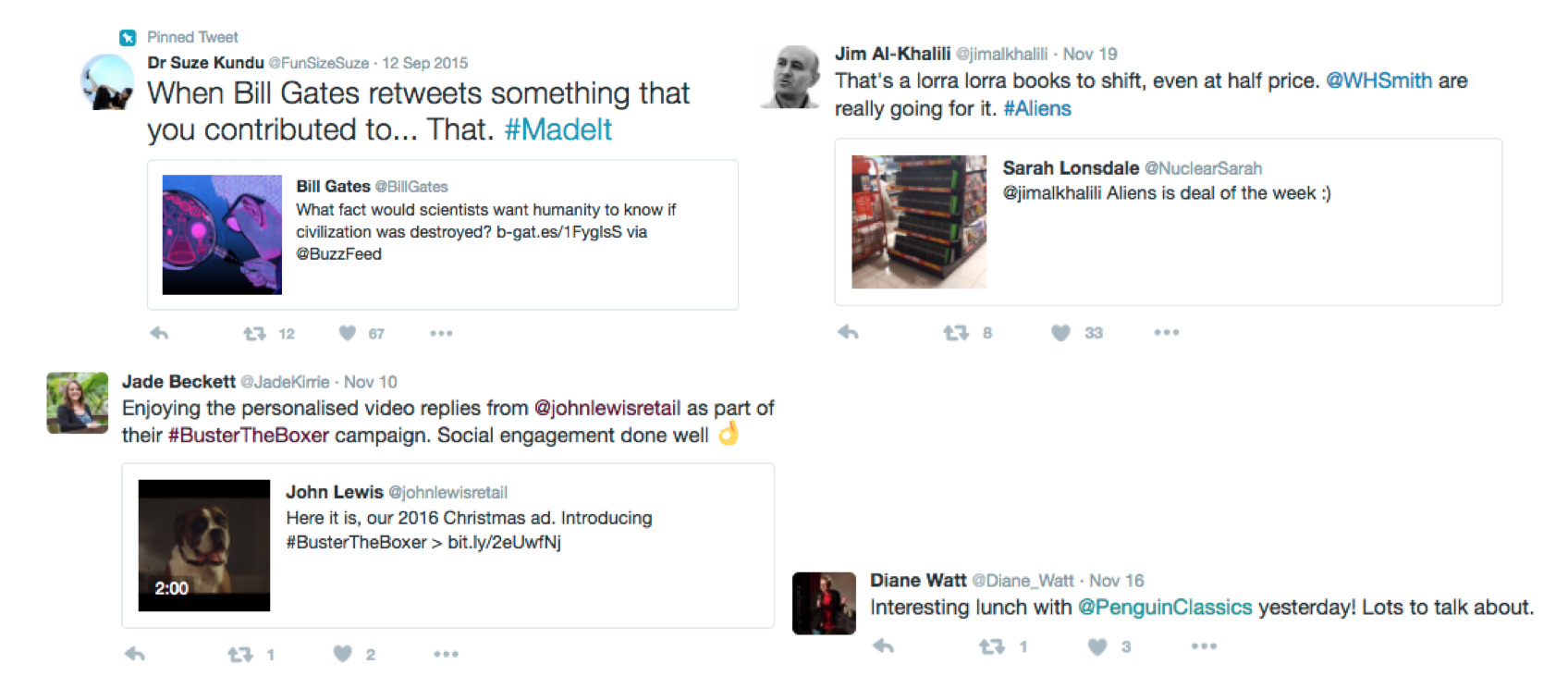 Your tone will also help you establish a style. What we mean by style is consideration of whether you'll be using gifs and emojis, or whether you'll be sticking with text, links and standard photos. You can still be professional while utilising these on Twitter, but just because they're there doesn't mean you have to use them.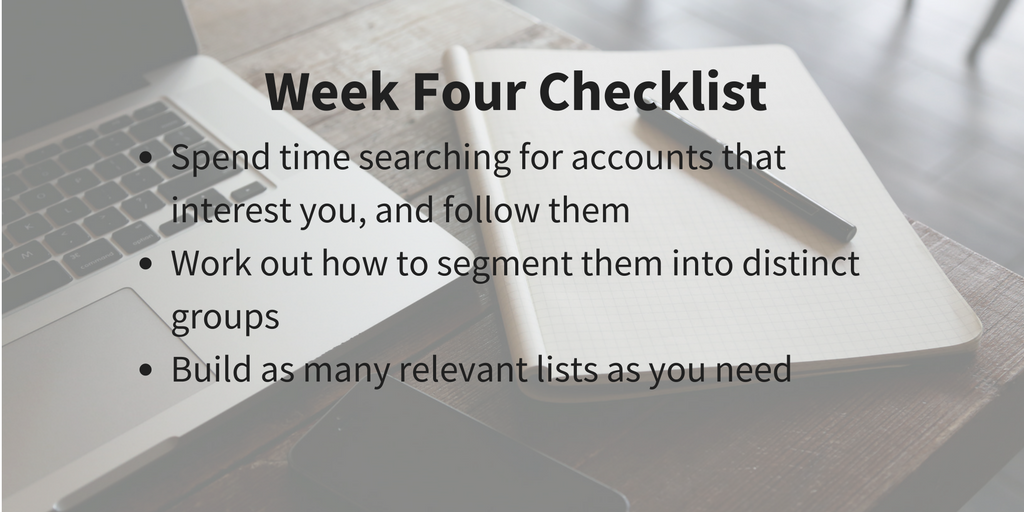 Week 5: Connect and discover
When you first sign up to Twitter, they will be suggestions of accounts to follow based on topics that might interest you. However, this discovery tool is showcasing the big accounts on Twitter (the likes of BBC News and celebs). There are three key ways to find people:
Search for people by name or username (using the search box)
Watch out for the 'who to follow' box – this often makes good suggestions based on who you already follow
Use the search box to look for keywords and hashtags, and follow people based on what they're talking about
How many should I follow? There is no set number to begin with, although if you follow too few Twitter will seem dull and slow. If you follow too many, you may feel overwhelmed with content. You need to work out what makes a good experience for you.
Segment your followers
Once you've connected with a large number of people, your newsfeed will become useless to you. Twitter is a high volume site, and it's likely that you'll miss tweets from the people you want to hear from… unless you use lists.
Twitter lists are useful, helpful, and effective for managing and optimizing your Twitter experience. These lists could also reflect the content themes mentioned in week four, and can act as a good source of content. Other lists you might want to consider:
Staff directory for your team / across the wider organisation
Those who tweet about a certain topic, e.g. fundraising or marketing
Higher Education related accounts
Friends
News accounts
Businesses, segmented into their various sectors.
Lists can either be public or private. If you choose to have a public list, any individuals you add to your list will receive a notification.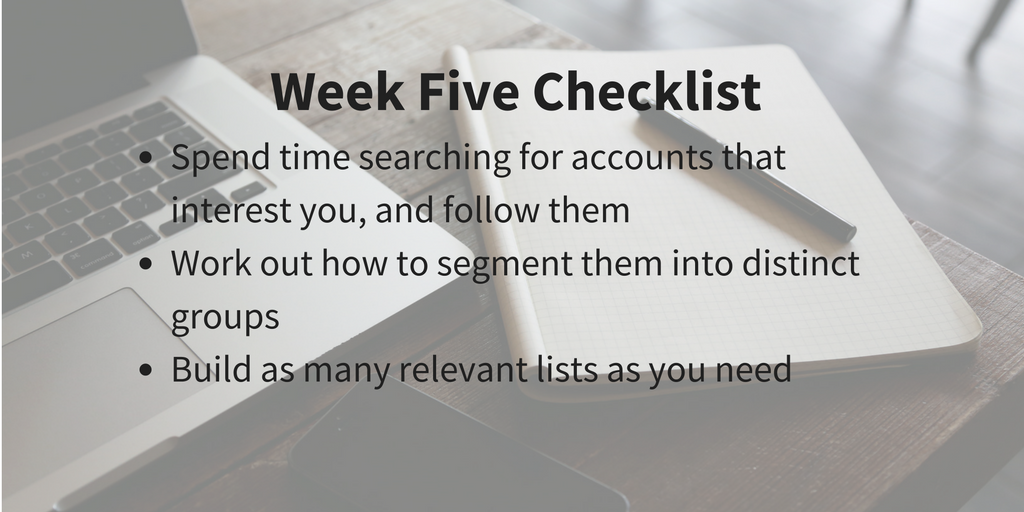 Week 6: Start tweeting
You've now developed a groundwork for your content, it's time to start tweeting! Tweets can be 'live' or scheduled in advance (I'd recommend Hootsuite or Buffer. Use all the elements you've decided in previous weeks to help make this process easier. For example, using your current processes as a basis for content sourcing, and knowing which topics you wish to post about.
What makes an engaging tweet? A few of our top tips:
Use hashtags if there are any relevant to what you are talking about; you can search for these on Twitter. 1-2 hashtags is optimal for a single tweet.
If you @mention someone, find out if they have a Twitter handle and use that instead of their name
Attach media if you can – photos and videos always look better than just text. Some have reported a 150% increase in engagement if including an image. Tweeted photos ideally should be 1024 x 512px (or on your phone crop it to 5:3)
Remember you only have 140 characters (minus 23 characters for each link) so use them wisely. Always try to add context, headlines don't always make the best tweets
Keep an important Tweet at the top of your timeline by pinning it there. Click on the "more" option on the Tweet you want to pin and select "Pin to your profile page." Use this feature to make sure visitors to your profile understand more about you/the tone of your Twitter profile.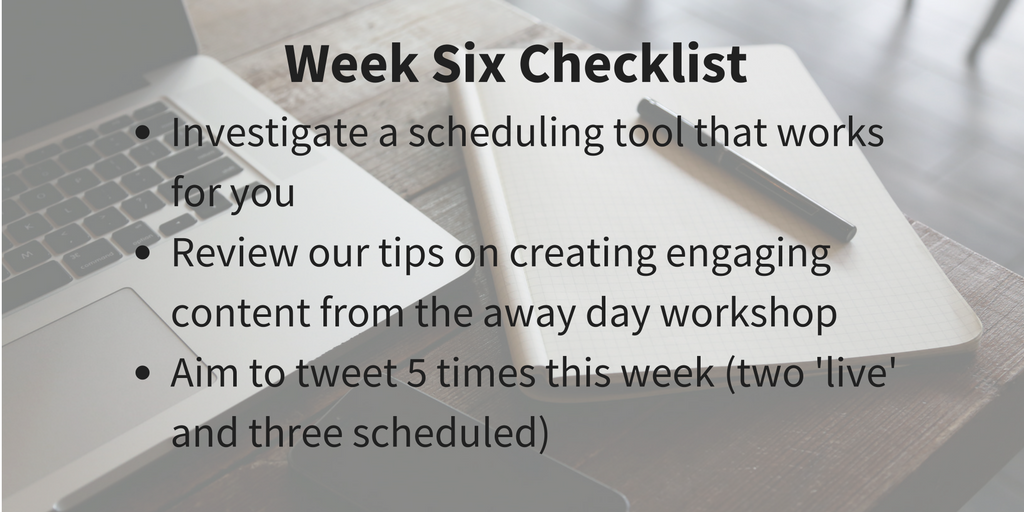 Week 7: Engage
It may be tempted to simply tweet and not bother to engage with others on social, but social media is called social media for a reason – you need to engage. This is where the lists you created in week five will come in handy. Each time you check Twitter, try to engage with accounts in each of your lists.

Engagement can come in a number of forms:
Replies: If you like what someone has posted, tell them so! If you have something to add to the conversation, reply to them to share your thoughts. This is quite a personal interaction, and is the engagement type with the highest effort. It is however, the most effective way to build relationships.
Retweets: Simply retweeting someone's content is another way to interact with others. It's best not to retweet too often, however – you need to be sharing your own content in order to build a following successfully. If you do want to retweet regularly, use a quoted retweet. This will allow you to add your own spin to something that someone has already posted, thus showcasing your opinion and not just that of the original tweeter.
Likes: The lowest form of engagement in terms of value, but still useful in helping others see that you appreciate their content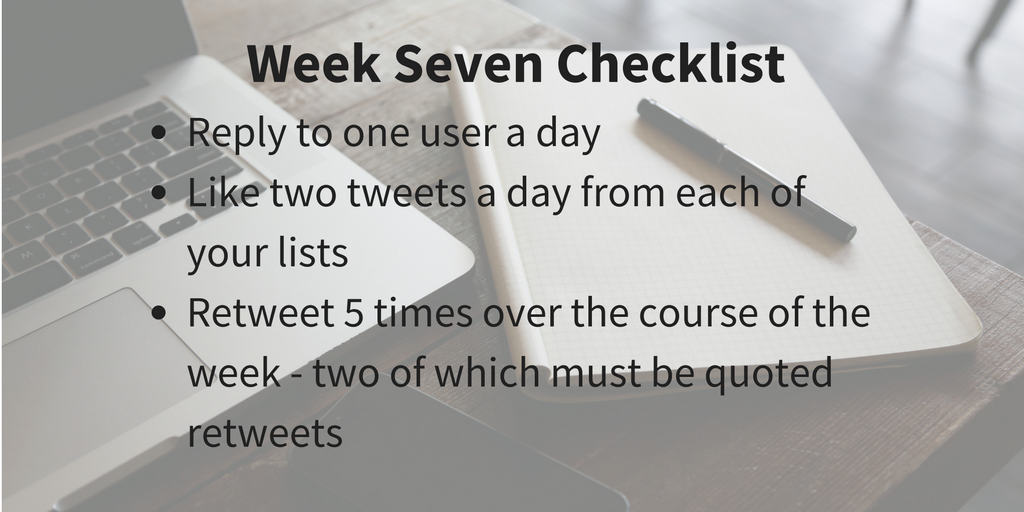 Week 8: Become a content originator
We've discussed sharing links to articles, videos and other forms of content that you have curated. Week eight is a chance for you to take this a step further; create some content of your own!
Content comes in many different forms. It may be a video, a photo, or a blog post of your own. This week, spend some time creating something to share on your own channels. This is the way to make the maximum impact on Twitter, although it will take time for you to build up your audience.


A few top tips:
Whatever you create should be in-line with your style and content themes
If you're writing a blog, ensure you're using eye-catching imagery and relevant hashtags when you share it
Share something that adds value to your audience; this may be through tips or behind-the-scenes insights, or simply adding something visual to their feed to brighten their day
Ensure this content will help you achieve some of your goals and objectives outlined in week two