Over the next few months we'll be running a series of profiles on Student Support colleagues and their work with students. 
The first of these covers Sue Webb manager of the International Student Support team….
1. How did you come to be at Surrey?
I've worked at the University of Surrey for almost 20 years, starting as a part-time assistant in a very small International Office. International students have always been at the heart of my job – over the years I have been involved in many aspects of international recruitment and support as well as managing the University's international exchange scheme for 7 years.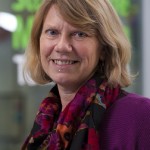 2. What does your job involve?
I have been in charge of International Student Support for the past 12 years, advising and supporting students on visas, immigration and other issues specific to students coming from overseas, such as how to deal with culture shock and travelling around whilst on their course. Since our move to the Student Services Centre last year, we have been working together with all areas of student support to ensure that international students receive appropriate advice from the moment they choose Surrey, during the visa application process and arrival in the UK, throughout their studies and even beyond, when looking for further study or work. Whilst advising on immigration takes up a lot of my time, particularly at the start of the year, I am also keen to explore ways to integrate all students and ensure that international students get a "British" experience during their time here, wherever possible.
3. In your view, what are the top three things new international students should do to prepare themselves for studying in the UK?
The International Student Support team has developed a comprehensive website to prepare students before they come to the UK. It looks at the practicalities of visas, managing finances, accommodation and what to pack as well as helping to manage expectations. First impressions are extremely important and students who have a good moving-in experience are more likely to settle into their studies more quickly. Through our Meet and Greet and International Orientation programmes, we hope to get international students off to a good start. Finally, a good level of English language is extremely important and, although all international students will have met a certain academic level, it is important that they try to use their English as much as possible before they come to the UK and that they continue to improve all the time that they are here. We encourage all international students to take advantage of the pre-sessional English support offered by the University and to become involved in extra-curricular activities, for example student societies, part-time work and volunteering, so that they can practice using English in different surroundings and become more confident in all situations.