We asked one of our current mentors to tell us what he gets out of mentoring and what he thinks the benefits of mentoring are for students at Surrey.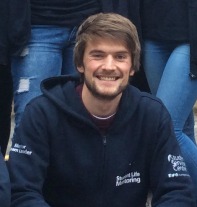 Question 1: Introduce yourself (e.g. name, age, subject studying, what year etc.)
Name: Ed Farnfield
Age: 23
Subject: Aerospace Engineering
Year: Level M (Masters year)
Question 2: What do you do as a mentor – what does the role entail on a day to day basis?
Since the start of the year, mentoring has been a proactive residential service. This means we go out one evening a week to our allocated halls and spend 2.5 hours checking up on our mentees, and making sure they are having the best time they can at Surrey. As part of that, we are there to answer any questions they may have, or to signpost them to a service or person who can help them.

From February until Easter this year, Mentoring is changing to a drop-in based service. This means instead of going out to our mentees, they can come in and see us, have a chat, and a hot cup of tea. We will also be offering a call out service whereby a mentee can call, text or email the Student Life team and ask to have a mentor come and see them, if for whatever reason they don't want to come to the drop in.
Question 3: How and why did you become a mentor?
I wanted to become a mentor because it was the perfect opportunity to get out and about and meet new people. Having had such a fantastic time at Surrey myself, I also wanted to help as many people as possible have as good a time as I have. It is also the ideal student job, the hours are flexible, it pays well and it can be incredibly rewarding.
To become a mentor I first had to fill out a questionnaire answering all the usual questions: Why do want to be a mentor? Can you give an example of a time you worked as part of an effective team etc. After that I was invited to an interview with the Student Life Team. It was a group interview with four other people and we all took it in turn to answer questions. Shortly after that I received an email telling me the good news.
Question 4: What would your advice be to anyone who's struggling (e.g. with exam/money/relationship stress)?
If you're struggling with anything at all, I would say the most important thing to do is to find someone who you feel comfortable talking to (be it your mentor, friend, flat mate, centre for wellbeing, or lecturer) and talk through your problem. Personally, I find talking to someone lifts a massive weight off my shoulders and lets me gain some perspective on the issue. It is also important to remember that the University runs a whole load of services that are geared to help you as a student through almost any problem you might come across during your time at Surrey. As mentors we are trained to offer you advice on which service might help you the most so we are always worth asking.
Question 5: What do you get from your mentoring role?
I come away from every shift feeling better than I did when I started (sounds cliché but it's true). Being able to help someone out with a problem or answer a question can be very rewarding. Even if I have not had any questions to answer or problems to help solve, just having a friendly chat with my mentees is always good fun.
Question 6: What has been the most interesting part of your role to date?
It's hard to pick out one particular aspect. I would say that meeting everyone has been the most interesting part, be it mentees, team mates, other mentors or the Student Life team, it has been a really good experience all round.
Question 7: What do you think the impact of mentoring is at the University of Surrey?
I like to think that more people have come back to uni after Christmas than otherwise would have if there wasn't a mentoring scheme at Surrey. University is a challenging environment and the last thing you need is the added pressure of money problems or a lack of sleep because you miss home so much. The mentoring scheme empowers those who are struggling to resolve their issues quickly and get back to having as much a possible as quickly as possible. Ultimately, the campus is a happier place because of mentoring.
To be the first to know when recruitment opens, to find out more about how to apply, and for lots of awesomely interesting Surrey-related news please like and follow our social media here and here.