Student Support Services were pleased to host a visit on 17th June from representatives of Nanyang Polytechnic, (NYP) Singapore, they included:-
Henry Heng – Deputy Principal (Organisational Excellence)
Daniel Lu – Deputy Director (Quality and Planning Office)
Jessie Goh – Manager (Information and Service Centre)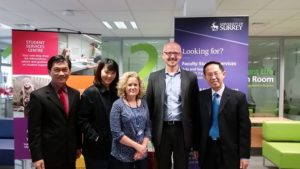 Team members shared various aspects of the Customer Service Excellence (CSE) journey they had been involved in and how the Student Life Mentoring Programme contributes so positively to the student experience.
Daniel Lu says, "We were impressed by the strong commitment and dedication of staff to providing an excellent service, putting customers first and going the extra mile for your students and stakeholders. In particular, the Student Life Mentoring Programme to help your first year students in transition to different phases."
The kind offer of a reciprocal visit to NYP was extended, should Surrey collegues find themselves in the region.