Nigel Sigodo, winner of NASMA 2017 – Fund/Bursary Administrator of the Year!!
We are delighted to announce that Nigel Sigodo (Money and Housing Team Leader) has been awarded Fund/Bursary Administrator of the year from the National Association of Student Money Advisors (NASMA)*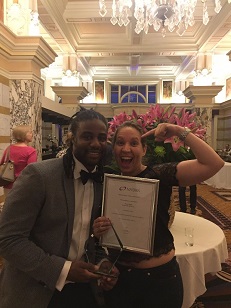 Nigel has managed the administration of the University of Surrey's Undergraduate Bursaries and Scholarships for 2 years, as well as leading the Money and Housing Team in the Student Services Centre.
Nigel, we congratulate you on this achievement and thank you for your hard work and commitment.
We would also like to congratulate:
Tom Pease (Student Money, Housing and International Advisor) – nominated for Student Money Advisor of the Year 2017
(Tom only joined the University of Surrey in August 2016 and is a fantastic addition to the team)
The Student Money and Housing Team (Nigel S., Tom P. and Holly W.) – runner up for the Financial Capability Award 2017
Congratulations!
*NASMA is recognised as the leading authority on all matters relating to student advice and funding. It acts as a focus for information exchange between practitioners in the field of student funding, bringing together professionals from across the sector and encouraging the free exchange of ideas.