Cvent CONNECT Europe is an annual European conference that features speakers, panel discussions with industry leaders and an opportunity to experience a wide range of Cvent technologies. It aims to bring together professionals to inspire the way their businesses run- so it's like one big advertisement. It lasted from the 5th of October to the 6th with many different presentations throughout its duration.
Prior to the event, registration was as easy as clicking a link. We were able to decide whether to attend in person, online or a hybrid of both. This made the event highly accessible for both people who worked nearby and those working in other places around the world. You could tune in from your sofa in Guildford or a penthouse in New York, if you wanted to! Additionally, Cvent sent out countless emails prior to the event so that audience engagement started at the initial online registration, as opposed to starting at the same time as the actual event.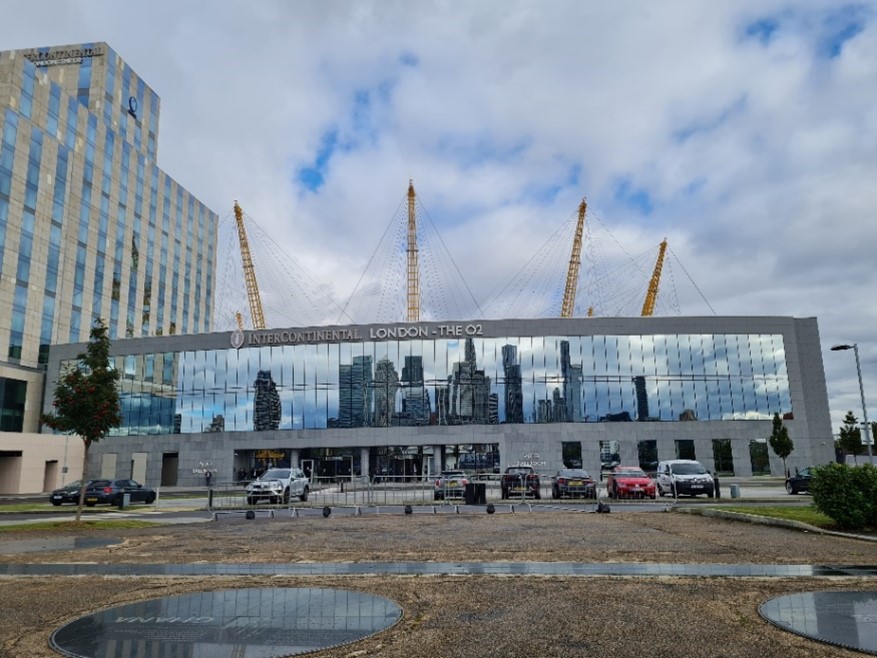 Cvent CONNECT Europe was held at the InterContinental Hotel in London. After arriving at North Greenwich Tube Station, the signage towards the O2 was as clear as day. However, there was one mere banner advertising the InterContinental Hotel that gave us the briefest idea of where we were supposed to go. Following on from that, the signs seemed to just… stop. This made it rather difficult to navigate.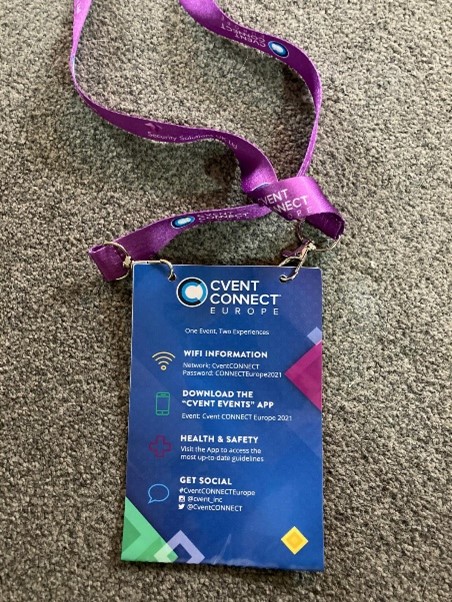 As we entered the building, registration was directly in front of us. Check in was simple: the staff scanned the QR code on our phones and printed off a badge that they then attached to a coloured lanyard. Different colours represented different organisations and occupations; we were purple. This helped people identify who to target when making conversation about certain topics.
Next, we headed upstairs to the main event. We were greeted with a range of different breakfast foods, provided by catering staff. There was also a sponsored 'Snackbox' stall with multiple giveaways to entice us in. We came home with toffees, vegan popcorn, and dog treats: an interesting array of items that would earn you a strange look in your local Tesco's. Alongside the catering and stall, there was an information desk to answer any questions we had and to direct us towards the presentations. All the presentations branched off from the main room, so we had the opportunity to talk to people about topics, such as Cvent event technology, between talks.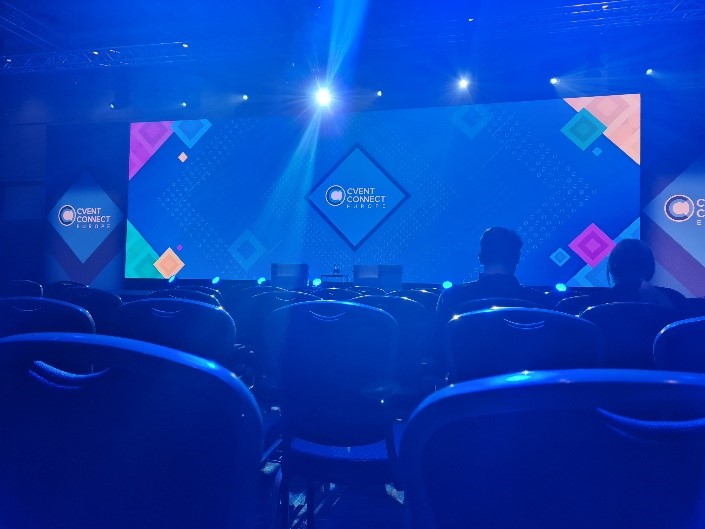 The presentations themselves were entertaining and engaging. Topics ranged from how Wimbledon braved the pandemic to 'The Six Pillars of a Hybrid Event'. The talks featured giveaways, such as the classic 'someone has a prize hidden under their seat' that allowed the audience to remain attentive. As cheesy as it was, there was something thrilling about the chance to win a trip to somewhere in Europe. The only problem with this is the potential to isolate the virtual audience who miss out on this thrill and end up just listening to the live audience celebrate.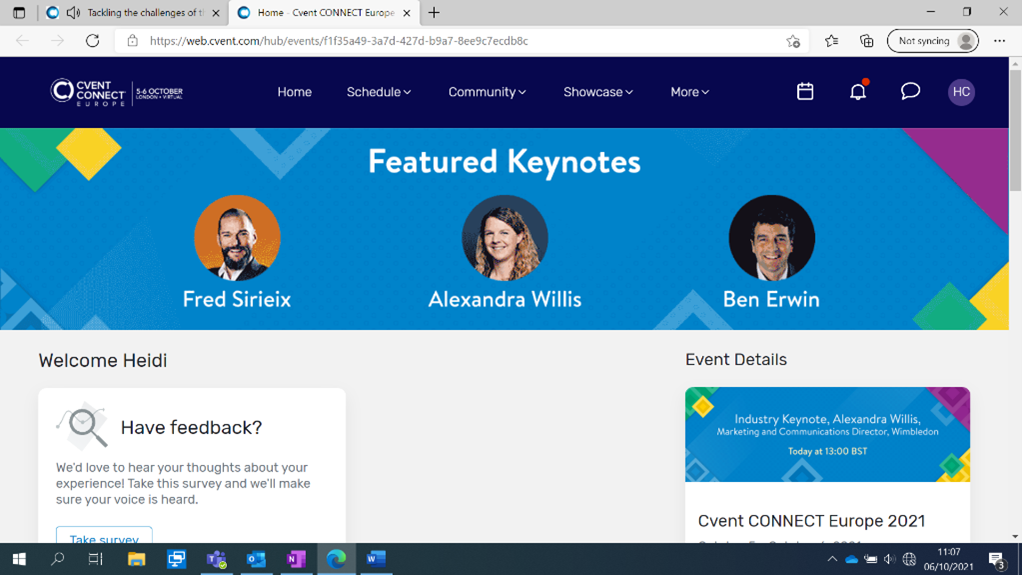 The guest speakers were always relevant to the topic being discussed, with an Events Manager from the University of Greenwich discussing hybrid events in Higher Education and Alexandra Willis (the Communications and Marketing Director at Wimbledon) discussing Wimbledon's journey through the pandemic. This meant each talk was detailed and accurate, something that should be a given at such a professional event. Admittedly, sometimes presentations can drone on and on and on but not these ones. Using a range of media types was beneficial, with videos, images, presentations, on demand videos, interviews, panel discussions… There was something for everyone. The Q&As also meant we could get whatever information we required from the speech; there was even an opportunity to send video questions in prior to the event! My personal favourite presentation was one regarding future event technologies. They talked about having floor mats in busy event areas to absorb energy from footsteps as power. This, alongside ideas of augmented reality for virtual audiences, may truly be the future for the event world. Awesome!
As for the online experience, it didn't have the same novelty. There were many advantages: the viewers not having to travel to London, being able to use a chat and Q&A function and being able to provide immediate feedback at the end of the session. There was great sound and camera quality which just added to the professionalism of the event. These advantages, however, do come with disadvantages. The talk I watched experienced a peak of 18 viewers. 18. Clearly, this suggests that something wasn't quite right. 18 doesn't compare to the filled-up rooms at the InterContinental Hotel. Reasons behind this low attendance are ambiguous, though the main ones may be that the topic of Higher Education was niche, at such a large event, or that people prefer in-person interaction. Either way, it raises an interesting question: is hybrid the way to go?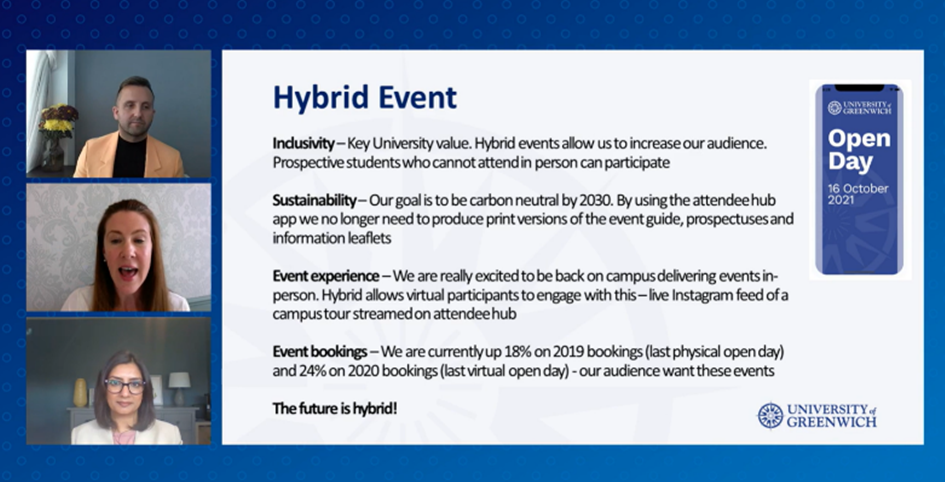 Then again, virtual events can be watched live or after the event officially ends. There was a picture in picture mode so you can watch the video in the background whilst doing something else, which might attract a busier kind of audience. The presentations were all on one website too so that anyone could navigate through the event. There was no need to link to external sites such as Zoom or Microsoft Teams when it was all brought together in one place, retaining the audience more easily due to the minimal amount of effort required. At the end of the session, the audience is advised of the next session which encourages people to keep on watching. Further, Cvent played with the idea that exclusive content should be provided for the virtual audience too due to the value it adds for those who are unable to attend in person. They've done everything to keep the retention of the audience high.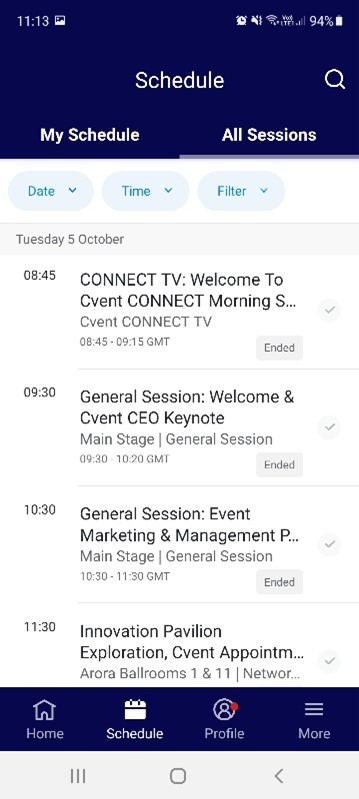 Finally, there was an app that relayed a lot of the information from the website about the event. It included a schedule: either one that you could customise or a general one that displayed every presentation going on throughout the day. This made it easier to browse and decide which events to watch next. You were also able to view sponsors, speakers, exhibitors, and other attendees which allowed you to keep up to date with the people you are networking with. The feedback survey was easy to access in the palm of your hand- literally- which probably encouraged more people to fill it out. After all, what's 5 minutes compared to how long it takes to find and boot up your computer? There were many other benefits too, including the easy access to FAQs and a digital version of your badge in case you somehow lost a bright purple lanyard.
Alongside all this fun, the experience was educational too! We were able to learn more about running a hybrid event during the COVID-19 pandemic. Even simple things like having a stationary microphone for the audience helped reduce contact and the spread of COVID-19.
So, in conclusion, we had a wonderful time at the event. For a placement student like myself, this was a good opportunity, and I feel I learnt a lot about the events world. Hybrid events seem to be up and coming, especially for universities that appeal to people from all around the world. The different technologies, such as the badge printing used at the registration, could be useful for open days and alumni events so the University of Surrey can become more high-tech when it comes to events. I look forward to the next conference!