Hello everybody!
Today I want to talk about university halls, which is, most likely, where you will be living at least for your first year of university.
The University of Surrey has more than 6000 rooms available and guarantees accommodation to all first-year students. I definitely suggest to everyone coming to university to experience university halls for their first year because it is the best way to make friends and connect with university life.
All rooms are fully furnished with the necessities, all common areas are cleaned at least once a week and all accommodations have access to a close laundrette. Moreover, you can choose to stay in a single-sex flat if you wish.
Halls are shared across three different locations in Guildford: Stag Hill, Manor Park and Hazel Farm. Stag Hill is the main campus location and where you will also have most of your lectures (unless you study veterinary) therefore it is the most convenient for those who do not want to walk too much to go to lectures, but accommodations there are definitely a bit older. Manor Park is where all sports happen and where Surrey Sports Park is located, this is a 20 minutes walk to the main campus, but it is close to Tesco and any sports activity. In Manor Park, you can find the newest built accommodations. Hazel Farm is more residential and quieter but further from university, which requires to use the bus to get to university.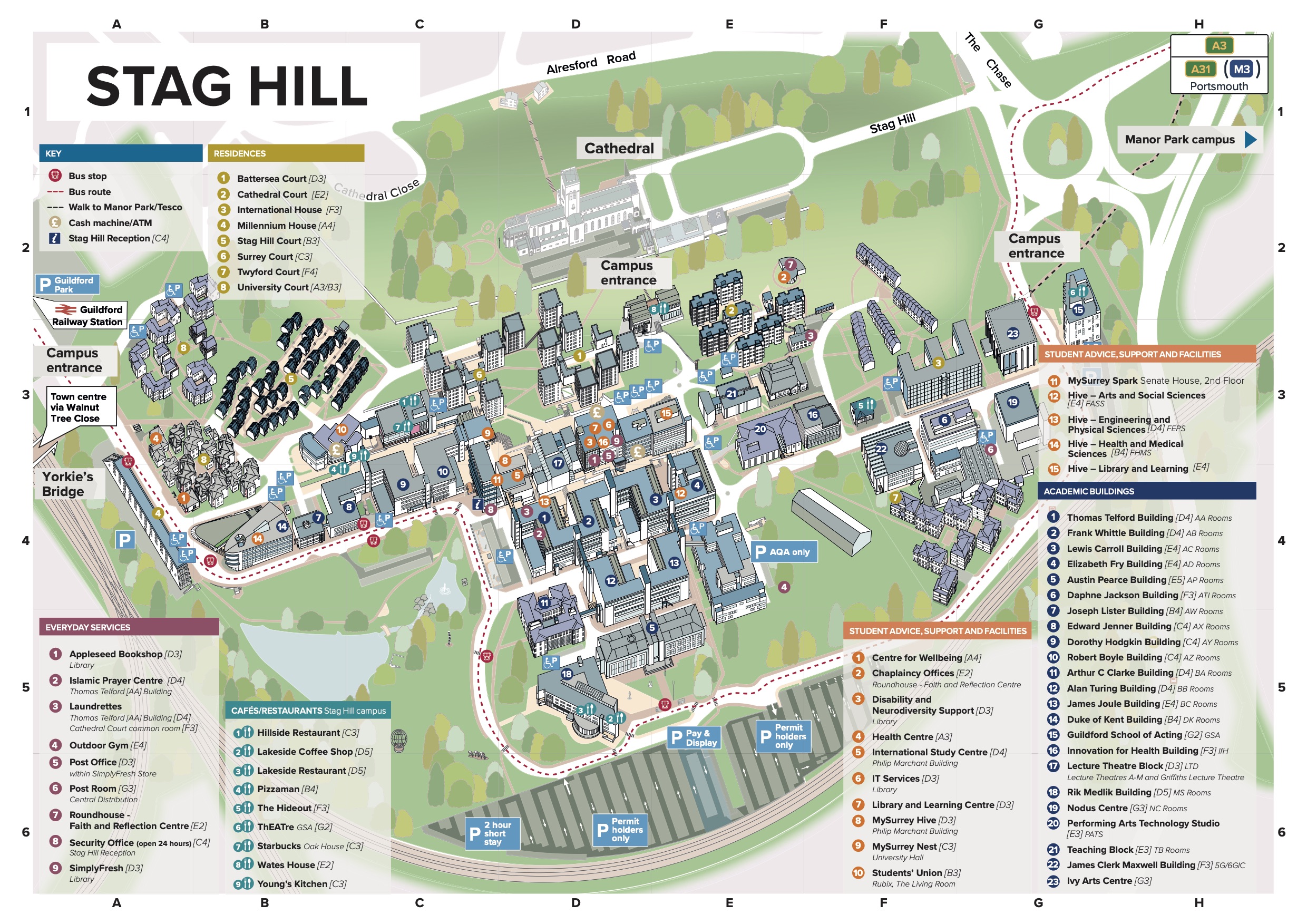 The rooms vary from band A (shared rooms) to band F (studio) giving options for lower and higher prices. The most common rooms are band C and band D, band C is a single room with a sink in the room, but shared toilet, shower and kitchen and band D is an en-suite that only shares the kitchen with others. I would suggest taking accommodation with a shared kitchen (band A-E), instead of a studio because it will allow you to socialise more and meet people. I personally have always been in band D, both in Manor Park and Stag Hill and I found band D the best solution for me, but I also think band C is a great solution for a bit less money. The number of people in flats could vary from 5 to 15 but the kitchen size is according to the flat so don't worry, you will have your own cupboards and fridge shelf in the kitchen.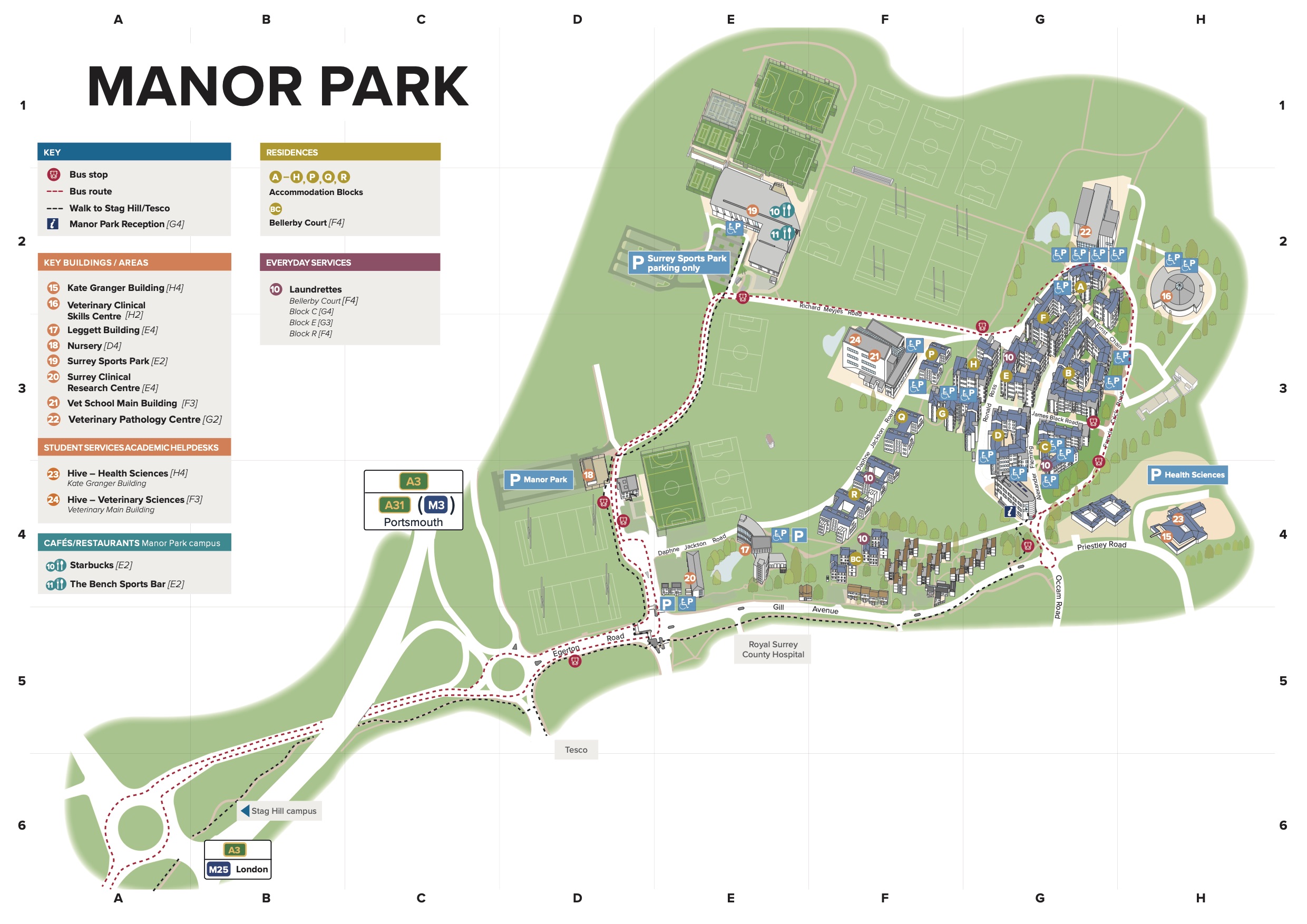 When applying to halls you can put preferences on which type of room you would like and even if this is not guaranteed, they will try to accommodate your preferences. You cannot choose in which location to live, but you can find someone who will exchange rooms after they have been allocated. I think that either location for the first year has pros and cons, but they are all great and will provide you with a great experience. Just pay attention when specifying your preference in room band that some bands are not present in some locations so be sure to not choose a band that is not present on stag hill if you wish to live on stag hill.
Pros of living in student accommodations:
The price is accessible and fair for the room
Bills are included
University maintenance will fix any problem quickly and it is so easy to report an issue
University security will make you feel safer when walking home late at night
Everything goes through university which is easier than dealing with an agency or a landlord
The rooms are standard, so you know what you get
You can socialise with other university students
The communal spaces get cleaned by cleaners so something less to clean
You can report to wardens any issue with your flatmates
Lots of options for any budget
Convenient locations
Accommodation guaranteed for first-year students
This is all from me today.
I hope this was helpful,
Carola
OTHER INFORMATION LINKS