Basketball – the biggest passion for any Lithuanian, it is what football for people would be in Britain. It is not just sport, it is religion and it is in our roots and hearts.
My dad in his high school years was a really good basketball player competing for local and national leagues, therefore, the influence of basketball was felt since my childhood. Every summer I used to go to a court and play a lot with my friends, colleagues, and family members. By doing so and getting involved in my year's basketball school programme I developed the passion and enthusiasm for the game.
When coming to the UK and my undergraduate university (University of Essex) I decided to continue playing. For one year I was a member of 2nd Men's Basketball Team, played in a local university's league which as well I had a chance to organise when volunteering as a Higher Education Basketball Ambassador, and also, represented Colchester "Cobras" in the final year of the Bachelor's degree. The picture of "Cobras" team can be seen below: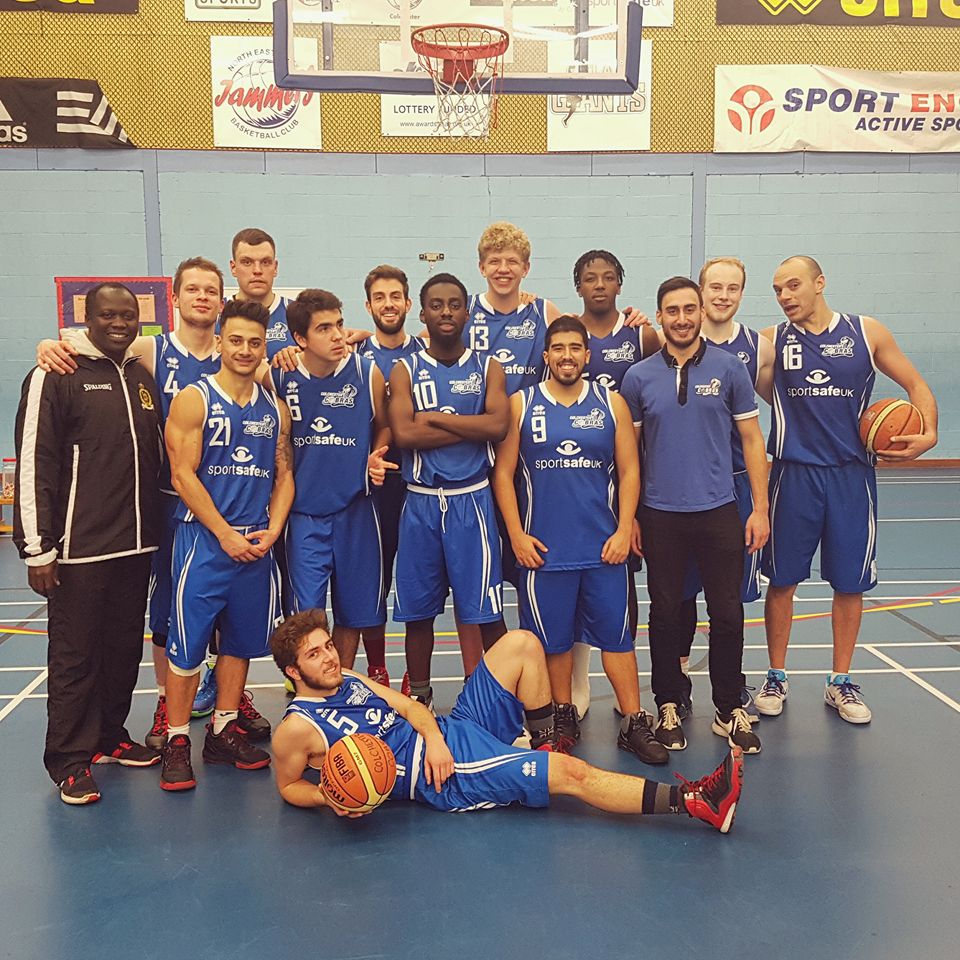 Considering all this, it made sense to me when coming to Surrey to try and get into the men's team. After having a few trial sessions during the first weeks of academic year and competing against around other 40-50 players I was selected into Surrey 2nd Men's Team.
We train two times per week, Mondays 6-8 and Fridays 5-6, and, also, usually have games on Wednesdays with other regional university teams. Most of our away games in the BUCS league are played in either London or surrounding areas.
While Monday training happens in the King's College next to the big supermarket Tesco shop, home games and Friday training occurs in the Surrey Sports Park. The Sports Centre and its facilities are great, for basketball it has 3 large full courts which can be booked in advance at the reception. From what I've experienced so far, you have to book a little bit in advance in order to get a court at the weekend or at the right time on a weekday. Hence, planning to some degree is necessary if you want to play basketball with your friends on a specific day at Surrey Sports Park.
Moreover, we have a dedicated hired coach that is with us during trainings and game days. As well as the 2nd team, 1st Men's and 1st Women's Basketball Teams also have coaches that lead them in the higher BUCS leagues. From what I remember, 1st Men's have trainings at Surrey Sport Park on Mondays 8-10 and Fridays 6-8.
In addition to, for those who did not make to the team there is a weekly social session where everyone regardless of their level can gather and play basketball for fun. Hence, there are various levels of "involvements" in regards to basketball at Surrey.
Oh and I haven't even mentioned the social aspect of being involved in the club which is great! These include dinners, social gatherings outside campus, and nights out with other teams.
Although I personally feel that the basketball level, generally, in UK is not as great as in other European countries, the opportunities to play at the competing level are definitely there and you can have a great time by meeting people from various background who have the same passion as you.
In case you are interested in finding more about the BUCS league, Surrey Teams and how they are doing please use the links below:
https://www.bucs.org.uk/bucscore/TeamProfile.aspx?id=6081
http://teamsurrey.co.uk/clubs/basketball.php
(As you can see at the moment we are not doing the best but hopefully that will change!)