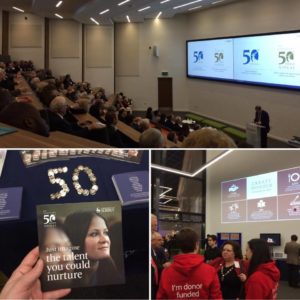 Last Wednesday evening, staff, alumni, students and the local community came together to celebrate Surrey's success over the past year at our Annual Review event. We were pleased to see so many guests celebrating with us, on what has been an exciting year.
Our Vice-Chancellor, Professor G Q Max Lu, started off the proceedings by outlining his vision for the next year – for Surrey to be a leader in higher education, the preferred partner for government, business and industry, and to be an engaged and connected University; the intellectual home for alumni, supporters and our local community. He also thanked all of our supporters for collectively donating 2,084 hours of volunteering and £2.85 million to benefit students and research – it's incredible to see such engagement from the university community!
Max Lu also took this opportunity to launch The Chancellor's 50th Anniversary Appeal. We will be raising money to support students from low income backgrounds to ensure they get a world-class education, as well as raising money to support cutting edge research to help solve global problems such as dementia care, cancer and the accessibility of clean water.
Alberto Verme, philanthropist and Chairman of Citi Group, then gave an inspiring speech about why he gives to the University – because of the kind and warm people he has met here, and a shared value of aspiring to achieve greatness.
Anna Cook, a Psychology PhD student researching the relation between autism, inclusion and bullying, spoke about her research and described how it would not have been possible without the support of QubeLearning, which generously funds her studies.
It was a fantastic evening and a well-deserved celebration, and now the hard yet rewarding work continues for another year. If you would like to support us, here's how you can get involved:
Make a gift to the Chancellor's 50th Anniversary Appeal. The University is a charity and we rely on your support. Research is taking place at Surrey right now which addresses the most pressing issues faced by our society today. Whether it's new ways of providing clean water or ground-breaking research into cancer treatment – we are making a difference. We are also training and educating young people who will be the citizens, workers and leaders of the future – changing students' lives, supporting and developing the local and wider economy. But we need your help to continue this – so please make your gift today.
Spread the word about Surrey and tell people what a great place it is. Your voice as a graduate is meaningful and carries real power. You can promote the University by making use of the #ForeverSurrey on social media and sharing our posts!
Volunteer some time and join hundreds of alumni who are helping current and prospective students to succeed. Aside from the 'feel good' factor, volunteering for Surrey will build your network and help the University grow its global reputation.
On behalf of everyone here at Surrey – thank you!