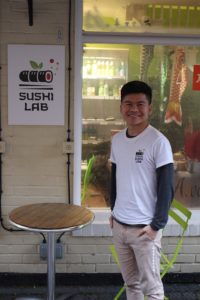 Introduction
Meet Calvin Jor, an International Hospitality & Tourism Management graduate, who has set up his own Sushi Restaurant (Sushi Lab) just off Guildford high street.
Where did the idea of the Sushi Lab come from?
I've always wanted to start my business and have always been reading books about how to start and run a business since I was a kid. I also love sushi and Japanese cuisine, so I thought why not do what you love! It's simple, delicious, healthy and a growing market in the UK.
What do find most enjoyable about what you do now?
Promoting and introducing new ideas to the business, for example, making the social media posts, posters, flyers, I'm a one man band. I definitely enjoy the marketing side of that. We are also introducing event catering, and are supplying food for an Infinite Quest event on campus on Monday (our first ever events catering!). We are also going to start a Sushi Masterclass here where people can learn how to make sushi and take it home with them.
What made you decide to stay in Guildford?
I have connections here with the University, and current students really help me promote the business. I sponsor two societies at the University so it's easy to promote with them as they have the Sushi Lab logo on all of their branding. We are really trying to get our brand out there as much as possible.
Also knowing the location made it a lot easier for me to set up the business. Guildford is quite small so being near the high street should make it easy for people to find my restaurant.
What are your responsibilities as the business owner?
Everything! From opening the place, doing the rice, making the hot food, training the staff, promoting the business and more.
What has been the highlight so far?
I would say having regular customers coming back again, leaving good reviews online and sharing their experiences with their friends.
If there's one piece of advice you could give to people looking to start their own business what would it be?
Don't be afraid to do it. Be confident. There's obviously a risk but it's better to do it and regret than not do it.