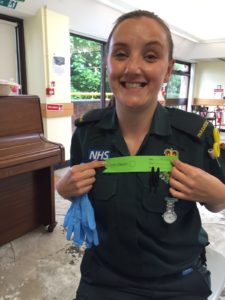 Kimberley, a Paramedic Practice graduate (2014) now works as a Paramedic and Practice Placement Educator. Having recently received an award in the tutor and educator category for her enthusiasm, experience and empathy for students at the annual Ambulance Association of Chief Executive (AACE) awards, we thought we would share her experiences of life after graduation.
Q. What attracted you to choose the University of Surrey and to study your course here?
I decided to apply for Surrey as many of my friends completed their Nursing Studies at Surrey, and it always sounded perfect. It also meant I did not have to move house.
Q. What were the best things about your course?
The best thing was not only having a small cohort that all became close and supportive but also the placement experience on the road, this prepared me for the paramedic role.
Q. What do you do now and what do you find most enjoyable about your line of work?
I now work as a paramedic as well as being a Practice Placement Educator. I enjoy my role as I feel I can make a difference but I also enjoy teaching others what I have learnt.
Q. How can students hoping to work in your profession make the most of their time at Surrey?
I feel that doing a paramedic course is difficult in terms of having to process things that you may or may not experience on the road. It is important to talk about things. I would also encourage candidates to join a sports team. Surrey gives a lot of support to the sports teams, making it a good way to meet new people,  keep healthy and manage stress.
Q. What aspects of being connected with the alumni network are most important to you/of most interest to you?
I like to know how the university is doing as well as seeing what changes are being made. I also try to join the grad sport football team each year to catch up with old friends.
Q. What is your happiest memory of your time at Surrey?
I would say my happiest memory is actually completing my degree, something I never thought would happen. I completed it with a reasonable grade too.