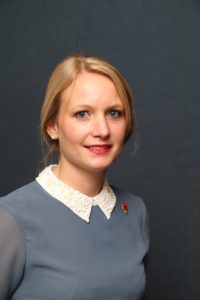 I'm Kathryn Amey, I studied Management and Tourism in the then newly opened Management School and graduated in 2007.
I have my own events management business that focuses on some large scale charity dinners, my largest being a Sporting Luncheon for 900+ people which I hold at the Hilton, Park Lane and raises in excess of £350k. Alongside my own events, I also freelance for a number of event and catering companies doing a range of press launches, private functions and charity cycle challenges.
I've always had a love for organising and enjoy being part of a live experience. I get a real buzz from seeing people at an event enjoying themselves and becoming fully immersed in the experience. I did my placement year working for the catering company that run the events at Harlequins rugby Club, spending the year arranging all the part time staff for match days and events. I also worked on their events which ranged from Christmas parties to conferences. I throughly enjoyed my placement year and because of my love of organising, event management seemed like a good fit.
After I graduated I immediately got a job at a benevolent charity under a 1 year maternity cover as an events coordinator. 9 years later, various changes in the organisation and promotions I left my role as Fundraising Manager, managing a team of 3, to start my own events business. That decision was hard as I loved my job but I was ready for a change. A big reason for the decision was to allow me to try some new projects, have more flexibility and if I am honest I also wanted to have more time for holidays!
A big challenge for me has always been to stop worrying about the next career move or comparing myself with others my age. I've learnt that we are all on our own journeys, what one person has may not be what you want, so be proud of what you have achieved whatever life or career stage you are at.
My biggest tip would be to Network, network, network, it is all about who you know! You never know what will come of a conversation or when you might need some advice so start collecting those business cards and meeting people for coffee!