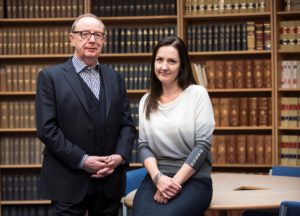 Changes to university funding and student finance policies mean that bursaries and scholarship schemes are more vital than ever to enable exceptionally talented people to realise their potential.
Scholarships are an ideal way to ensure that the brightest students are able to complete their studies and go on to make a real impact in the world. One such supporter is alumnus Gavin Whichello, who through his company Qube Learning is funding a PhD scholarship for Anna Cook, who is investigating the experiences of children with autism.
As the mother of two children on the spectrum, Anna knows only too well the challenges parents and teachers face in ensuring young people with special educational needs are not marginalised at school.
Anna said: "Bullying is a serious problem for children with special educational needs and research shows that it not only relates to emotional problems and school absenteeism but is also linked to problems in later life such as low self-esteem, anxiety, difficulties in forming relationships and even employment status."
Qube Learning provides vocational qualifications, functional skills and short courses. Chairman Gavin Whichello, who graduated in 1974 with a BSc in Human and Physical Sciences, believes Anna's research chimes with the company's ethos that education should be available to all.
"As a training provider, we are committed to ensuring there are educational opportunities for all people and Anna's PhD could lead to a better understanding of the needs of autistic children and what needs to be done to help them succeed."
At the University of Surrey, we have a thriving postgraduate research community with more than 1,000 students studying for PhDs. It is thanks to the generosity of donors that PhDs are becoming more and more accessible. If you would like to help support students and researchers at Surrey, please donate to our Chancellor's 50th Anniversary Appeal!