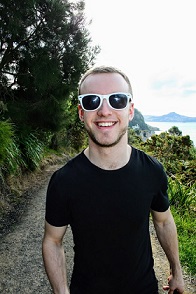 Meet James Frew, an Electronic Engineering graduate who has pursued his passion for consumer technology to become a contributor to http://www.makeuseof.com/
Tell us about your career path since graduation?
As part of my degree course I was fortunate to be able to pursue a Year in Industry where I worked for a year as a Quality Engineer. My degree background in Engineering gave me an advantage in the different field and it was something I continued to pursue after Graduation. During my first post-University position, I worked in implementing technology solutions and this gelled well with my passion for consumer technology. This passion became a career after I applied to become a contributor to MakeUseOf.
Have your career ambitions changed since graduating? Did studying at the University of Surrey help shape that change?
Surrey was and still is a place that takes pride in its scientific and technological achievements. Being surrounded by so many talented people in various fields while studying opened my mind to other possibilities. I didn't consider changing career direction until after University but the culture at Surrey influenced my way of thinking in a hugely positive way.
How did studying at Surrey help you pursue your current career aspirations?
One of the most important aspects of my writing position is turning technical content into something that is easily read by both technical experts and novices alike. Throughout my degree projects, assignments, and modules encouraged us to be able to turn technical content into something digestible like a report. Despite their reputation, the group projects were some of the most valuable experiences I gained so that I could effectively work as part of a team and have open discussions around a topic.
What is the most exciting thing that you have done in your career?
Having my written content published on a highly ranked, and highly visited website is undoubtedly the most exciting thing I've done – and the bonus is that I get that thrill every time my articles get published. Knowing that I can make a tangible difference, no matter how small, to someone's life is extremely gratifying.
What advice would you give anyone wanting to get into the same line of work?
To have confidence in their ability. When I applied for my current writing role I had no professional writing experience, but I let my passion shine through in the application and interview. The Internet gives you a great platform to create content – even if you think it's just for yourself. A piece of advice I like is to "just make a thing". Don't worry about judgement, and just do the things that you like. Turn your passion into writing and creating.
Do you stay in touch with other Surrey University alumni or lecturers?
The friends that I made at University will likely be with me for life. I met so many people during my years at Surrey and they all have gone on to do such fascinating work and I enjoy keeping up with the direction their careers and lives take them. Although my field of work has shifted, I still enjoy reading about the latest developments, advances and releases from lecturers at the university and get a jump of excitement when I see one of my lecturers was involved in the work!