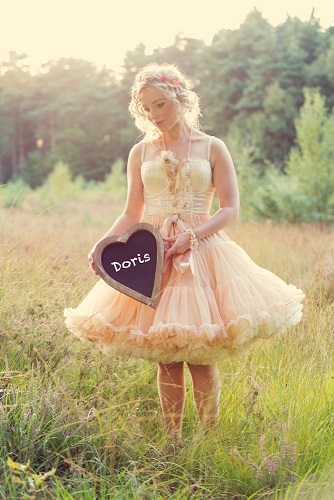 Meet Tania Marston, a BSc Retail Management graduate (2002) who now runs her own retail business, Doris Designs Petticoats. As a Surrey alumni you can benefit from 10% off skirts using the code at the bottom of this article. 
What are your favourite memories of Surrey?
One of my fondest memories was when my friends and I made an impromptu visit to our accounting lecturer's (Malcolm Dodds) office. "We need extra help with our studies before our exams" we asked.  He jokingly said "My wife won't be happy with me!". He then called his wife to say he'd be late home for supper as he needed to help get some of his students through the exams. Malcolm spent hours helping us until we fully understood. As a result of Malcolm being such a great lecturer (a bit scary at times, but with a big heart), I achieved one of my best results at University, despite accountancy not being my forte. He was a great teacher and man.
Overall my time at Surrey gave me some of my best moments that I'll cherish for life and a place where I met some of my best friends. It's an amazing self-contained and safe campus with great sports facilities, set in a beautiful town of Guildford with great shops, bars and clubs.
What advice would you offer current students?
When you first arrive, don't worry if you feel unsettled or a little lost. Everything will fall into place over the first weeks and months and you'll suddenly find yourself at home making lifelong friends, sharing great experiences. At times the work can be a little tough, but this will be balanced by great support from amazing lecturers and facilities to help you achieve great things. And also you'll have lots of fun along the way!
How did you benefit from your Professional Training year?
My placement was a great opportunity for me to experience the retail sector. I worked as a Retail Manager for Arcadia group in one of their stores in Surrey. I learnt a lot about the retail sector, managing budgets, selling, point of sale promotions and managing a team. After I finished my studies I knew I wanted to go down the retail route; but wanted it to be my own business.
What do you do now and what do you find most enjoyable about your line of work
I was always interested in entrepreneurship at university; it was one of my favourite subjects. This passion coupled with my interest in buying, logistics, marketing, selling resulted in me setting up my own niche retail business, Doris Designs Petticoats.
My middle name is Doris; a name I was desperate to hide from the world when growing up because I was embarrassed by it. But the day I graduated from University of Surrey in the beautiful cathedral, when Tania Doris Marston was read out on the platform, was the first day I embraced my middle name. The unwanted attention it attracted when growing up finally turned into a big positive for me.
My business, Doris Designs Petticoats is one of the largest petticoat retailers in the UK for adults and tutus for children. We sell globally direct to customers and to high-end retailers.
The best part about my business is that there is always so much to learn, especially with technology changing all the time and needing to be abreast of new channels and consumer behavior.
I love it when my skirts are used for photo shoots, music videos, school and university drama performances, theatre performers, professional dancers, or world-renowned choirs. They've also been worn by celebrities and used in films starring Oscar-winning actresses. There's a big film out this year and my Doris Designs Petticoats are being worn by one of Britain's best-loved comedy actresses – I'm super excited!
What are your top tips for succeeding in your industry?
Follow your passion and go for it. Find good people to work with. Don't write an endless to do list – make your list achievable each day.  Reach out to others for ideas and support. Have fun along the way.
SPECIAL OFFER
Students and alumni at University of Surrey can get a 10% discount on my skirts using promotional code at checkout: UniversityOfSurrey
Website:  www.dorisdesigns.co.uk