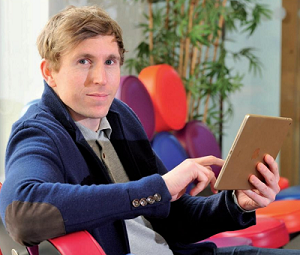 Meet Rhys Bevan, a BSc Business Management graduate who now runs his own company known as Click Digital Growth helps which helps businesses within the local area be more successful online.
What is your happiest memory of your time at Surrey?
There are so many, because that's what University gives you! From summer days spent next to the lake, the feeling of finishing your exams, to winning our first University golf match as part of the golf society. Surrey University is the perfect place to provide you with long-lasting memories and friends.
What were the best things about your course?
I chose Business Management as it provided me with the flexibility to understand what I wanted to do in business when I graduated. Studying a variety of modules specifically tailored to teach students the key concepts of operations throughout business allows graduates to fit in to any business, whether small, corporate or running your own business.  You understand the different functions and departmental roles in achieving the business goals.
This learning process was exemplified during my placement year, where I worked in a company that allowed me to gain experience in a different department every 3 months. This experience was instrumental in helping me select my specified modules during the final year, choosing those that I knew would help me apply for jobs when I graduated.
What do you do now and what do you find most enjoyable about your line of work?
I currently run my own company called Click Digital Growth (www.clickdigitalgrowth.co.uk). It helps businesses that sell products online become more successful & profitable.
When I graduated I took a job as a Marketing Assistant at a company in Bristol. Within my first 3 months I was asked to look at their website as it was becoming a fast-growing channel of revenue. During the subsequent 3 years at the company I learned everything about e-Commerce, website design, online marketing and conversion rate optimisation (the likelihood that a customer will purchase from your website).
From this experience I took another job at a company in South Wales who wanted to push their online sales, and within 2 years online revenue had increased 350%. Just before I left the exposure created online led to QVC trialling the product on their TV shopping channel, and it made £300,000 in 15 minutes!
After 7 years within ecommerce I decided that I wanted to set up my own company and work closely with a handful of clients. The goal was to help businesses within the local area be more successful online, and work with them to improve their website, customer experience and online marketing, leading to higher online sales. This would in turn create more job opportunities within the local area and push South Wales businesses onto the digital map.
Since starting my business nearly 2 years ago I have created strong relationships with a number of businesses, many of whom I work with on an ongoing basis as their business sustainably grows online.
How did your time at Surrey influence your career?
My placement year honed in on my creativity and passion for marketing. I knew in my final year that I wanted to specialise in Marketing, so I chose relevant modules that I knew I'd enjoy. That allowed me to find a Marketing Assistant job within 6 months after graduating, even during a recession (I had to move to Bristol from Swansea as there were barely any jobs in Swansea being advertised).
Without studying Business Management and understanding the core roles of running a company, I would have been a lot more reluctant to start my own business. I can now rely on the knowledge learnt throughout my degree to implement a number of strategies across my business, whether it be hiring a new role, developing the marketing strategy or publishing accounts.
How can students hoping to work in your profession make the most of their time at Surrey?
The key advice here is to take the time to find the right placement. The industrial year provides so much learning and valuable experience, but during the 2nd year it can feel like you have to grab the first opportunity you are offered.
Take the time to look at businesses and industries you'd love to work for or are particularly interested in. Ignore the salary – it's much more fulfilling and enjoyable working somewhere you love.
Many of my fellow students took a graduate programme job in the same company they worked at during the placement. Just as many didn't, but they learned what they wanted to do from their professional training year experiences. The great thing about Business Management is that it casts the net far and wide for a number of job roles. Fellow graduates work for JP Morgan, Rolls Royce and the like, some became teachers, a number run their own businesses and one even became a builder!
What aspects of being connected with the alumni network are most important to you/of most interest to you?
Being at university is an incredible experience and set me on the path I am on today. It's an important stage in life if you choose to go down it, and being part of the alumni network allows me to share my experiences and help others. I made the decision to go to university a long way from home, as it would encourage me to meet new people and not rely on others. The friends I made at university I am still very close with, and being part of the same alumni network allows me to catch up with many of my fellow business management graduates.