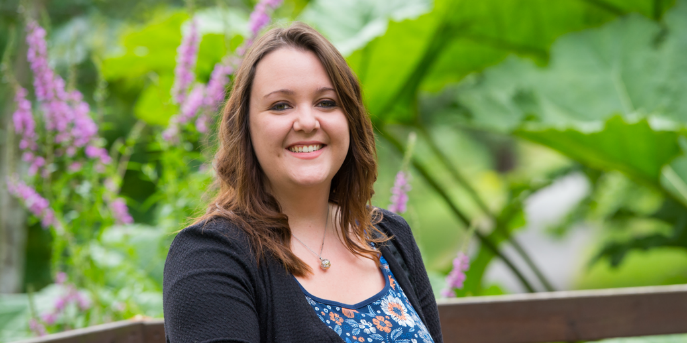 Meet Jade Beckett, a University of Surrey Psychology graduate who has gone on to work as Social Media Manager at Kew Gardens.
What attracted you to study Psychology at the University of Surrey?
As soon as I started doing my A Levels, I knew I'd want to pursue my degree in psychology – it's just fascinating learning about people and why they do the things they do! I looked up well ranking universities for psychology, and came across Surrey. The Professional Training year was a huge influence on me too – I loved the idea of being able to graduate having already got a year of professional experience under my belt (especially as I had no idea what I wanted to do)!
When I came to campus for an Open Day, I loved the campus! The students and staff also seemed so friendly and welcoming, it felt like somewhere I'd feel at home.
Tell us about your career path since graduation?
When I graduated, I still really wasn't sure what I wanted to do. After a couple of months of soul searching, I finally found a Digital Marketing Assistant role that sounded like my kind of thing. Reading the job spec, I knew I'd found something I could become very passionate about. Although I didn't get offered that particular role, I shortly afterwards secured another Digital Marketing Assistant role within an Agency.
While there, I worked closely with all teams across different areas of digital marketing, including the social media team. Initially I couldn't get my head around how someone could work in a full-time social media role – I quickly learnt there was much more to it that you could imagine – everyday was different, and as someone who is quite creative and analytical at the same time, it was perfect for me.
https://www.instagram.com/p/BRafLv-gpdL/?taken-by=jadekirrie
As it turned out, I wasn't away from Surrey for long! I soon saw a Social Media Marketing role at the University on LinkedIn – I applied (thinking it was a long shot) and ended up back on campus looking after the University's main social media accounts for three years.
I've recently, finally flown the nest, taking up a role leading on social media for the Royal Botanic Gardens, Kew.
How did you decide what career to go into? How did your time at Surrey help you to decide?
I had no idea what I wanted to do throughout my whole degree – although I did know fairly quickly that the clinical routes were not for me.
My Professional Training year was probably the highlight, but also most helpful experience. As a Research Executive within an agency, I worked quite closely with marketing professionals who wanted to learn more about their audience. This helped me to realise that although I loved data, I needed a more creative role – making the move across to the marketing side made sense.
What is the most exciting thing that you have done in your career?
Just one highlight? I'd say covering the official opening of the School of Veterinary Medicine, which was attended by The Queen. There was such a great atmosphere on the day, and it was amazing to see the Vet School finally opened.
https://www.instagram.com/p/85obunGYmh/?taken-by=uniofsurrey
Coming back to Surrey to work was a complete whirlwind, with so many exciting things going on. I'm proud to have seen social media come so far at Surrey, and to have played a role in making it happen.
What advice would you give anyone wanting to get into the same line of work?
Never stop learning and wanting to try new things. Social media is always changing, so you need to be developing along with it. You need to be truly passionate about it, and put in the time to keep on top of these developments in the industry.
Don't fall into the trap of thinking you know everything about social media if you just use it personally – there's so much more to it than that!
Finally, be prepared for people to have no idea what you do – people genuinely think you play around on Facebook all day.
Do you stay in touch with other Surrey University alumni or lecturers?
There are several friends from Surrey I still keep in touch with – I think we'll be friends for life now! I also met my other half while I was on placement (another Surrey grad, just a few years older).