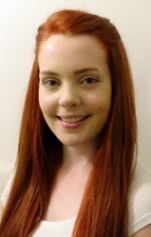 We start the New Year with Rebecca Daine who graduated with an MSc in Verterinary Microbiology in 2017 and works as an infection control officer at the Fitzpatrick Referrals, founded by 'supervet' Noel Fitzpatrick.
What attracted you to choose the University of Surrey and to study your course here?
Surrey offers such a unique course in microbiology focused on the veterinary field. The University also works closely with a huge community based in veterinary medicine, bacteriology and virology, many of which provided valuable experiences and contacts within industry.
Applying to Surrey was the best decision I have ever made. I'm so grateful for my time there, the people I met and the experiences I had.
What were the best things about your course?
The Veterinary Microbiology MSc course is niche and so we had a fairly class. I found this so beneficial as all our lectures and seminars were more casual and we were able to deeply discuss any questions or topics we had with our lecturers. Additionally, the practical module provided us with priceless insights into the industry that I doubt I would have been able to experience without this course.
What is your strongest memory of your time at Surrey?
The friends I made throughout my time at Surrey. My classmates, lecturers and supervisors all made my experience and course one of the best decisions I have ever made – I would love to  it all over again!
What do you do now and what do you find the most enjoyable about your line of work? Have there been any highlights?
I'm currently working at Fitzpatrick Referrals for a year of experience in bacterial diagnostics and environmental infection control. The staff at the surgery are utterly devoted to their job which only encourages me to do the same. The huge amount of experience in an extremely busy veterinary orthopaedic surgery within a laboratory environment will be incredibly valuable for my future career.
How did your time at Surrey help you choose what career to go into?
My undergraduate degree covered a broad range subjects so I didn't particularly know what I wanted to specialise in. This course appealed to me because of the topics it focused on and with the incredible experience I had during my dissertation project which helped me know what and how to achieve my future ambitions.
What are top tips for a students aspiring to work in your profession?
Spend your time wisely. Experience is key and get as involved as you can in everything available to you – contacts are extremely valuable. Take leaps of faith, the more you build up your confidence, the more you will get out of your course which will benefit your future. Don't be scared to talk to people, including lecturers, and ask about their experiences too!