Many congratulations to graduate Hasan Murtaza who has been nominated for a Professional Achievement Award by the British Council.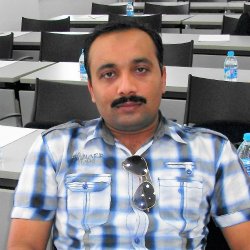 Hasan, who graduated from Surrey with a Masters in Satellite Communication Engineering, is currently serving the Government of Pakistan in the field of space technology.
The British Council Alumni Awards celebrate the outstanding achievements of alumni and showcase the impact and value of a UK higher education. Award -winners and finalists are leaders in their fields who have used their experience of studying at a UK university to make a positive contribution to their communities, professions and countries.
The Professional Achievement Award recognises alumni whose work has created change in their chosen profession.
During his 11 years working for Pakistan's government in Lahore, Hasan has successfully developed a number of satellite communication projects, including tele-education, tele-medicine and video-conferencing services. He has represented his country at numerous space tech platforms across the world, and is also a consultant and trainer at several national and international satellite communication companies.
His main interests include satellite communication, space policy, space radiation environment, and satellite ground station operations.
Hasan said: "Studying at the University of Surrey enabled me to learn from the world's best satellite professionals with a vast experience of the industry. I was lucky enough to do my thesis at Surrey Space Centre where I modelled the space radiation environment for Pakistani communications satellite PakSat-iR. The University, and Surrey Space Centre in particular, play a vital role in training the space engineers of tomorrow."
The winners of the British Council's Alumni Awards will be announced in a special ceremony on 20 March.