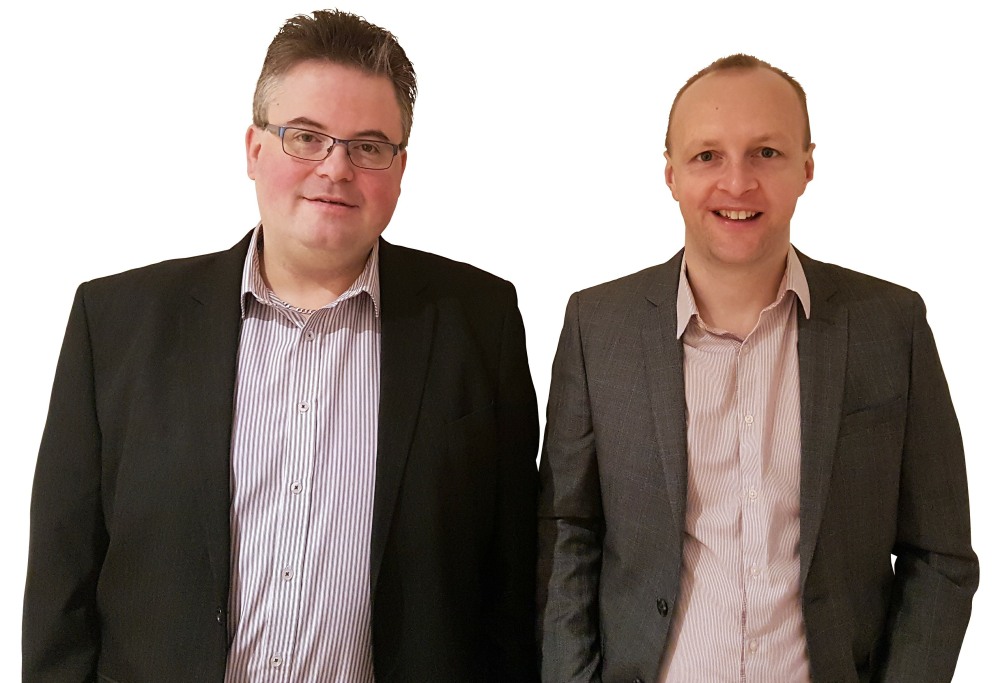 Shant Kevorkian and Tom Merryfield are BSc Retail Management graduates (1999) who now run their own online furniture retail business, Greenway Furniture. In this month's alumni profile they tell us about their time at Surrey and their experience of starting up in business.
What are your favourite memories of Surrey?
That's a difficult question to answer succinctly as the whole period at Surrey was just such an incredibly happy time in our lives. A number of things combined to create this wonderful experience. The lifelong friends we made whilst studying, the campus and the overall Surrey culture all helped to make it a very special four year period.
Living away from home for the first time is a big leap for a teenager and it takes time to adjust to that but, looking back at it now, it was such an important, formative experience. The fact that we return to Guildford so often nowadays – and keep in touch with many that we studied with – is testament to how fond our memories of Surrey are.
What advice would you offer current students?
Firstly, make the very most of your experience and savour every moment. Obviously ensuring you're committed to your studies is important, but try to further enrich the experience by trying new clubs and societies – continue to take yourself out of your comfort zone.
One day, when you're as old as we are, you'd probably love to go back in a time machine and have the Surrey experience all over again, and so make the most of it now!
How did you benefit from your Professional Training year?
This was a tremendous year in many respects. We both had quite different placements – a petroleum company and a theme park – but the experiences were equally valuable.
They certainly developed our professional maturity – we'd had student jobs in the past, but for the first time we were in responsible, full-time positions and that certainly helps to advance you. From a personal perspective they're also character-building, as you learn to work successfully with a wider range of people and skill-sets.
Most people seem to return from their placement year as more rounded and focused individuals and that was certainly the case for us.
What do you do now and what do you find most enjoyable about your line of work?
After leaving university we kept in touch as part of a wider circle of ex-Surrey friends but professionally we very much went our separate ways, into employed roles within operations management and marketing respectively.
Fast-forward almost twenty years and we came up with the idea of forming our own furniture business –Greenway Furniture. We were able to utilise almost forty years' of combined operational and marketing experience to create a business that helps to meet the needs of modern day home furniture customers.
There are two aspects to running your own business that are particularly enjoyable. The first is that you're the direct beneficiary of your hard work, which is particularly motivating. The second most enjoyable aspect is that you have the freedom and control to steer the business in the direction you want to take it in.
What are your top tips for succeeding in your industry?
Whether it's furniture or fashion, there certainly isn't just a singular path or formula for success. From our personal perspectives, giving yourself a diversity of professional experiences has certainly been beneficial, as we've learnt a great deal from each and every one of them.
If you're considering running your own business at some point in the future, there's certainly no substitute for hard work and you'll also need to muster a great deal of determination and resilience. Running your own business is an incredible experience but it certainly has challenges that you don't encounter when you're employed by somebody else.
We run a relatively small business but we very much enjoy doing what we're doing. Therefore, although it sounds clichéd, ultimately try to do what makes you happy, and that in itself brings success on many different levels.
SPECIAL OFFER
Students and alumni of the University of Surrey can obtain an exclusive 10% off of any item of furniture by entering the following at the checkout: GREENSURREY10
Simply visit www.greenwayfurniture.co.uk