Last week on the 12th of April I was one of 11 lucky students who got to participate in a exchange with Berlin Vet School. Having had 10 students from the Freie Universität Berlin visit us earlier this semester [you can read a article about it from my fellow IVSA rep Rachel Lye here] we were eagerly awaiting our turn to travel.
We began the trip by arriving bright and early at Gatwick Airport, some of us having crawled out of bed at 5 in the morning, and flew to Berlin Schönefeld Airport where we met with our hosts. Together we got the S-bahn back into the city to settle in before meeting up to visit the Prussian National Monument at Kreuzberg, the highest natural elevation in inner Berlin. After wandering around the surrounding area & visiting the Indoor Market we headed to an Italian restaurant for a celebratory reunion of pizza and cocktails.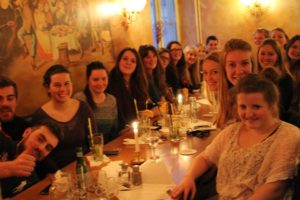 The following day we met at Potsdamer Platz, which is an area where the diversionary line of the Berlin Wall used to separate East and West Berlin. From here we visited the Kollhoff Tower where we travelled in Europe's fastest elevator up 24 floors to the Panoramapunkt, a open air platform giving spectacular 360 degree views of Berlin as well as information on the historical background of the area. Coming back down to street level we explored this area of Berlin, finding a life size lego Giraffe, chocolate sculptures (including the Brandenburg gate and Titanic) and Checkpoint Charlie. After a typical Berlin lunch of delicious Currywurst we were treated to a private tour of Berlin Zoo with the resident vet, who doubles a curator! This was an amazing place to visit and made all the more special by the stories and insights into the animals we were given.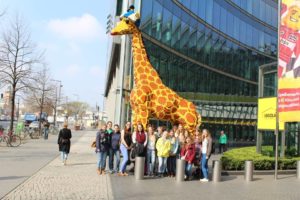 On the Thursday we were given a tour of the two campuses that comprise Berlin Vet School. We started at the Pre-clinical campus where the anatomy, physiology and histology departments are found. Being typical vet students, we marvelled at their anatomy museum which housed a collection of mutations and deformities amongst the normal dating back to the 1700s. This was followed by a visit to the Clinical campus for tours around their small animal, farm & equine clinics, which included getting licked by some very friendly cows!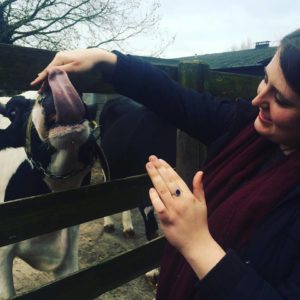 That evening saw one of our favourite meals we shared together; a German evening. We each helped our host prepare or buy a typically German dish and met up to have a truly German experience- Bavarian white sausage, spätzle, sauerkraut, pretzels and apple strudel were all on the menu! This was followed by a trip to the nearby beer garden to cap off the night.
Friday was a day for sightseeing – we began with a culture walk along the portion of the East side of the Berlin Wall still standing, which has been made into a street art gallery. We pushed on through torrential rain to see the beautiful architecture of Museum Island and Brandenburg Gate before visiting the Holocaust Memorial and Museum which we all found an incredibly moving and sobering experience. We had the rest of the day free to relax, shop or re-visit places before the grand finale of the trip; a night out in a Berlin club! The last day felt like it came too soon; we met for lunch (many of us nursing hangovers &/or sleep deprivation!), before travelling to the airport and saying our final farewells.
Overall it was an amazing experience and something I am very proud to have been a part of. A HUGE thank you must go to Natural Instinct who so kindly gave us £2000 in sponsorship, really helping us make the exchange a success. The trip was a brilliant start to what I hope will be one of many future exchanges to come!