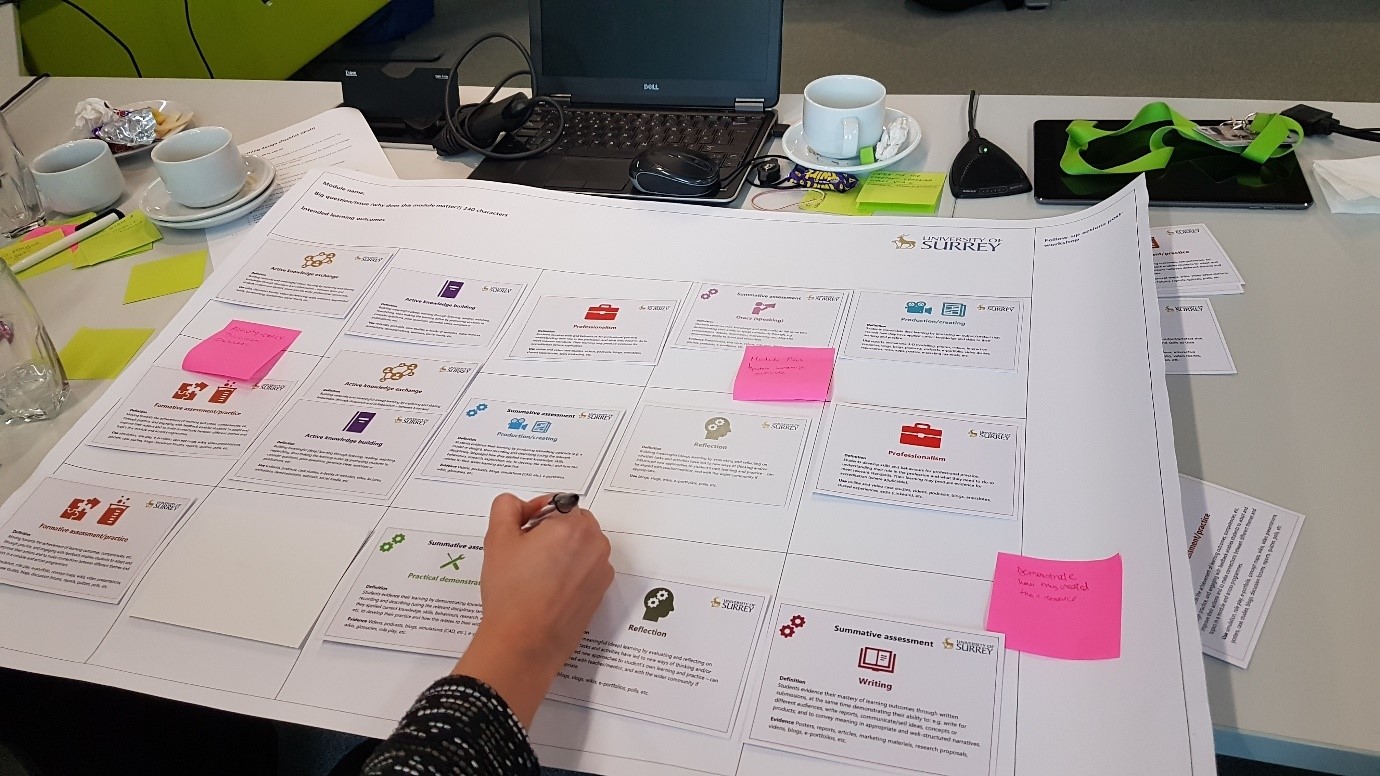 One of my objectives when I joined Surrey in February this year was to develop workshops to support the design of online learning. I'd heard of a number of institutions around the UK who were using the 'ABC' curriculum design workshops designed by Natasa Perovic and Dr Clive Young at UCL. These workshops, based on Diana Laurillard's conversational framework, use colour-coded cards representing different learning types to storyboard a mix of activities across modules and programmes. To find out more, I joined Natasa and Clive on Zoom, and had a really useful chat around getting the most out of the workshops. Their top tip was that 20 attendees was an optimal number for the workshops to give people a chance to bounce ideas off each other.
I then contacted CEL at Bournemouth University to find out about their LEAP (learning excellence acceleration programme) workshops. In addition to using the standard six 'ABC' learning type cards, Bournemouth have created a second layer of four assessment type cards to help learning designers to plot assessment across a programme/module. They kindly invited me to see one of their workshops in action and it was interesting to see how different people tackled the storyboarding: a few completed it quickly, most spent the full 90 minutes on the design, but one team was still too busy discussing how to deliver the module to start on the storyboarding.
Next, working with the Department of Higher Education at Surrey and looking at variations of the cards developed by other institutions (including Huddersfield University, UCEM in Reading, and Charles Sturt University, Australia (David Smith's 'Confluence of learning')), I set to work adapting the ABC cards for online work-based programmes at Surrey.
I had chance to pilot the new cards at the TEL away day in June. Lauren Regan and I ran a mini workshop using the cards to storyboard a module on 'teaching teachers to include inclusivity in their module design'. We spent half an hour exploring inclusivity in learning and another 45 minutes on the storyboarding. As we're taking an 'assessment first' approach at Surrey we asked people to start with the assessment cards, and then use the learning type cards to design activities to support the assessment. I wanted to see how intuitively people would be able to work with the cards and storyboard template so, arming people only with a sheet of storyboarding principles and a set of cards, I rather meanly set them to work with minimum instruction.
There were some great discussions and at the end of the 45 minutes each group 'promenaded' their storyboard and explained their rationale. It was fascinating to see how different groups interpreted the brief and used the cards.
We had some really useful feedback after the workshop which we can take forward into learning design workshops at Surrey. All the positive comments were around how people had enjoyed working with the cards and collaboratively – an excellent start!; suggestions for improvements were (perhaps predictably – but really useful to know) around needing more context for 'assessment first' and how to use the cards, and there was also a suggestion that we could flip the learning and give people an opportunity to review the cards before the workshop.
Thanks to everyone who took part!