Katalin Hanniker went along to the autumn M25 Learning and Technology Group's meeting on Monday to find out learning tech Education 4.0 in and around the M25.
Ruth Drysdale from JISC opened the session with a talk about the '4th industrial revolution' and the impact, now and in the future, of the internet and digitalisation on education.
Professor Gilly Salmon, of 'Carpe Diem' fame, and John Brindle from Liverpool University hosted the first activity, working in groups to explore likely future trends in learning and teaching. We were invited to 'pass through the Education 4.0 portal' (i.e. walk under a string of fairylights) to visualise a blueprint for education in the future. We were encouraged to feed back to the group creatively: consequently, there was dressing up and everything.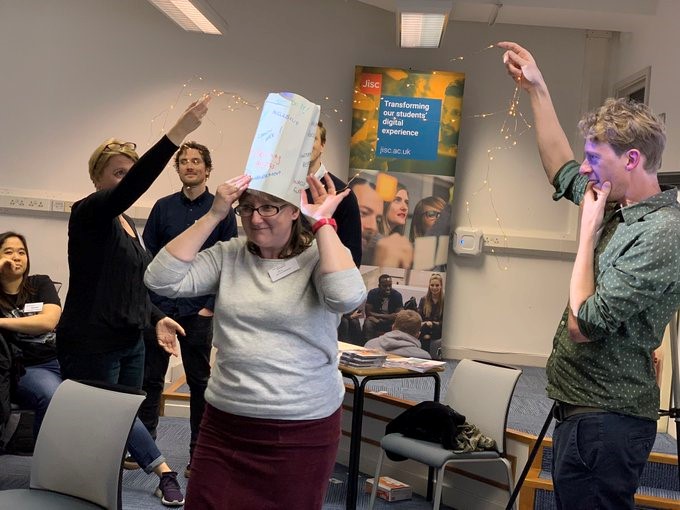 The future is bright. Photo: John Brindle (2019) [Twitter #M25LTG], 18 November 2019, London: King's College.
The main themes will be familiar to all in TEL: e.g. technology enabling 'just do it' attitudes, breaking down barriers, democracy of knowledge, influence (e.g. AI, coding), inclusivity, empowerment, accessibility, flexibility, immediacy, creativity (through, e.g., VR), vocational learning, global communities of learners, collaborative practice, co-design, and so on.
Highlights of the afternoon included a presentation on the 'holographic academic' by Dom Pates from City, University of London. Forgoing lecture theatres and having 3D representations of academics appear in your living room instead, anyone? We were given scenarios and invited to apply holography to resolve particular issues, and discuss any potential drawbacks. My group's scenario was a lecture theatre becoming unavailable at short notice. Could lecturers swiftly adapt and relay their lecture as a hologram? We suggested developing a holographic demonstrator (a holo-bot?) to show lecturers how to 'be present' and teach holographically. There was a brief but fascinating discussion around identity copyright …
Chris Fryer, senior systems administrator at LSE, then gave a talk about previous industrial revolutions and associated progress or otherwise; and gave us a reality check about the likely benefits of the 4th industrial revolution. Chris had some superbly cautionary tales about using AI to make predictions and decisions, with some heavily biased outcomes for the humans on the receiving end of the decisions. He won 'best line of the day' with his observation that AI was currently less artificial intelligence and more 'automated ignorance' and he finished with an appeal to 'press as hard as you can for [your] institution to retain a human in the process' (admissions, marking, etc.). Read his excellent blog post 'All watched over by machines of cold indifference' here.