IT Services
For many people across the Surrey campus, IT Services are those faceless names on 'loss of service' emails when a large system is going down. Or, if you've been less lucky, support ticket acknowledgements when your individual computer has decided it's not playing, just as you were doing something really important.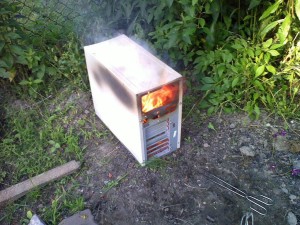 Basically, you might only think of us when something is broken and in many ways, we like it that way. If things are working well, then your IT tools should keep quiet and let you get the job done.
When providing personal computers and services to all 2500 staff and 20,000 or so students, we've tried to keep the experience of using Windows, Office etc as close to what you get from your home PC as we can. In the past, this has worked well as a familiar PC means you get up and running quickly with a minimum of hassle.
Home Computers are Ahead of the Game
The trouble is, in recent times, consumer services like Google Mail, Dropbox and AppStores have made the home PC a far more flexible and convenient device than the work computer, which still relies on a call to IT Support for another chunk of file store, or the ability to see someone else's calendar. Something you can do for yourself at home in seconds.
University IT, of course, is not being belligerent when it refuses to support these admittedly awesome free online services. The trouble is that they simply do not meet with many data protection laws when used in a business context. We are however working on these requirements and when it comes to access to software, we're pleased to tell you that we've made a bit of progress!
Surrey Software
Think about when you add a new piece of software to your smartphone. It's all available in one place; the app store. A single click is often enough to be up and running. We wanted to bring that experience to our staff and students on Windows computers and so SurreySoftware was born.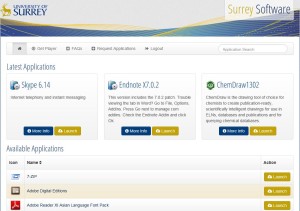 SurreySoftware is your one stop location for Windows software. If you run a supported computer, then you can simply point your browser to https://surreysoftware.surrey.ac.uk, log in with your computer account details and you'll see all the software that you're already licensed to use. A single click on the 'Launch' button and the application will be delivered to your computer within a few seconds, to a few minutes for the really big stuff. From then on, it will behave exactly as it would if you had installed it yourself from the original CD and you'll find it in the Start Menu..
We hope you'll agree that this is a big improvement over having to wait for IT every single time you need something installed and behind the scenes, we're able to manage the licenses and upgrades without needing to interrupt your working day. If you can't see the application you want, a simple form is available from the top of the page  and we'll get right on to purchasing the license for you and packaging it up for access from any PC you happen to be at that day.
To make it all happen, a team of Analysts and Technicians worked hard for months to move over 300 applications into this system. Windows programs aren't really designed for this and we had to learn a whole new technology to make them play along. It was worth the effort though, as now we can make applications available to staff via the website and in the student labs, applications are delivered 'on-demand' when a link in the Start Menu is clicked. In the past, many lab computers had more than 80 applications installed to cover myriad requirements and ran disappointingly slowly as a result. It's so much better now and lab computers run faster and more efficiently.
The Future, Now
Internally, the team who put all this together were pretty pleased with the new technology. We reduced a lot of the administration overhead and empowered people to help themselves to software without compromising security. However, we had one more part of the vision to complete, something no other University, or institution (that we know) has yet achieved. We can now deliver managed applications to run on unmanaged devices – or what you would call, your own computers!
Yes, SurreySoftware took a big step last Summer, when we reworked the portal so that it could tell the difference between a University owned computer and a personal computer and present site licensed applications to Staff and Students on their own machines.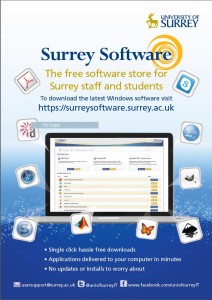 After installing 'Application Jukebox Player', SurreySoftware has been allowing students to self-serve such applications as SPSS and Matlab without having to come in and get a CD, without having to complete a form promising to remove the software when they leave (does anyone actually do that?!) and without the misery of evil 20 minute software installations with setup questions that only the geeks can answer.
Now, a single click brings down the application and it will behave just as if it were installed. Except it isn't. It's running in Application Jukebox player and is still under the management of IT Services. Leave the University and the software will leave your computer, but on the upside we'll also keep you on the latest version of the software without you having to raise a finger.
Like I said, we're ahead of the curve on this one and to date, over 15000 downloads have been recorded from the site. Surrey has presented to more than 25 other Universities across Europe about this achievement and hopes to continue to improve this and other services to the point where you don't have to think about University IT at all.
Photo Credit (Creative Commons):