In my last blog, I focussed on the priorities of the VPRI portfolio in 2018/19, which, in essence, support the Research & Innovation elements of the Corporate Strategy, and begin to implement the recommendations of the two reviews conducted early last year, on research services and on innovation. The specific priorities are to support the research scale-up and strategic hires agenda, double the PGR numbers, establish a more strategic discretionary "fighting" fund for research, integrate the R&I services portfolio and make it more researcher friendly, and create greater linkage and two-way flow with the Research Park. Behind these priorities sits our research & innovation strategy – where are we with this?
Current State of Play:
Currently, we have the high-level elements of the strategy contained within the Corporate Strategy: https://www.surrey.ac.uk/about/management-and-strategy/our-corporate-strategy-2017-22. As well, we have an excellent document that sets out the basis for a research strategy, and no equivalent for an innovation strategy. To accompany the Corporate Strategy, we aim to launch a companion Research & Innovation Strategy later this year. Research and innovation will be combined into a singlestrategy, because they are intimately connected elements on the research journey to produce knowledge, and generate benefits from it – all part of a seamless continuum.
Right now, we have six research themes:
Lifelong health and wellbeing;
Digital innovation;
Innovation for health;
Urban living;
Sustainability; and
Space and aerospace.
Two of these are up and running and have excellent Theme Leaders and (modest) budgets. Richard Murphy leads Sustainability and Matt Leach leads Urban Living. What about the others, as yet still largely dormant? To answer this question, let us first be clear on what we expect a research theme to do for us.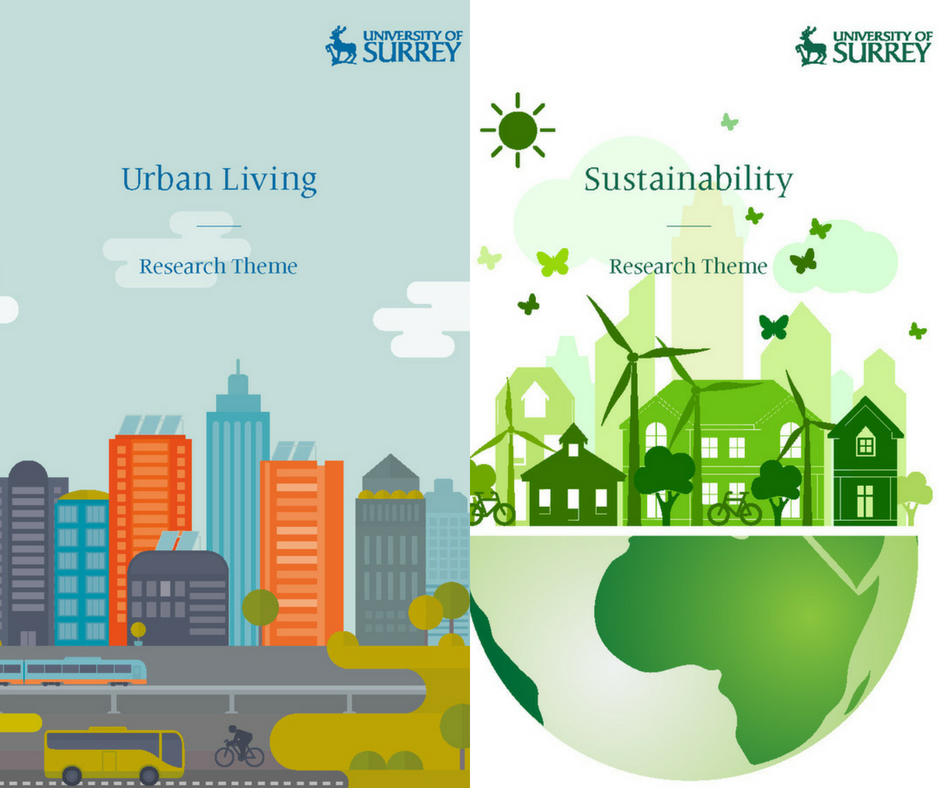 What should a Research Theme do?
In my view, a Research Theme should:
Create an open, transparent and inclusive environment in which researchers can come together to create synergies that would otherwise be less likely to occur. It should provide a nurturing environment in which the good values of the organisation are transmitted and individuals are mentored and supported. Themes would ordinarily be expected to comprise multiple disciplines, or break down existing silos;
Establish a critical mass – say on the order of 100 people or more;
Provide an outward facing presence for the University in an area, for the purposes of interacting with Government, other large research organisations, large companies and funding bodies; and
Eventually deliver (say within 5 years) at least one major grant of scale – Centre for Doctoral Training, Doctoral Training Programme and/or major multi-million £ programme grant.
You can see from this description that a Research Theme needs an altruistic, community-minded leader who facilitates, rather than the necessarily single-minded approach of a research group leader.  Research Theme leaders might even be called Associate Dean – Research Theme….perhaps not, but you see my point.
What should a Research Theme not do?
A Research Theme should not be the single vehicle into which all of Surrey's research should be shoe-horned or the only (or even primary) way in which the University's research is to be presented. The Research Strategy document does notpropose that it should, but there seems to be the perception that all are expected to conform to a thematic structure. Not true – this notion needs to be dispelled. Thus, a Research Theme will not seek to impose itself on existing large-scale activities, nor represent them necessarily. We seek to establish a theme framework in which people and groups voluntarily wish to join a theme because of what it brings – a win-win.
Organising around USPs?
So, what do we need to do to organise beyond Research Themes?Surrey's research and innovation is already organised and promoted around unique selling propositions (USPs) and these sometimes revolve around Research Themes, and often do not. The attractive things about USPs are:
By definition, they provide us with a Surrey sizzle factor – rare and cool;
They are not restricted to a particular scale; and
They can come and go – as we change, and the funding environment and opportunities around us changes.
I would like to see more made of our USPs in our Research & Innovation Strategy. Implicit in supporting USPs is the notion of selecting to not do everything – and that is what we should do at the strategic level. We must invest in USPs to create or strengthen excellence at the international peak level – to seek critical mass. And as a backdrop to everything we do, we need to be true to our core values: ambition, collaboration and excellence in particular.
So, what are our USPs?  That is, what are our declared priorities that will feature in the Strategy? For that, you will have to wait for a future blog!
A note of reassurance though, for those who feel they don't or come to feel they don't fit: our Research & Innovation Strategy will make clear that Surrey will continue to be a broad church – exercising flexibility, dynamism, and inclusiveness for new and emerging research areas.
Do we have the right Research Themes?
Let me conclude by commenting on our existing themes – as now is the time to change them, if we wish to, or action them! I have opinions, of course, – but need your input – this is a collective endeavour. Some reflections are below….
As we have identified theme leaders and gotten Sustainability and Urban Living underway, I believe we should support these themes and help drive them forwards. I am concerned, though, about Lifelong Health and Wellbeing, which seems to overlap considerably with Innovation for Health, with the latter also being exceptionally broad – seen from without these theme titles confuse somewhat, fail to capture any OneHealth aspirations that are discussed, and do not reveal existing USPs in Sleep and Chronobiology, Food and Nutrition and Veterinary Science. Digital Innovation is of particular concern, as everyone has this in their university – it is very generic. We must find a more nuanced way of presenting Surrey's great strengths across the digital realm, whilst preserving and enhancing its exceptional critical mass activities in 5G IC and CVSSP – both already working across boundaries – whilst capturing the many opportunities for AI/5G/Blockchain and related technologies in manufacturing, transport, business services, and creative industries – for example, Games (gaming) could be a big USP, if we got behind it as a whole of institution. Space & Aerospace is a Surrey gilt-edged USP – we have an established strong reputation as a leader in satellite technology – and we are still the only University in the UK with the complete pipeline of research lab, control room, connection to industry (SSTL). But is this a Research Theme? I would argue not – but it is undoubtedly a USP. I will leave you with one final thought on "The Human Face of Technology". Surrey is very strong in digital technologies underpinned by its core strength in electrical engineering and computer science. It is also very strong in connecting from the technical to the human impact – in social science, in business, in law and ethics, in Psychology, in creative arts and in Health. Such impactful research on the opportunities and consequences of the so-called 4thindustrial revolution is timely. Might this be a theme that does not currently exist?
Next time….thanks for reading.