What do you need to create a tech hub like Silicon Valley? Here are the keys:
An excellent environment that smart people want to live in;
A critical mass of talent and services to support hi-tech industries;
A state-of-the-art infrastructure for internet, telecommunications, and business premises;
A nearby University to enrich the ecosystem; and
Connectivity to the rest of the world.
So let's see how Guildford stacks up.  Then I will give you a sense of what's happening in a few tech sectors.  You will see that Guildford is already a "brand on the run".
Environment: So, we have all that – and it is happening all around us.  Guildford, a historic market town with a legacy dating back to Saxon times – guilden (golden) ford. Maybe because of the glorious golden irises I see as I walk along the riverside – the Wey Navigation created in the 1700's, running at the foot of a castle thought to have been built shortly after the arrival of William the Conqueror in 1066. Guildford sits on the edge of a designated Area of Outstanding Natural Beauty – the Surrey Hills – hiking, biking, village living on Guildford's doorstep. Yes, it costs more to live here – just like Palo Alto, but working in tech you can afford it…..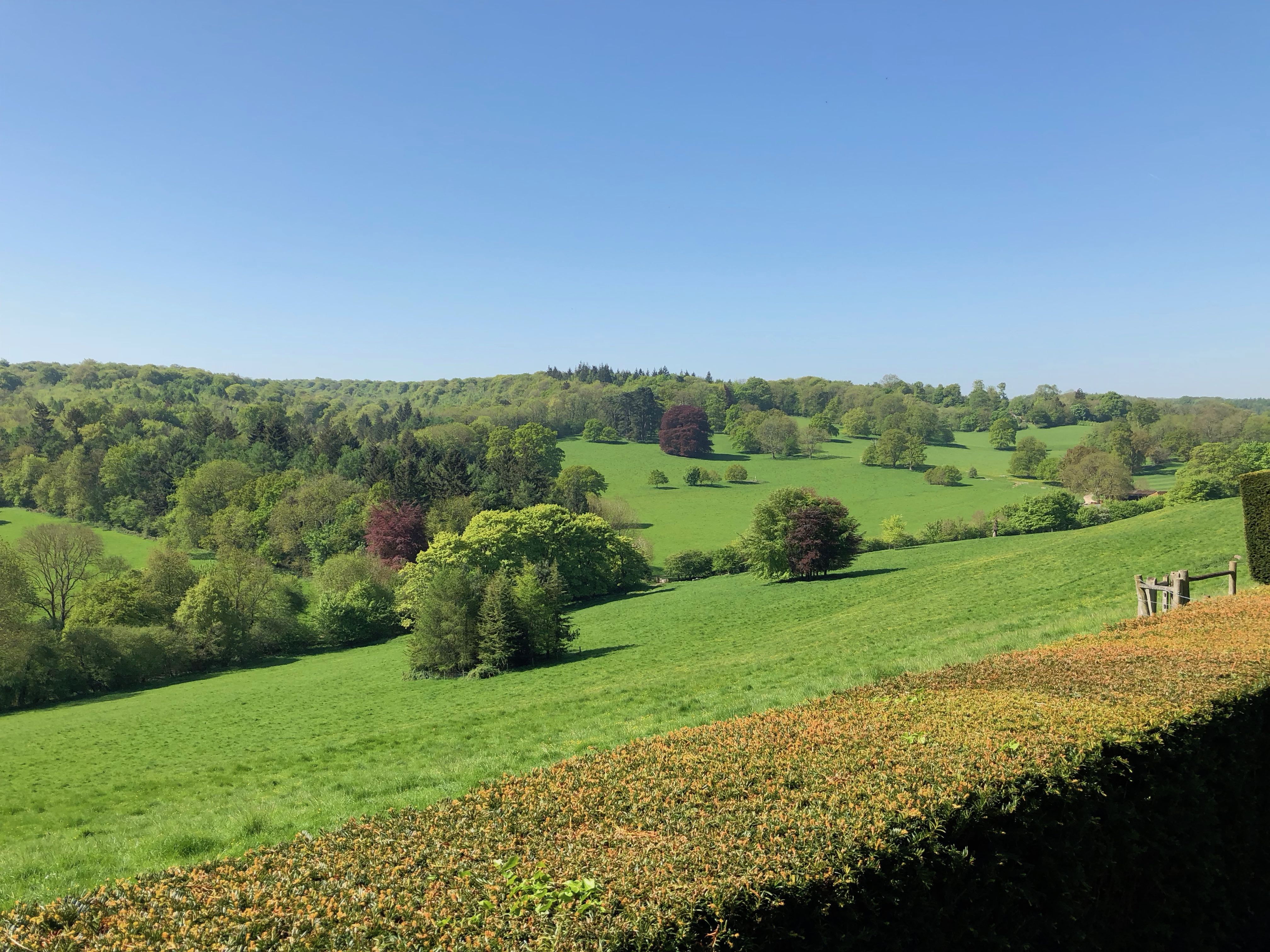 [Polesden Lacey near Guilford]
Jobs and compensation: You can afford it, because you have a great job.  Tech Nation 2018, an annual report on the strength, depth and breadth of digital tech activity in the UK first published in 2015, reports that Guildford and Aldershot produce £168k of turnover per employee – one of the top 15 in the country. Indeed, it sees Guildford as an example of an emerging "digital suburb" – only 33 minutes by train from central London, itself, one of the world's top 3 digital powerhouses.  It points out digital natives earn 1.3 times as much as their non-digital counterparts. Adding to this, Joblift, a jobs webcrawler, identified Guildford as the third most promising tech hub of tomorrow outside UK's major cities, after Oxford and Cambridge – of the 10,634 tech jobs posted in the last 12 months, 1 in every 4 was tech focussed. The local Enterprise M3 LEP (Local Enterprise Partnership), one of 38 set up by Government in 2011 to drive economic growth of areas, is ranked 8th out of 48 sub-regions in England on quality of life score, based on the low levels of crime, high levels of good health, the quality of local schools, access to amenities and access to an attractive natural environment. It's a cool place to live.And to do business: the EM3 region's gross value added (GVA) exceeds £50 billion and is the 3rd highest GVA per capita nationally (LEP comparisons).
Infrastructure: Walk around Surrey Research Park and you could be forgiven for thinking you are in Santa Clara – spacious, well-constructed low-rise buildings set in green parklands, plenty of parking, and wide-open spaces.  The park, owned and run by the University of Surrey, hosts 140 largely tech-focussed companies employing over 4,000 people, including headliners such as BAE Systems Applied Intelligence, Surrey Satellite Technology, and BOC, and home to the Surrey Technology Centre – a multi-unit centre full of innovative small businesses and an incubation hub serving more than 100 SMEs – and a node of the worlds' leading university incubator organisation SETsquared, a collaboration with the universities of Bath, Bristol, Exeter, and Southampton. SETsquared run the hugely successful ICURe innovation to commercialisation programme, and most recently a scale-up drive with SETsquared Across Sectors in the South of England. SETsquared Surrey's starts up are drawn to the Research Park from as far afield as London and Reading to receive their support, attend clinics and workshops, and meet university connections. It is also home to the region's Growth Hub – making it the centre for business support excellence. The Surrey Technology Centre has the vibe of the tech world: relaxed, interactive, serendipitous, energised.  I love going there.  But wait, there is more…in other Guildford tech spaces, such as the Guildford Business Park, currently home to Philips and Ericsson and the funky Walnut Tree Close precinct with its collection of resident games companies. Of course, it is but a tiny snapshot of the Borough's more than 3,500 companies.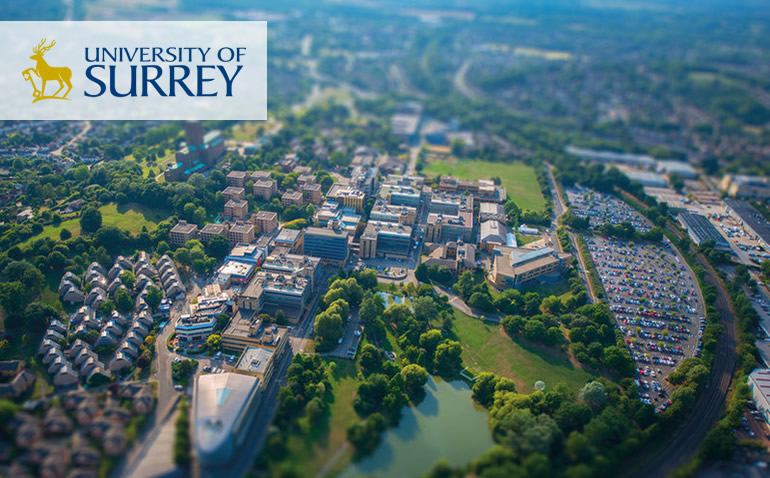 University of Surrey: With its roots in the Battersea Polytechnic Institute founded in 1891, Surrey has always been about science, engineering and industrial engagement. Since its Royal Charter was granted in 1966, and its move to the present adjacent sites on Stag Hill and Manor Park, it has broadened to incorporate the humanities, arts and social sciences. Among its leading areas are satellite technology, machine perception and AI, 5G mobile telecommunications, sleep and chronobiology, food and nutrition science, hospitality and tourism management, sound mixing and musical theatre performance, and veterinary medicine. And then there is the teaching excellence – supported by an ethos that has seen it named "University of the Year" and "Best for Student Experience" by The Times and The Sunday Times in 2016. And that ethos and Surrey's heritage is reflected in the vibe on campus – buzzy, positive, can-do and edgy. And its adventurous and generous academic spirit sees it more and more exploring the unexplored "knowledge territories" where disciplines intersect – for instance, where technology and its societal implications in everyday life, in business, in the law, and in our health, all meet to cross fertilise.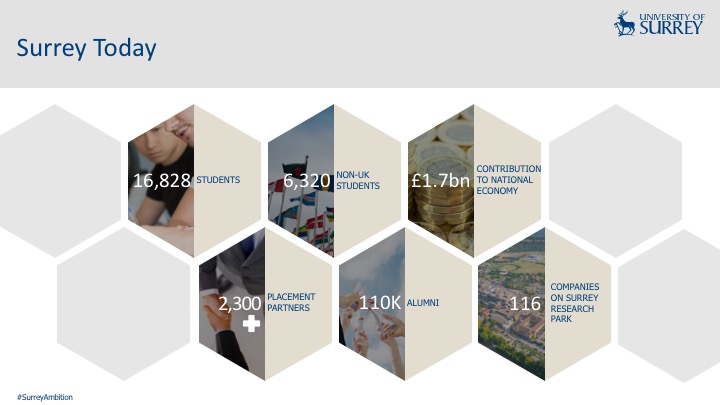 Connectivity: Guildford came to prominence in the 1650s by building a canal system (the Weyside Navigation) nearly 100 years before the major canal building expansion in the UK. Thus, Guildford was a major centre of commerce due to its exceptional communications links. That historical commercial edge parallels its modern equivalents: international air connections, rail, motorway and, of course, digital connectivity.
First there is the virtual connectivity, with the digital infrastructure in Guildford set to be supercharged in the near future – with the Enterprise M3 LEP leading the charge. Ambitious plans are well advanced to create a region-wide multi-terabit fibre spine and International Internet Gateway by linking the greater Enterprise M3 region around Guildford with Hibernia Express, a transatlantic submarine cable passing through Slough. Key to the plan is to support an early-adopter 5G Network, exploiting the region's 5G capability at the University of Surrey's 5G Innovation Centre.
Then, there is the ease of getting in and out – 33 minutes to London Waterloo by train, on the doorstep of one of the world's top 3 digital cities; 40 minutes by car to Heathrow or Gatwick – take your pick. And then there is TAG Farnborough Airport just up the road, one of the busiest private airports in the UK. And of course, London itself is one of the planet's focal points. We can enjoy what it has to offer – but we don't have to go there every day.
So what's happening in Guildford: Digital Games
The Guildford and Aldershot region has:
70 developers/publishers (4th highest in UK)
7 service companies specialising in Games support (3rd highest in UK)
4,030 games published (2nd highest in UK)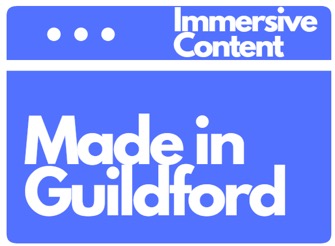 [Made in Guildford: an emerging brand]
In 2014, The Guardian's Stu Heritage summed it up in an article entitled: All hail Guildford – the Hollywood of video games – what a cracking read! Guildford as a games location was kicked off in the 1980s by the now famous Peter Molyneux. Peter and Les Edgar set up Bullfrog Games in the Surrey Technology Centre on the University's Surrey Research Park. Bullfrog was acquired by Electronic Arts and Peter returned to the Park to launch Lionhead Studios, which brought Microsoft to Guildford. Peter continues to pioneer games for the mobile platform in his latest company 22Cans, which continues to thrive on the Park.
The success of these companies in creating a pool of creative and programming talent has resulted in Guildford now supporting 1000+ games developers working in some 70 studios, and these have attracted many million pounds of foreign inward investment as well as generating billions of pounds of revenue while keeping their lead creative-tech.
The University supports the sector in a few ways, for example, supporting Rocketdesk, the games co-working space founded Ben Ward and Neil Johnson, who started on the Research Park in 2015 – and have established the world's first 5G-enabled games hub.
In 2015, the University's Centre for Vison, Speech and Signal Processing, renowned for its work in machine perception, AI, block chain and more, joined with the UKIE (UK Interactive Entertainment) and law firm Charles, Russell, Speechlys to launch the Galvanising Guildford Games Group.  This thriving forum links the University's academic core (including its creative arts such as the Institute of Sound Recording, home to the Tonmeister programme), to the formal and informal networks that are so critical in pushing the boundaries of technology needed to produce the games people want to play and keeping Guildford's well-earned Hollywood epithet.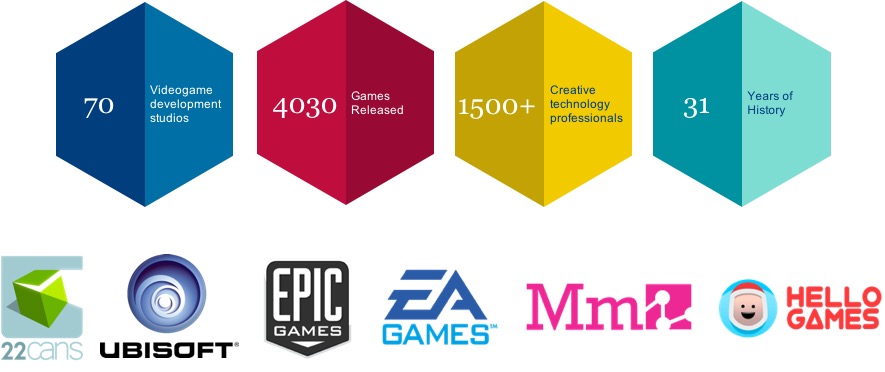 So what's happening in Guildford: Space, 5G, Blockchain, AI, …
And there are a lot of other things going on round here….let's just sample a few.
Space: SSTL employs more than 500 people and is currently building 23 satellites and is a key manufacturer in the EU's Galileo programme. Other companies are joining them in Guildford – for example, Earth-i is offering exceptional high-definition, full colour video imaging from space, planning the world's first such constellation, with innovative intel packages for sectors as diverse as financial services, farming and clean energy. And there is the intriguing prospect of low-earth orbit, low-cost satellites driving 5G technology to provide ubiquitous, resilient low-latency (low delay) services – which could be genuinely disruptive on a global scale. The Surrey Space Centre remains the only UK University department to operate a Satellite Mission Control Centre – with full capability to command and control satellites, execute mission operations and download data for users' applications.
5G: Of course, 5G is a Guildford USP.  Nearly every day a Government minister is visiting the University of Surrey's 5G Innovation Centre. 5G technology has become a catalyst for national innovation with the Department for Digital, Culture, Media and Sport's regional test bed projects across the country, and our 5GIC is supporting three projects – our campus at Stag Hill is literally a 5G testbed, and it will soon be linked to other testbeds around the world. Players in the testbed include all the major telecommunications companies – BT, Vodafone, Huawei, EE and more. Europe's first 5G controlled car demonstration took place at the University – and 5G will unlock much more machine intelligence as it becomes the driver of AI for machine-machine transactions.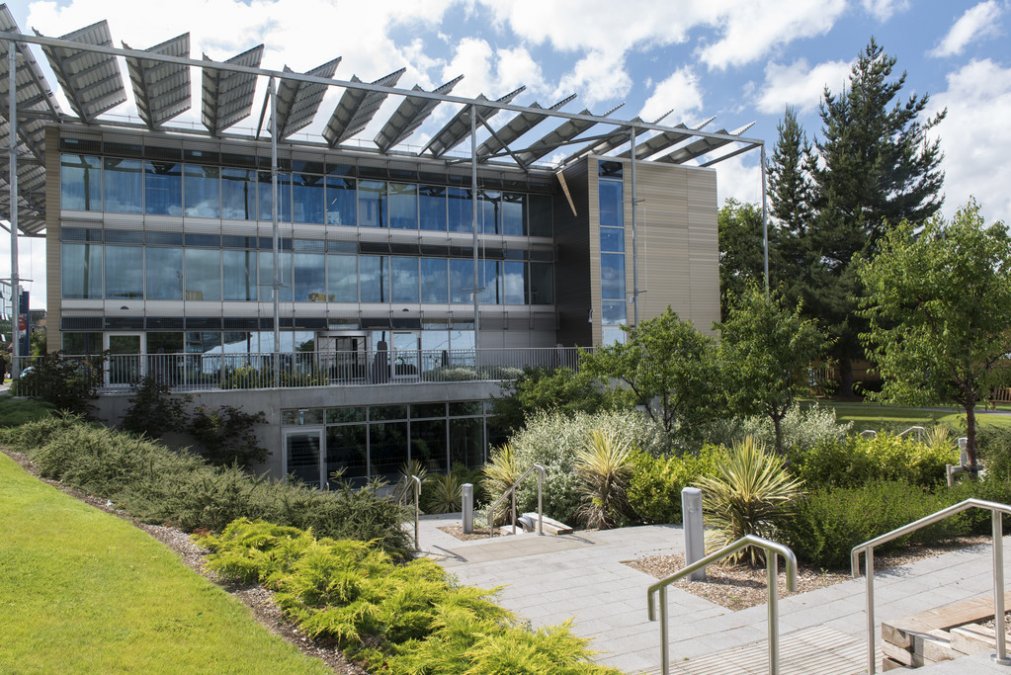 Blockchain/AI: Is also happening in Guildford – for example, local company Coinmode in payment systems for games/e-sports. Of course, the sorts of skills needed to build games engines are also needed to drive 5G and generate AI solutions and distribute ledger technologies, such as blockchain. AI, block chain, geolocation, facial/special recognition tech to enhance innovation – it all links up.  And the University is in this space through CVSSP, 5G IC and Computer Science – it has a research portfolio of over £3m in funded research in these areas, with many projects focussed on improving business processes and efficiency through its Surrey Centre for the Digital Economy – CoDE.  And its Law School is busy working out the implications of robotics and AI in the legal system.
So, then, here we are in a beautiful part of the world, surrounded by the glorious green of the English countryside, shoulder to shoulder with open, creative, smart people, with all they need at their fingertips, limited only by the power of their own imaginations – Guildford, it has a lot going for it.
With a little help from my friends: Steve Broome, Atti Emecz, Stuart Fenton, Caroline Fleming, Malcolm Parry, Sam Read, Keith Robson – thanks folks.
Next time….thanks for reading.