12 March 2019
SPRINT – SPace Research and Innovation Network for Technology Roadshow
It is a particular delight for me to welcome you all to the University of Surrey to celebrate – and learn more about – SPRINT – SPace Research and Innovation Network for Technology. That is because space and satellite technology is in Surrey's DNA.
Indeed, I hope you have all been watching the remarkable movies of our RemoveDEBRIS project – the net and the harpoon that catch space junk – I am sure you will get to see them in Professor Aglietti's presentation next. Very cool indeed.
SPRINT is a consortium of five universities: Edinburgh, the Open University, Leicester, Southampton and Surrey. Led by Leicester, SPRINT provides support to SMEs, helping them to compete and grow using space technologies and applications. We acknowledge Research England for recognising this national consortium of five of the UK's leading space-sector universities in supporting its 3-year, £4.8m programme.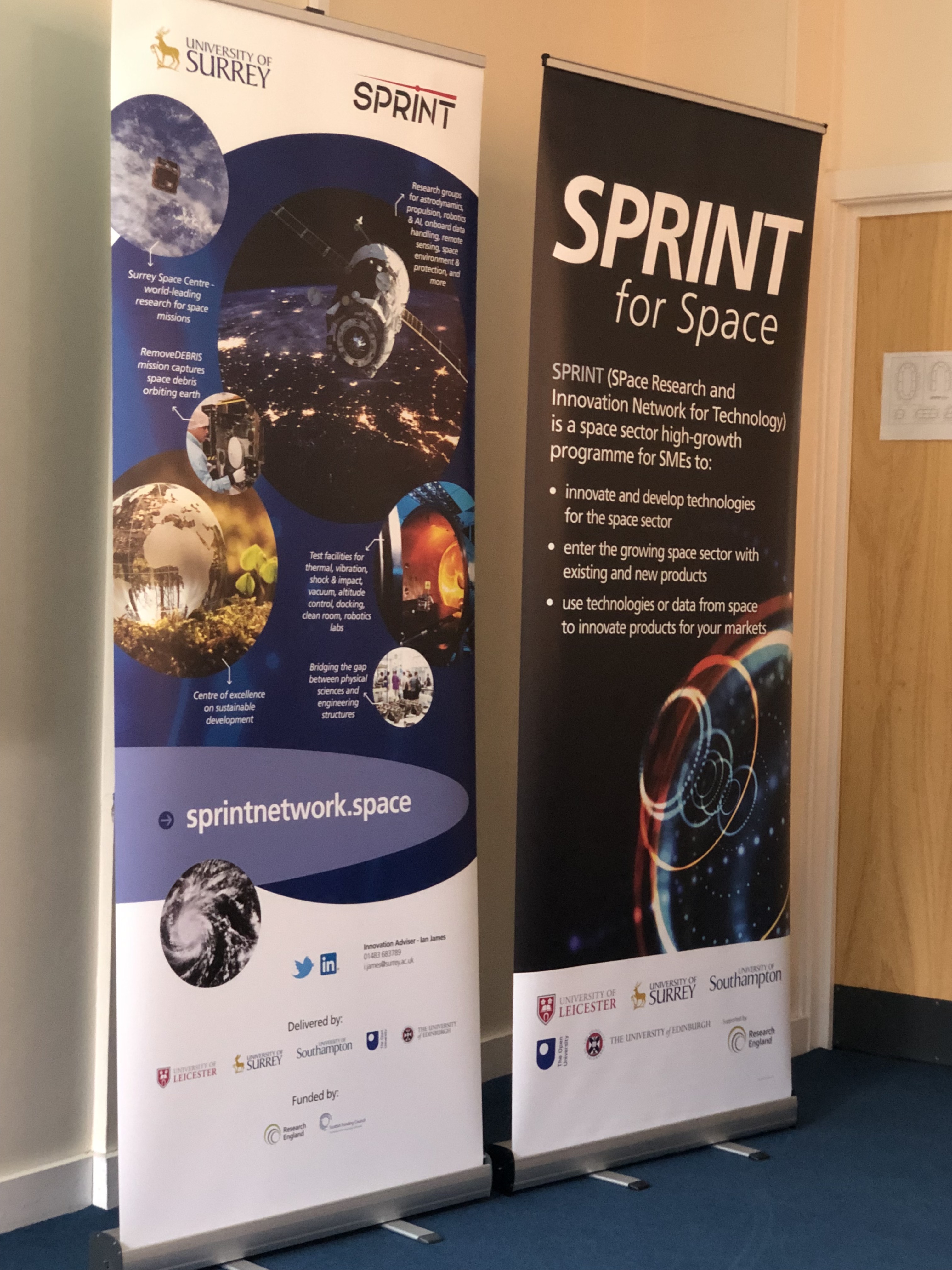 Today is all about finding synergies – let me tell you about a few that I know of.
Here at Surrey, Space begins in the academic-industry nexus created by the Surrey Space Centre, where we are this morning, and the Surrey Research Park, our wholly owned and operated science and technology park.
Our pioneering satellite engineering, led by Prof Sir Martin Sweeting, FRS, resulted in the then largest acquisition of a university spin-off company, Surrey Satellite Technologies Limited (SSTL), in 2009, at £50m, and since then has been a subsidiary of Airbus. Founded in 1985, SSTL, with around 400 staff today, remains on the Surrey Research Park. The Park opened in 1985 and today hosts more than 110 businesses employing 4,500 staff in three main sectors: Digital; Life Sciences; and Aerospace & Defence.
The Surrey Space Centre, with some 80 people of its own, has maintained the SSTL connection from inception and provides a key part of its innovation ecosystem, including its satellite monitoring facilities unique amongst UK universities.
So, Synergy 1 – SSTL on the Surrey Research Park and the Surrey Space Centre.
Indeed, the wider Surrey and Hampshire region encompassed by the EM3 Local Enterprise Partnership has become home to 79 space organisations at the last count . The total turnover of space-sector organisations with operations in the EM3 region is £1.9bn, and the industry directly employs over 2,000 people in highly productive jobs (at nearly 3 times the average UK national productivity).
And things are not standing still. Beyond SSTL, other players are emerging fast – among them Earth-i, a provider of high-resolution image data services, also a Surrey Research Park resident. According to the recent Global Ranking Report, Earth-i has officially ranked as one of the top 10 most important and influential of some 2,000 companies in the global space industry. And, Earth-i's CEO Richard Blain was named as the 8th most important executive.
So, Synergy 2 – the critical mass of the EM3 region's Space Sector.
Next, SPRINT is building on the shoulders of some fine "second rowers" – SETsquared is a long-established, award-winning university consortium of Bath, Bristol, Exeter, Southampton and Surrey with an outstanding track record of incubation and SME support through various programmes, including the highly sought after ICURe for academic entrepreneurs. So, SPRINT is the perfect "early business support-Space Sector" synergy – a great investment, and we are delighted to build deeper relationships with our new partners led by Leicester.
So, Synergy 3 – SPRINT and SETsquared.
But wait, there is more…..Guildford is home to the digital games industry, known by some as the Hollywood of Games – with more than 70 games companies in the region and more than 1,000 games designers living locally. What is the synergy? Well, there are many common aspects between space and digital games technologies. For example, what is needed to support 1,000 gamers sharing a common online platform and to support 1,000 cube-sats in a low-earth orbit telecommunications constellation are not so different. Tech transfer between these sectors is underway, and there is a third apex to this triangle and that is 5G – and as well as the Portsmouth-based Horizons 5G, here at Surrey we are fortunate to have one of the largest concentrations of 5G researchers in Europe, clustered around a truly innovative 5G testbed drawing the household names of telecommunications to Surrey.
So Synergy 4 – the Space Sector – Digital Games – 5G nexus.
So, synergies indeed. And there is much more we can and will do at Surrey to capitalise on this extraordinary collection of USPs.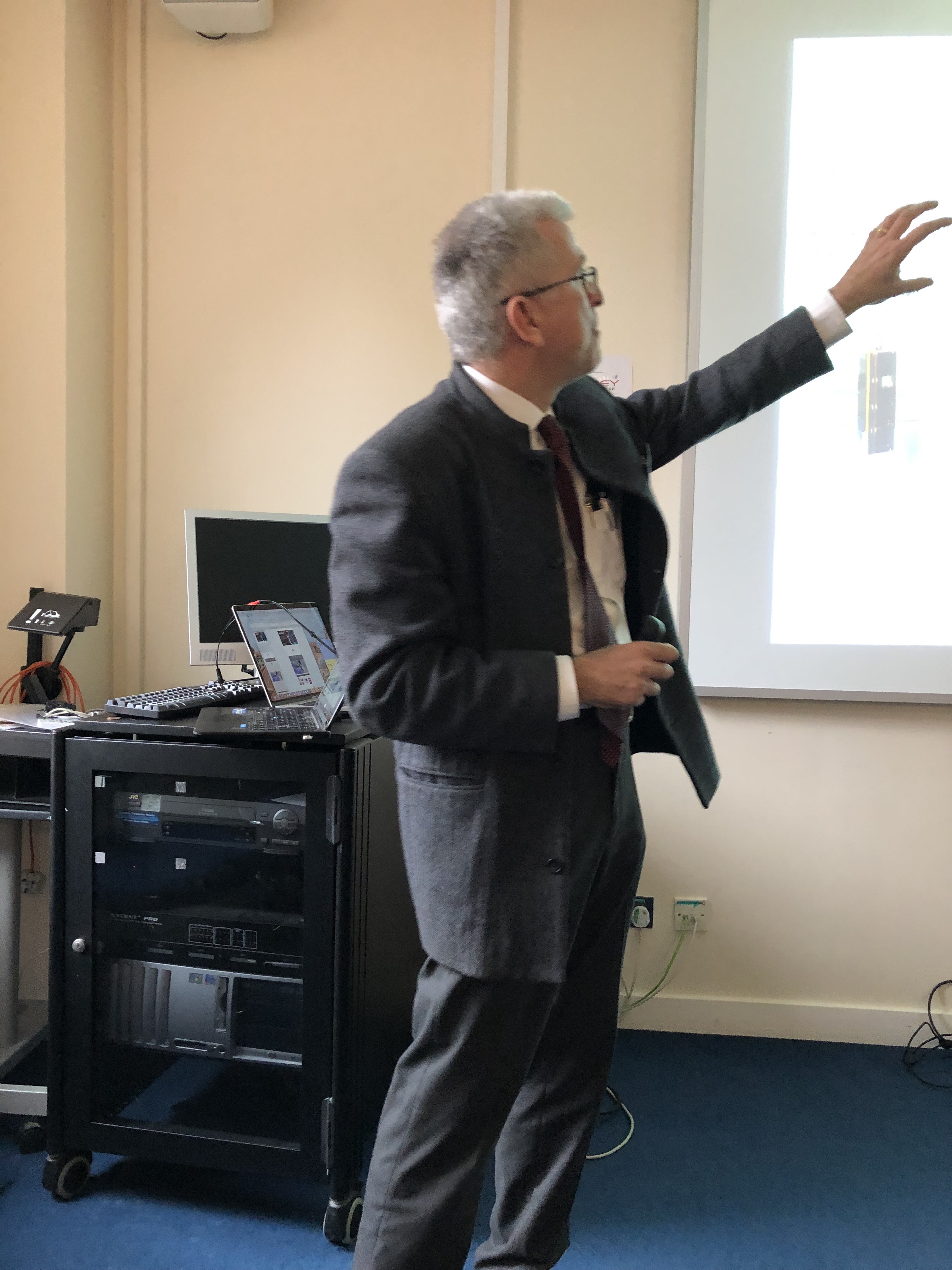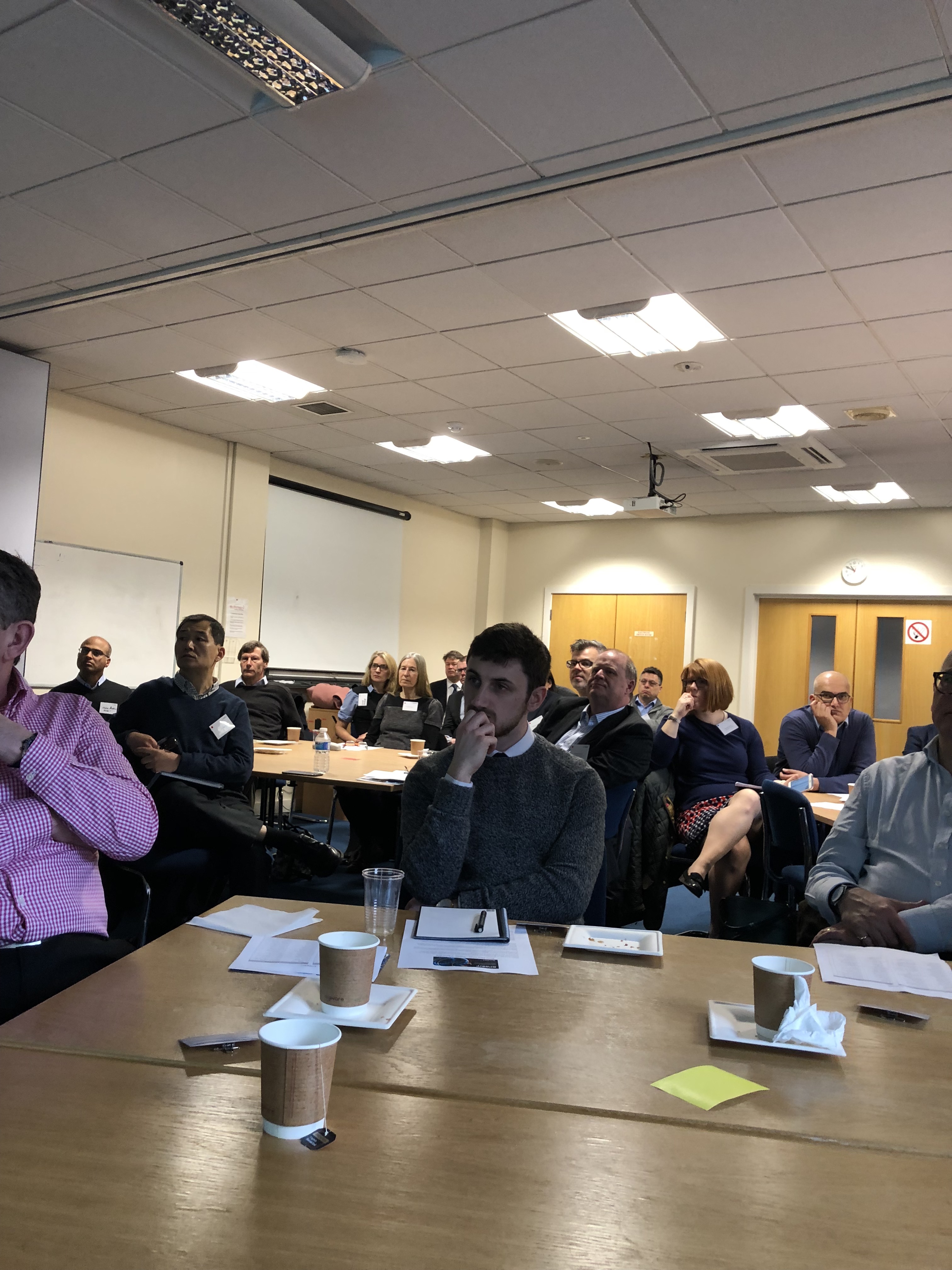 And what will underpin our opportunity? Let me give you four factors.
First, academics are increasingly getting the message and voting with their feet to get engaged. They understand the privilege they enjoy of being expected to do research. They understand that they must champion excellence and scholarship. But they are increasingly energised as to why they are doing it and how their research can make more of a difference – and this is where academic-industry partnerships such as SPRINT can funnel this ambition.
Second, let me applaud the Government's vision of increasing the fraction of GDP to be spent on research from 1.7% to 2.4% by 2027. Even if this does not get us to the top of the OECD League Tables, it gets us a long way from where we are now.
Third, the Government's 2018 Prosperity from Space strategy sets out an expansive vision for enhancing the growth of the UK Space Sector over the next decade. Its ambition includes 2030 targets of:
• Growing UK market share from 6.5% to 10% of what is predicted to be a £400bn market;
• Increasing exports to £25bn (over 60% of the sector); and
• Creating 30,000 more highly skilled STEM-literate people in Space Sector jobs.
Some of you might ponder the accuracy of these predictions, but you cannot question the scale of the ambition – which is impressive.
And fourth in my list of "whys": our region strongly shares in this national ambition – in its recent Prospectus, "Capital Funding to Support the Enterprise M3 Economy", the Space Sector was listed as a "Key Area of Interest and Importance" in the EM3's Local Industrial Strategy. As quoted: "Enterprise M3 seeks to support industry/university led initiatives in the Space Sector and is keen to receive applications for capital funding that further develop projects." And we are keen to provide them!
So, today, we will share what SPRINT can do for you and your business in the context of these myriad synergies and ambitions. And in exploring these, The University of Surrey is embarking on an exciting new journey and delighted to be working with new and old partners.
And you might observe among our new partners, Edinburgh and Leicester at least, are a long way from here, but let's put that into perspective. I am an Australian – from Perth, and we are talking about satellites – Perth is 21 times more distant than Edinburgh, and geostationary orbit is 53 times further away – so, from that perspective, we are truly in each other's pockets. And the International Space Station's orbit gets to within 250 miles from us, twice the distance to Leicester, so we really are close to Space!
Make the most of your time with us – it is indeed an exciting time to be in or close to the Space Sector. I do hope you make an unexpected discovery today – one that drives your business in a very positive way.