When I was a PhD student (in Physics, actually), I was of a very singular mind – nothing was getting between me and Dr D! But then, I would still go down to morning tea and discuss the latest developments in Science – with my own group, and often with many others, including the threadbare tweed brigade who had, in fact, much other than sartorial contemporarity to offer ….. yes, I did know that is not a word, and I am not alone in thinking it should be. I wonder what the brigade thought when I dressed as Dr Spock in the Department Christmas Panto? Where is this going, I hear you ask? Well, when I think back, I realise I lived in a rich and interesting garden offering many opportunities all coming from different directions – from which I could benefit whilst not feel smothered. Important fact – it helps to be not alone whilst doing your PhD, and even better if you can experience a rich garden of opportunities. Ok, so let's not take the gardening too far….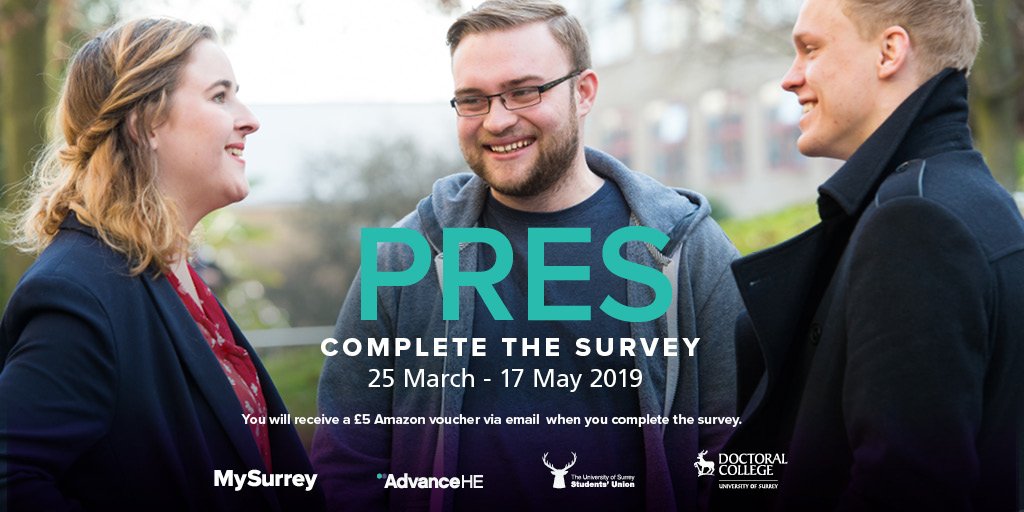 Today those ecosystems and support networks may be relatively unchanged in some cases, but what has been added is the element of a whole-of-university approach – as a sector, and as a University, we recognise the importance of working with you to develop your skills and to join up all those involved in what you do, to make sure we all know what good looks like – and to bring you into the world of research and add value in all sorts of ways: ethics and research integrity, methods, writing, presenting, getting your work published, protecting and exploiting your IP, the start-up journey and entrepreneurship, engagement and outreach, and then help you target a career….you get the idea!
At Surrey, we put a lot of effort and focus on these things – mainly centred on the Doctoral College – which we feel proud of, and which we want to enhance still further, to do even more to support your research journey.
One way we can support the Doctoral College is through success in the PRES.
What is PRES?
The Postgraduate Research Experience Survey (PRES) is a national survey of postgraduate researchers in the UK which gives you the opportunity to share your experiences of doing a research degree. It is the UK's primary national survey of postgraduate researchers and the only way for the University to benchmark how we are doing against other universities. The survey has led to changes and improvements in the postgraduate research student experience at Surrey so it is important that you make your voice heard.
Why should you take part?
Well, because it is the right thing to do…..
And… it is your life and your experience, so your voice on the topic means a lot…..but if that fails to convince you, how about…
Only takes 10 minutes – look for the email sent to your Uni account and click the personalised link
Get a £5 Amazon e-voucher for completing (encouraged to use smile.amazon.co.uk when redeeming so contribution is made to charity of your choice)
Competition between departments with a prize (money to enhance PGR experience) for the area with highest survey completion
Comments and feedback make a difference to service provided at Surrey
What changes have been made based on your feedback?
Increased resource and staffing to support PGR specific employability and careers needs
Supported interdisciplinary research culture through the 'Building Research Communities' competition
Recruited a Teaching Fellow specifically for Academic Writing to help PGRs one-to-one
Action plans put together in every department to improve PGR experience at a local level based on the survey results
Other info
Surrey ranked 7th in UK for doctoral researcher experience from PRES 2018
44% survey completion last year and we hope for more this year
OK, so let's do the gardening – it's our garden!