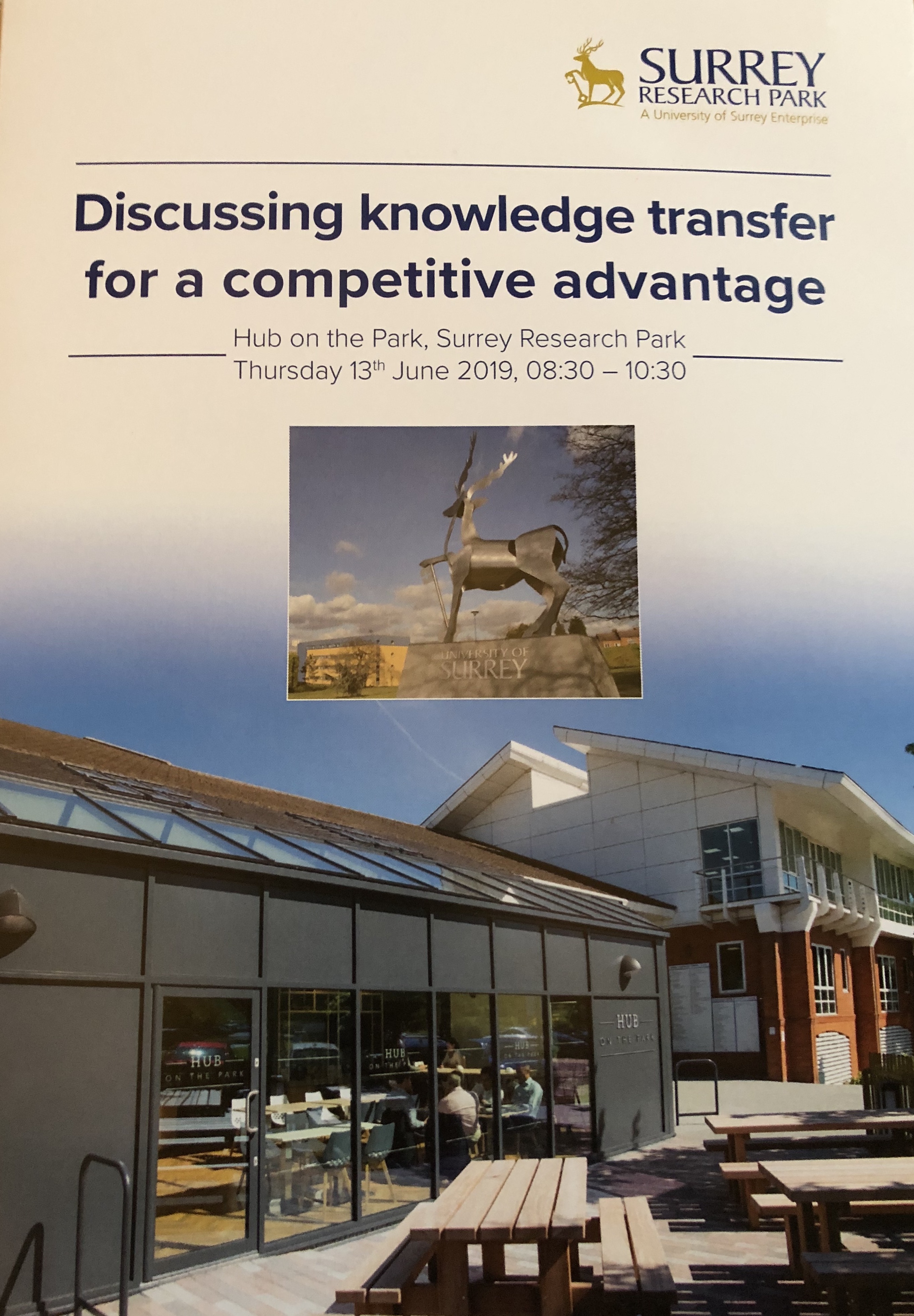 When I came here for interview, the University's then COO David Sharkey drove me around the park – I quickly become disorientated – going in circles confuses me. But I was left with one lasting impression – that I felt like I was in Santa Clara, which is a part of Silicon Valley. Solid low-rise grand brick buildings set in lush green gardens with lakes here and there and lots of car parks. A dead ringer!
Later, I came here to the Surrey Technology Centre and shared breakfast with the SETsquared crew – and felt that buzz you get from a critical mass of smart people. More of the Silicon Valley feel, perhaps though with a little more reserve and self-deprecation – somehow a perfect blend for an Australian – with a 'cultural' foot in both camps.
The Surrey Research Park is a jewel in the crown of Guildford – with 112 companies turning over nearly £1.2 Bn and employing 4,300 people, it is an economic powerhouse of the region – in the vanguard of digi-tech. Measured by turnover it is dominated by aerospace, IT-digital, and biotech. At the same time, by volume, it plays host to 66 micro/small companies in the Surrey Technology Centre – businesses of the future with focusses in media, digital games, engineering and environment, as well as the big three I mentioned. Only yesterday, I learnt that the UK is the third largest generator of Unicorns in the world after the US and China – it is that spirit of successful entrepreneurship that exudes from the virtual pores of the Research Park.
But wait, there is more.
The Surrey Research Park is, indeed, part of the University of Surrey! And the University itself is a worthy partner – with many USPs and points of distinction. Collaboration is already in the DNA of the Uni – we want to work with people – and our vital statistics bear this out. More than 70% of the papers we publish are with someone not from Surrey, and more than 50% of them are from overseas. More than 8% of our papers are published with industry, ranking us 4th in the UK for "walking the walk" – that is, doing research that matters, and that is engaged with the people who want to put it to work.
Just last week, we launched our latest Research & Innovation Strategy – bringing research and innovation closer together than ever before – recognising the continuum of research through to its consequences, of the "cohabitation" of creation and deployment, of the journey from discovery to dissemination. Our Strategy has four overarching strategic goals, on –
growing research scale and excellence;
organising our research infrastructure;
growing postgraduate, postdoctoral, and early-career researcher scale and experience; and on
strengthening our innovation performance.
Very sensible I hear you say! Simple messages – still, rather challenging to deliver, but if successful, they will see the University grow in performance and reputation, and better place it to serve society through its research and innovation.
So, what are the connections between the University and the Research Park?
First and foremost – we are all in this together.
Second. There are lots of them! In a study conducted by our own Jenny Ritchie of the interactions between the main campus and the Park over the last five years, we found that 53% of the Park's tenants had interacted with the University, and we identified £3.1m of individual transactions on:
research contracts, for and collaboratively with Park tenants;
PhD studentships, and PTY student placements; and
consultancy,…
…not to mention our own staff and spin outs here on the Park. I won't risk mentioning them all – but you know who you are and we love you!
So, there is a lot going on, but we think there could be a lot more going on. There are 47% of companies that we haven't interacted with – and so, we have a new plan.
Our Campus-Research Park Engagement initiative has a number of strands – let me mention a few of them. And thank Claire Thorne and Malcolm Parry for their leadership on this.
Late summer, we will conduct a Space celebration and showcase for the 50th anniversary of the lunar landing and 40th anniversary of our Surrey Space Centre, and launch our ambitious Digital Space Campus project for the Park. It will provide great opportunities to showcase your business.
This summer 20 undergraduates will work with eight Park tenants and the Surrey Business School on a Summer School of Business Challenge pitch projects – a precursor to SurreyIDEA, in which students will create a business and pay for their degree through equity in it. Just brilliant! Follow @SurreyIDEA on twitter.
We are founding a Surrey Research Park Insights Club – "in conversation" breakfast events featuring academic speakers on cross-cutting themes/technologies – such as blockchain, autonomy, AI and more.
And back on main campus meanwhile – recognizing that the best relationships show a good degree of symmetry…..
We will launch an annual "Innovation lecture" series mirroring our Adams-Sweeting series but featuring high profile innovators with Research Park incumbents and Surrey academics as guests – watch out for it. We will enhance the Research Park profile in University new staff and student inductions, hosting "open doors" and "meet the innovators" tours plus a reception on the Park for c.200 people – putting Park companies right in front of the University community at inception.
And finally, in September, we will run HRH Duke of York's Pitch@Palace "On Tour" event – a high-profile entrepreneurial bootcamp in the Pitch@Palace global series; competing for a place in the final held at St James' Palace – and making sure the Park features front and centre, with tenant companies, the investor community and academic inventors in the mix – watch out for the shoulder tap to be a judge!
Lastly, let me end with a few "did you knows" …..
The School of Health Sciences has just moved into 30 Priestley Road on the Park – between them and the Royal Surrey County Hospital, they've got your health (research) agenda covered!
We are one of an army of sponsors, with the likes of RocketDesk, EM3 LEP and G3 Futures – Galvanising Guilford Games, queuing to support the first Guildford Games Festival, over 2 days at the G Live later this month…..get along!
And one day, planning permitting, the Park will grow – to support more tech-heavy, green, enlightened companies that will help make Guildford GREAT!
So, a lot going on – do take the time to discover how your business (or your research group) can work with the Uni of Surrey academics (or the Surrey Research Park businesses) and help create more beautiful symmetry straddling the A3!
And, of course, the cafe Hub on the Park, is a cracker!