BRIDGING THE GAP PRESENTING – CONNECTING – NETWORKING – COLLABORATING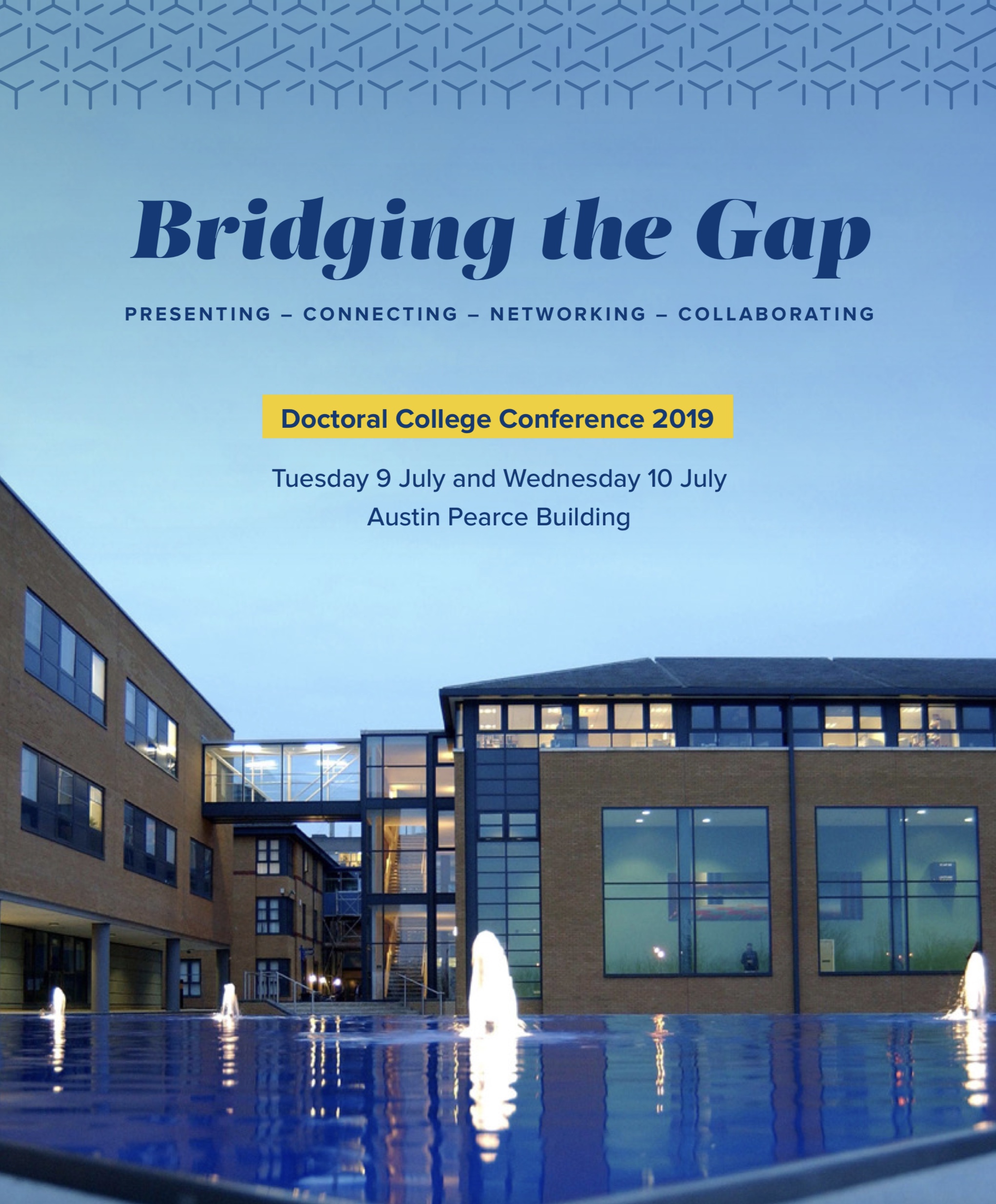 This morning I have 20 minutes and no slides….you are going to have to listen! Let me begin by the thanking the outgoing Director of the Doctoral College, Chris France, for his service and the great start he has overseen for this new but crucial institution for the University. I am going to tell you a story in five chapters.
Chapter 1 – The origin of the PhD
Research-intensive universities only emerged for the first time in Germany in the early 1800s, accompanied by the PhD as a degree awarded for the conduct of original research – so in some sense all of you here are a relatively "contemporary" phenomenon. In Germany, the main international research degree cohort were American. Much of the drive in the UK university higher degree sector after World War 1 was to divert Americans to undertake doctoral studies in the UK instead of in Germany. Of course, the conduct of research – whether it follows the 19th century construct of the scientific method or not, has always been at the heart of civil societies ever since we had the time to do more than hunt and gather.
The world provides us with infinite material – a continuously evolving story of knowledge providing us with endless opportunities to study, invent and evolve. What a privilege and joy, then, to undertake a PhD – I hope you all feel that.
Chapter 2 – Is this construct of the early 19th century fit for purpose today?
A PhD, for a long time, was an original investigation conducted by an individual, guided by an advisor – but they did not necessarily form a team as such, and PhDs were published very much as individual works of scholarship. Individualism was at its heart – and to a great extent still is today. And research was the conduct of the very few – until the 1960s, less than 1% of the population went to University, let alone undertook postgraduate research.
Today, the world of research has indeed moved on.  PhDs, in the Sciences at least, are commonly completed as collections of published papers. Variants such as Engineering Doctorates are conducted largely in a company off-site from the University. We have come a long way.
Today, in fact, more than 40% of the eligible population goes to University and, at Surrey, 1 in 16 students are undertaking a PhD – that is a large number of postgraduate researchers. And then, very few of the 300 or so annually graduating PhDs will end up as University professors – only a few percent of you. Rather, like a diaspora, you will fan out into all walks of life, into positions often unpredictably far from your discipline roots.
Many of you (I might even say most) will end up working as part of a team – one comprising the necessary and varying skill sets needed to complete the task. Many of you may lead the team, many of you may be the valued technical guru. But with your superior skills, you will all be a highly valued contributor. Your role might be that of the entrepreneur, a gun analyst wonk, a superior strategist, a creative ideas person, a superior story writer, an ice-to-eskimos sales person, the glue, the foil, the backstop, the last word, the bottom line….
But are we training you well for this path?  …in our system which was designed in the early 1800s and which remains focussed on individual achievement and assessment – which seeks to fit you all into a single mould – one I might call the "small business owner" – aka the research academic – who leads a small team of researchers, sets the business (read research) direction, writes the business plan (read grant), guides the product development (read research) and the sales and marketing (read talks and papers).
So, are we training you well for this path?  Well, in part, yes, but in part no.  I will come back to this.
Chapter 3 – How we got here. My own experience and yours
I wonder how my experience resonates with yours?  Let me be brief.
I never did like people telling me what to do, and I was fascinated by research – so after a stint in the oil business upon graduation, I thought I should get into something that tested me but engaged my intellect at a deeper level.  And after 18 months in a start up company, I decided to do a PhD in the then-emerging field of fibre optics. Through a chance connection, I managed to persuade my new boss on the other side of the world to hire me as a postdoc and let me do my PhD under staff regulations.  I loved it and never left academia again – that was 40 years ago – I consider myself a lucky man.
Any resonance? Actually, I would suggest the main take away from this story is that for all 1,000+ of you here at Surrey, there will be 1,000+ individual stories. You might have chosen it because you want to be your own boss, and you are fiercely independent. Maybe actually it was because you couldn't think of what else to do when your honours supervisor popped the question? Or maybe you always dreamed of making a difference and this seemed a way to achieve that.  These are all perfectly good reasons.
Chapter 4 – So, where to from here for you?
The University of Surrey wants you to succeed not only in the near and immediate endeavour of getting your PhD, on time and comfortably "above the bar", but we want you to go on to great things.
We want to up-skill you and enrich your journey without getting in the way of your degree. We want to de-risk your future career choices and make sure you have maximum options available to you.  And we want you to enjoy the ride….it could be "of a lifetime".
Chapter 5 – The Doctoral College aspiration
So, what are we planning for the University and for the Doctoral College?
We aspire to be a place known as a centre of excellence in starting a research career. This simple idea is central to our recently published Research and Innovation Strategy.
Under our new Director, Dr Kate Gleeson, the Doctoral College will evolve from the strong start it has made in guiding postgraduate researcher and wider university life over its first 2+ years to be a pervasive – and I mean that in a good way – let us say a ubiquitous presence, distributed and bidirectional, from your department coffee room to the Doctoral College Hub – and beyond. It will provide the fabric that stitches us all together. And, we hope, a single place that represents the intellectual heart and home of the institution. Indeed, we have an ambitious proposal to bring the Doctoral College together with the Institute for Advanced Studies – which is our university virtual hub for international scholarship and collaboration. We see a future shared common space where intellectuals – mature and emerging, may have chance encounters – where postgraduate researchers may drop in to connect with each other, share their common experiences, and offer advice, and where Doctoral College professionals may move among their proteges, offering support and guidance. We are dreaming big.
What else will that mean for a future you? Your career with us will provide you with the diversity of experience and skills you need to prepare for life beyond your degree. It will involve an enhanced set of optional training opportunities to augment your skills – emphasising your interests and goals – at a level that extends you.
It might be entrepreneurship based on our SETsquared Surrey Incubator located on the Surrey Research Park, but it might equally well be advanced writing training to enhance your writing skills to a high professional level, or superior ion beam imaging skills, refined programming, statistical analysis, online info sourcing, or many other skills. And you will be presented with more travel, training and team working opportunities that will expose you to research methods, practice and cultures across the country and abroad – and through the networks you establish and through those of your supervisors, you will gain experience first hand in undertaking research in collaborative, multi-cultural teams.
Now, I am not saying none of this is happening now – of course, much of it is. But I am also saying that right now in this audience, there will be a heterogeneity of experience – and in future, we will lift that level for you all – and be more systematic in the way we ensure you have access to this breadth, beginning with how you are admitted and inducted into departments, continuing until you graduate with flying colours with several Q1 publications to your name – and encompassing a collection of great experiences of….
PRESENTING – CONNECTING – NETWORKING – COLLABORATING
This is a great theme for the meeting – please make the most of it.