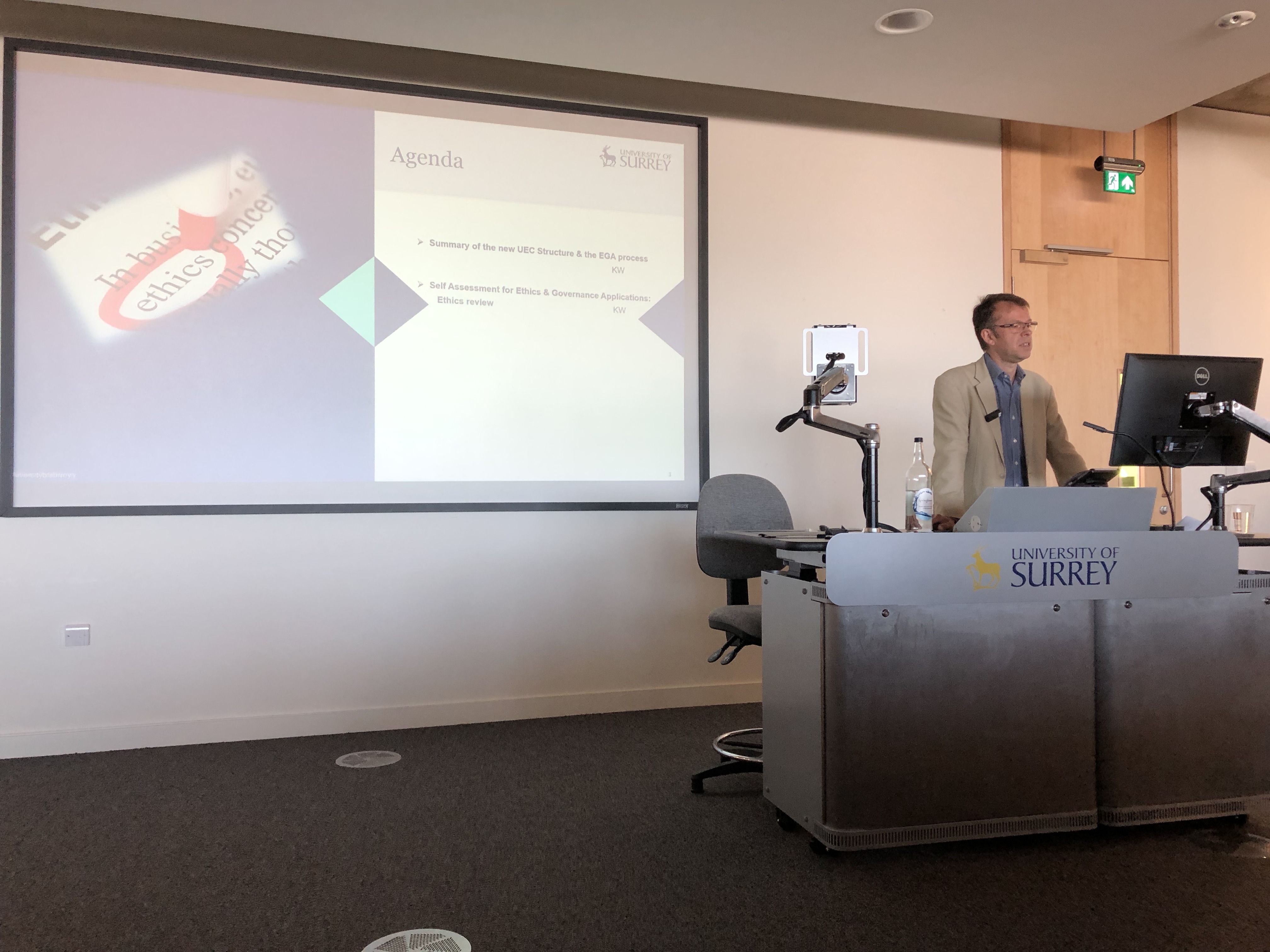 Exemplary ethical conduct sits at the heart of scholarship and research, and has done so at the University of Surrey since inception.
Ethical guidelines and frameworks are provided by funders. Regulatory compliance and governance oversight are required by government policy, the legal system, and various bodies, such as the Human Tissue Authority. And demonstration of compliance is a pre-requisite for journal publication.
Perhaps the single most important pillar for us is the 2012 Concordat to Support Research Integrity. Consultation on a revised Concordat closed on 5 April 2019 and we currently await announcement of the 2019 version. We expect one significant change to be a tightening of requirements so that compliance can be more easily assessed.
The current initiative here at Surrey comes at the back end of a good deal of change. When I joined the University in January 2018, I noticed that our overall ethics system seemed fragmented. I asked our Internal Audit team to take a look, and they undertook a review in mid-2018, and delivered a final report in October last year. Around the same time, we had a change of Chair of the UEC, with Kevin Wells taking up the reins. And then in January 2019, Ferdousi Chowdhury joined us to head up RIGO. Since then, in June, we launched the Research and Innovation Strategy, reaffirming the importance of research integrity and governance.
The current launch, then, is of a new framework with its gestation in the audit report, spear-headed by Kevin and supported by Ferdousi, and following extensive consultation and passage through the University's committee system – via URIC and Senate.
The overarching objective of this endeavour is to achieve best-practice transparent and compliant ethical governance, combined with efficient and researcher friendly administration.
We seek an easy to navigate system administered in the spirit and practice of Surrey values: integrity, collaboration, ambition, respect and excellence.
These new processes will be in the vanguard of Surrey's new approach to supporting research – in the spirit of being researcher-facing, facilitative and can-do.
We will all be watching in anticipation, and we hope the new ethics and governance framework will be a beacon of best practice for the institution as a whole. To achieve that, we must recognise that we are all in this together, and that it is not "them and us", but, indeed, "us and us". Everyone in this room must pull together to make things happen in a climate of trust and cooperation. And to do this, we must all be confident, open and transparent.
Getting to where we have gotten to today is already a huge amount of work – a big thanks to Steph Harrison for kicking off with the audit, Christine Hine as previous UEC Chair, and Kevin and Ferdousi for embracing the change and driving it – and then all current UEC and Faculty ethics committee members and all others who provided input throughout.
I trust going forwards you will be asked for your feedback, as committee members, as reviewers, and as applicants, and that your feedback will be acted on so that we may continue to evolve our new systems to function as effectively as we can make them.
May your ethical research make a difference – thank you.