STRATEGIC RESEARCH THEME: LIFELONG HEALTH
As part of the University of Surrey's ambitious objectives for research excellence and impact, a series of thematic strategic research priorities has been identified.
Lifelong Health is the latest of these Research Themes, launched in August 2019.
Thus states our shiny new web page!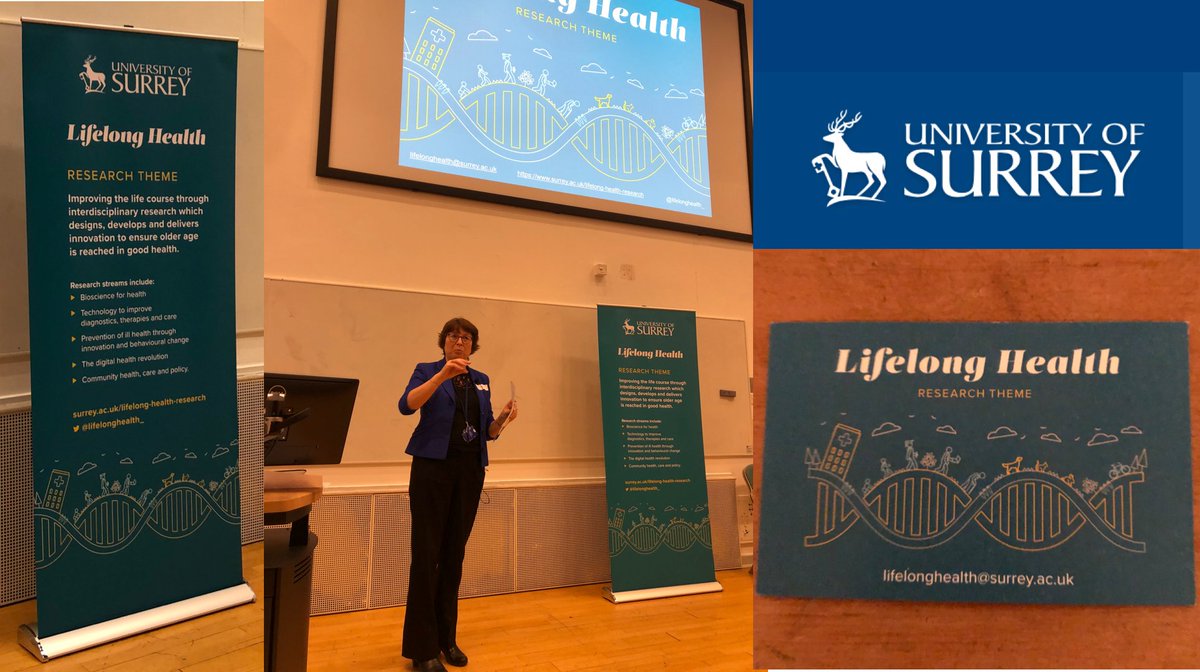 So, Lifelong Health – there is no doubting the spectacular success of the last 100 or more years: in 1900 the world average life expectancy was 31 years; rising to 48 by 1950, and 72 by 2017. This spectacular rise has given way to concerns around healthy life expectancy (HALE), which is a form of health expectancy that applies disability weights to health states to compute the equivalent number of years of good health that a newborn can expect. In 2015, this was 63.1 years, 8.3 years lower than total life expectancy at birth. And many of us keenly feel the undesirability of an unhealthy dotage. We are on rich ground for research opportunities.
The Mission Statement: "Improving the life course of humans and animals through research which designs, develops and delivers innovation in world-leading health solutions: from the biomolecular and cellular, to digital devices incorporating artificial intelligence, and new ways of delivering care." highlights the range of contemporary strengths we have to bring to bear on this challenge.
Lifelong Health is the first new theme we have launched for three years, now sitting alongside Sustainability and Urban Living.
So, what is that we want a Research Theme to do?
Here is what I wrote last year:
In my view, a Research Theme should:
Create an open, transparent and inclusive environment in which researchers can come together to create synergies that would otherwise be less likely to occur.
It should provide a nurturing environment in which the good values of the organisation are transmitted and individuals are mentored and supported. Themes would ordinarily be expected to comprise multiple disciplines, or break down existing silos;
Establish a critical mass – say on the order of 100 people or more;
Provide an outward facing presence for the University in an area, for the purposes of interacting with Government, other large research organisations, large companies and funding bodies; and
Eventually deliver (say within 5 years) at least one major grant of scale – Centre for Doctoral Training, Doctoral Training Programme and/or major multi-million £ programme grant.
I am still very much subscribed to this picture first painted in May 2018.
And how do we know if a theme has been successful?
At least 50 active members….
Theme-related research income – 50 per cent increase over baseline
Theme-related research quality – average FWCI 2.0
According to our Research & Innovation Strategy Measures of Success.
And then I wrote:
What should a Research Theme not do?
A Research Theme should not be the single vehicle into which all of Surrey's research should be shoe-horned or the only (or even primary) way in which the University's research is to be presented. The Research Strategy document does not propose that it should, but there seems to be the perception that all are expected to conform to a thematic structure. Not true – this notion needs to be dispelled. Thus, a Research Theme will not seek to impose itself on existing large-scale activities, nor represent them necessarily. We seek to establish a theme framework in which people and groups voluntarily wish to join a theme because of what it brings – a win-win.
And finally, of a Theme Champion:
You can see from this description that a Research Theme needs an altruistic, community-minded leader who facilitates, rather than the necessarily single-minded approach of a research group leader. Research Theme leaders might even be called Associate Dean – Research Theme….perhaps not, but you see my point.
So, what can I say of Deborah Dunn-Walters, then? Well, she is a highly regarded, accomplished and well-published immunologist, who I note has published on promiscuity amongst antibodies… (Note to self: moment of light humour needs work!) amongst other topics in cancer and infectious diseases, with a strong broader interest in ageing. Deborah comes with the experience of a range of senior leadership roles in supporting funding bodies and a wide range of sources of funding for her own research beyond the MRC and BBSRC. She has been at Surrey since May 2016, and I am delighted she has been prepared to step up in this way and serve our wider research and innovation agenda.
I know Deborah is enthusiastic about reaching out to different disciplines and to creating the sort of ecosystem around Lifelong Health that will energise even the most geriatric of us. I am delighted to welcome her to the role, I welcome the theme to the array of "Towers of Woking" at Surrey – tall edifices seen from afar, and look forward to comments from London and further afield about how visible Lifelong Health is at Surrey!