In this blog, I reflect on what it means to be a doctoral student, how important doctoral students are in the research and innovation ecosystem, and what we are doing to support them during the COVID-19 lockdown and beyond.
Importance to the Research and Innovation Base
We tend to forget that the concept of the PhD, and doctorates in general, is a relatively recent one – emerging from the German university system in the early 1800s, and only taking the form we know of today in the UK towards the end of World War I. In the UK, doctoral students represent over 40% of the university research workforce, and recent reports from Australia indicate PhD students make up more than half of the research workforce there. Wherever in the world, doctoral students represent a vital underpinning of the whole research and innovation system.
Because research in universities globally is commonly paid for by surpluses generated by international student fees, and because there is anticipated to be a large hole in that income this year caused by the COVID-19 pandemic, a consequence is the potential damage to the research base by a major interruption to the recruitment of doctoral students, and by an increase in the number of students not completing. This damage carries with it a particular poignancy at a time when so much has been made of the importance of increasing the UK national research base to the OECD average of 2.4% of GDP spent on research, with training postgraduate researchers seen as a key element of that goal.
At Surrey, we have around 1,300 doctoral students (full and part-time) and 1,300 research staff – our doctoral students most certainly underpin our research and innovation community. They are central to our research endeavour, to the extent of meriting their own overarching governing body – the Doctoral College. To the many in our university community who are not directly involved in research or supervision, do you know where and how our doctoral students fit in?  Let me paint the picture from my perspective.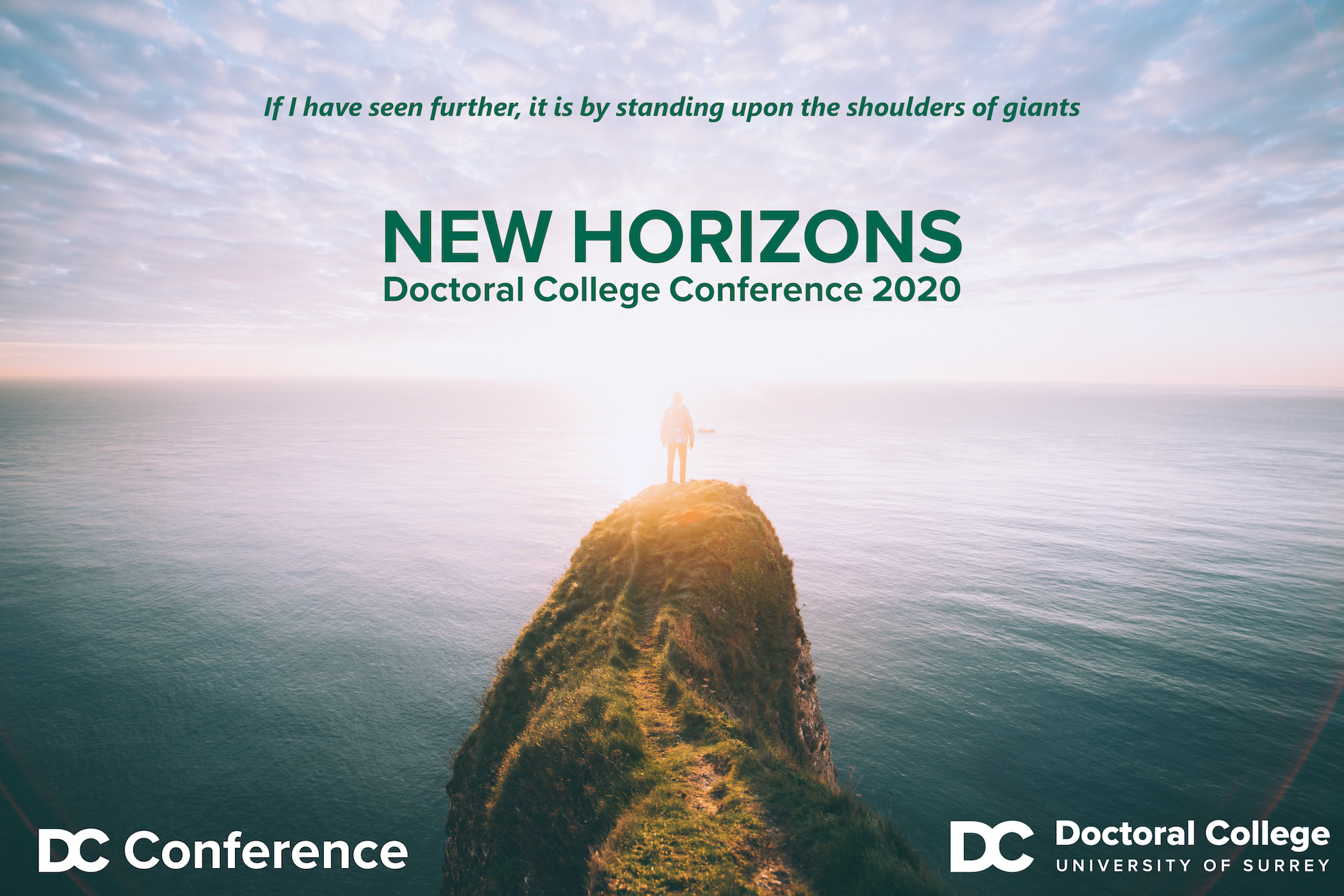 The nature of doctoral studies – staff or student?
Doctoral students are indeed a hybrid – they combine a few elements of being an undergraduate student with more elements of being a staff member. Although officially a student, they are usually paid a stipend, and if members of a research group, perform duties that are similar to a postdoc, and are often involved in paid part-time teaching. Indeed, in Germany, the PhD student is regarded as a staff member, and the supervisor is their line manager. In Australia and the UK, the PhD student is regarded more as a student, and the supervisor is an adviser not a boss, although in the UK at least, sponsored doctoral studies can be accompanied by tight reporting requirements. In the US, the situation is somewhat between the other two – with teaching duties often prescribed, not optional.
The PhD in particular is perhaps one of the most daunting steps into the unknown one can imagine. You are (often) at a stage of life where your capacity is unproven. You are given a fixed time period – 3-4 years in the UK, depending on the terms of your stipend – to complete a body of original research deemed of sufficient quality and scale to merit the awarding of the degree. The prospect of failure is real and the measurement of progress often highly intangible. I remember asking myself this question at the outset of my PhD – will I be able to do research of sufficient novelty and quality to be able to publish a paper? For all commencing PhD students, and doctoral students in general, it is a step into the unknown.
With the clock ticking away, there is much uncertainty – how to gauge progress, and how to know when to reverse and take a different route, how much to stop to learn or give way to curiosity versus getting the job done. Such uncertainty and immeasurability effects different individuals in different ways. To chart the right course, there is a lot of intuition needed, judgement, and a modicum of good luck. Much of this intuition comes only with experience; fortunately, students have their supervisors….
Supervisors
Supervisors support their students to varying degrees and there is a massive range of experiences. Some ecosystems are well populated with postdocs, other students, and visitors providing many sources of assistance and advice. Projects are predefined by the supervisor. Individual problems can be resolved through the wider system; work is often team based and teams have the composite skills needed, and camaraderie and good lab practice. This is a natural consequence of a healthy research centre at scale (say from ten members upwards) and the goal of many cohort-based doctoral training structures.
For other students, the converse is true – the other extreme is one where the student must devise the project, and carry it out, with sometimes only distant advice from the supervisor, and insufficient involvement to even co-publish the results – very much the fruit of individual scholarships, with all its challenges and rewards.
And then there is the variability of supervisors themselves – variable styles, varying expectations, and varying energy put into their students. The only constant is the critical nature of the student-supervisor relationship; given the powerful influence of the supervisor, a student is placing a great deal of trust in them, and we must all remember how important this linkage is in a doctoral student's experience.
The modern doctoral cannon
Whilst undertaking this focussed and singularly risky activity for which the possibility of failure is real, the doctoral student is being regularly reminded of the importance of doing many other things – developing their employability tool kit; taking on some undergraduate teaching (indeed, they are a critical resource in parts of the University); developing communications skills; learning about intellectual property protection and entrepreneurship; practicing public engagement….it is a long list of additional activities, all highly rewarding and engaging in themselves, but the need for choices and assessment of balance is a constant companion to the student on this journey.
Survival and COVID-19
And finally, there is the need to survive – at around £15,000 per year, a doctoral student stipend is not sufficient to live on easily and many need to supplement their income in some way, or compromise on aspects of life, such as the quality of accommodation, in order to make ends meet. Thus, for many, work is a key part of their doctoral experience, but this does not always sit well with the singular focus needed. As well there are fees to be paid, and the student is sometimes responsible for these.
With all of these challenges and uncertainty, why would you do it? Well – even in the most difficult circumstances, doing a Doctorate is positively life-changing and hugely worthwhile, whatever the graduate goes on to do.
So, with all that you have just read, we now interject the experience of COVID-19 – lockdown, laboratories closed, library closed, experiments involving direct interactions with humans, field trips, overseas travel, all stopped. Whilst some work can be done at home, home environments of doctoral students are tougher than the average, and productive activities typically begin to dry up after a month or two. The net result is that it is a very tough time for many of our postgraduate researchers right now, and this may not be as visible to all members of the University community. Whilst some students will be able to pivot, adjusting projects and expectations, others will not – some projects will be irrevocably delayed and this lost time cannot be readily made up. It is this diversity of experience which makes the group, as a whole, challenging to support.
Supporting our doctoral students
But the University continues to strive to support the postgraduate research community at Surrey to the best of our ability – with many dedicated supervisors and professional support staff across the institution who care deeply about the welfare of our doctoral students. And this week, we are launching our COVID-19 Research & Innovation Disruption Scheme specifically to support PhD students who have been disrupted. The ripples of COVID-19 disruption will extend for a number of years, and we will continue to support our doctoral students over this time.
Here are some of the other things we have been doing to support our doctoral students:
Redesigned all our training workshops to be delivered online.
Used the Progress Review to survey doctoral students on training needs in the context of remote working.
Providing one to one online coaching and consultation.
Running bespoke employability workshops.
Creating a support scheme for placements, to include Virtual Placements.
Providing support for wellbeing, including providing licenses for a Mindfulness app.
Connecting researchers working remotely by redesigning the Doctoral College Conference and the Three Minute thesis competition to run on a virtual platform.
Providing high-quality writing support including virtual writing retreats.
Finally, a big thank you to all doctoral students for the huge contribution you are making to the research and innovation ecosystem at Surrey – and to the wider mission of the University.
Let me finish with a quote from our Doctoral College Director Dr Kate Gleeson: "And I would also like to say that we need our PGRs more than ever now, because if anyone is going to lead us forward into a better future it will be the up-coming generation – we can't afford to lose a generation of thinkers, never mind researchers, and the contributions they will make in the arts, and to commerce will be every bit as important as the contributions they will make to vaccine discoveries."
As ever, thanks for reading.